Winning Formula, Lifelong Impact
In 1991 TeamMates Co-founder Nancy Osborne saw a 60 Minutes episode featuring investor Eugene Lang, who had been asked to speak at graduation exercises for the elementary school he had attended many years before.
"Upon arriving at the school, East Harlem Public School 121, Mr. Lang was surprised at the changes which had occurred, not just the aging of the school building, but the changes within the student body. He was struck by the fact that many of the students were apparently from impoverished circumstances. He asked the principal how many of the students would likely attend college and the principal told him 'maybe one' would," Nancy Osborne, a former teacher, recalled.
"When confronted with the changes within the student body before him, Mr. Lang promised the students if they would stay out of trouble and graduate from high school, he would pay their way to college. Eventually 90 percent of those children graduated from high school and half went on to prestigious universities.
"That really made an impression on me."
Nancy shared the concept with her husband, University of Nebraska-Lincoln Head Football Coach Dr. Tom Osborne.
"She said, 'Can we do something like that?' And I said, 'I don't know that I have the financial wherewithal to put a whole elementary school through college, but I'll see what I can do,'" Tom Osborne said.
The Osbornes came up with the idea of asking NU football players to serve as mentors to boys attending middle school in the Lincoln public school district.
"I thought this would be sort of a twofold arrangement. They would help the young people who were being mentored, but secondly, I thought it would be helpful to the players who were mentoring," Tom Osborne said. "I thought giving their time to serve a young man would be helpful to them, and also I was concerned about so many kids who were growing up without a father figure in their life… I got in front of the team one day and said, 'How many of you guys would be willing to a serve as a mentor to a seventh-or eighth-grade boy in Lincoln?' And 22 hands went up."
"Those 22 players weekly mentored 22 students in Lincoln. Of the 22 mentees, 21 graduated on time and 18 of the 22 went on to four-year colleges," Nancy Osborne said. "We were pleased with the results and could not have begun the program without the assistance from LPS and Barbara Hopkins, who attended to many of the details. Eventually we expanded beyond the football team mentors, across Nebraska and now in five states."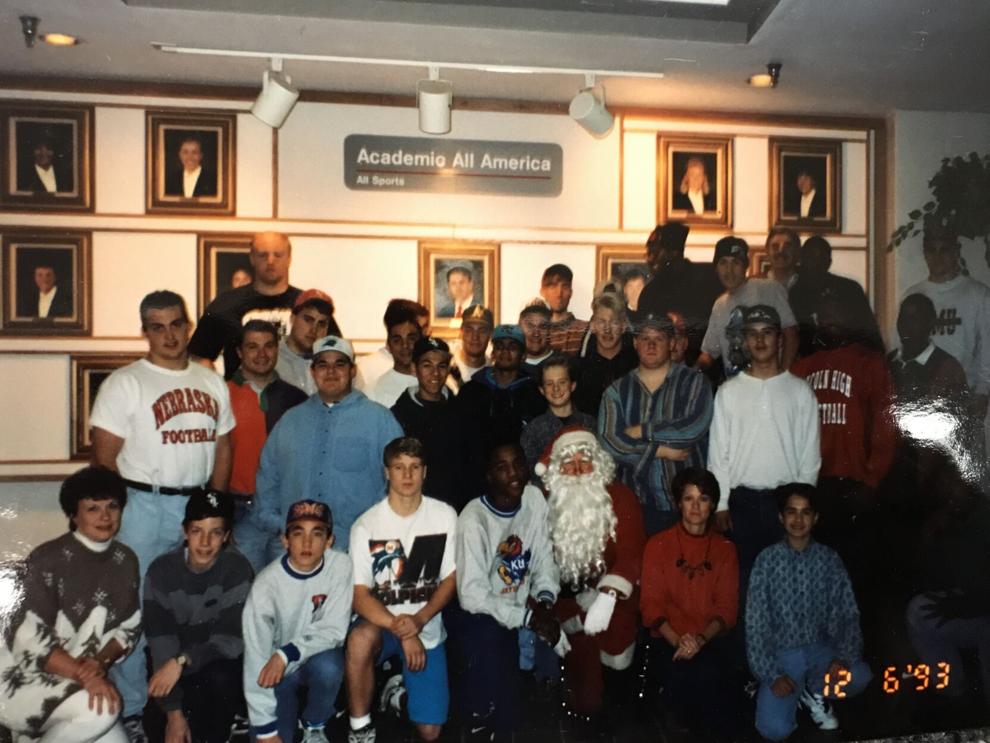 "We often forget that Tom's original intent was to build character in his players through service to the community. I believe the program continues to be just as much a benefit to mentors as to the mentees. And through the years, over 40,000 children have been helped."

~ THE LATE WALTER SCOTT, JR. (1931 – 2021)
Philanthropist and Former CEO, Peter Kiewit Sons' Inc.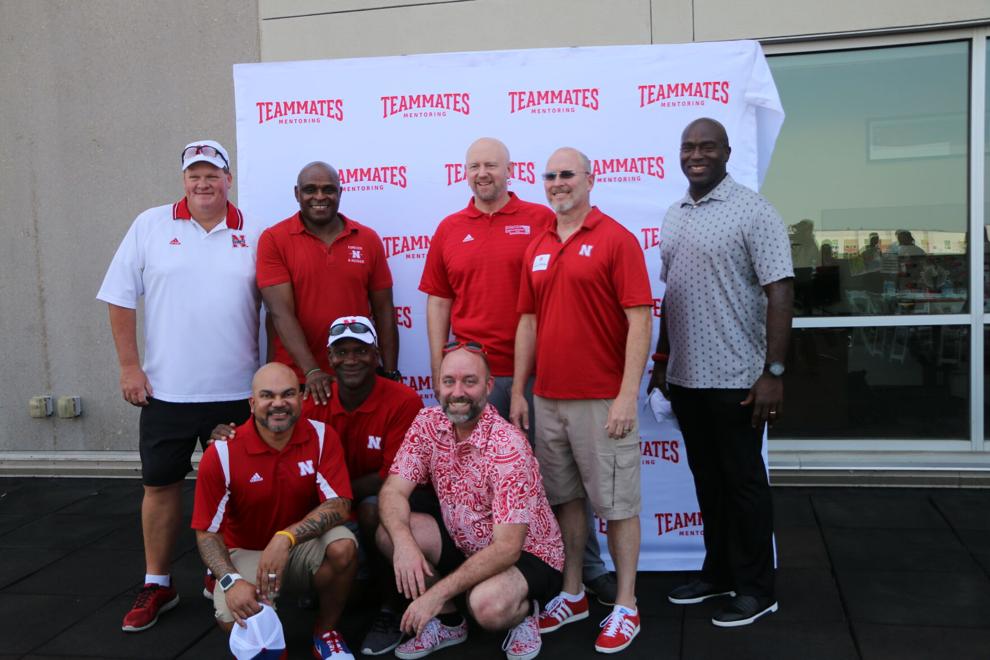 The Program continues to grow. In fact, TeamMates Mentoring Program staff and mentors have now impacted more than 43,000 youth over the past 30 years.
On August 25, Tom Osborne announced the hiring of Chief Executive Officer DeMoine Adams, who began serving the TeamMates Program on September 7. Adams replaced Sarah Waldman, who led the TeamMates program as executive director for the past four years and helped grow the Program to approximately 10,000 matches in 180 communities across Nebraska, Iowa, South Dakota, Kansas and Wyoming.
"DeMoine's knowledge and experience in the community and with TeamMates is very instrumental as we look to expand our programs and services and increase our matches," Tom Osborne said. "Our goals are to reach 12,000 matches, positively impact the world through mentoring, and become the gold standard of school-based mentoring programs."
No stranger to the TeamMates Program, Adams served TeamMates for eight of its 30 years, first as post-secondary education coordinator (2012-2016) and as program director (2016-2020). His charge is to "lead by serving the mentees, mentors and TeamMates Programs in all five states with a team that is committed to the mission and the core values of TeamMates," Adams said. "TeamMates Mentoring will always be Tom and Nancy Osborne's legacy and I look forward to keeping their legacy alive for many decades by helping youth reach their full potential through mentoring."
While Adams leads the TeamMates Mentoring program staff, Suzanne Hince serves as executive director of the TeamMates Foundation, which provides financial resources to the TeamMates Mentoring Program in support of its mission to positively impact the world through mentoring.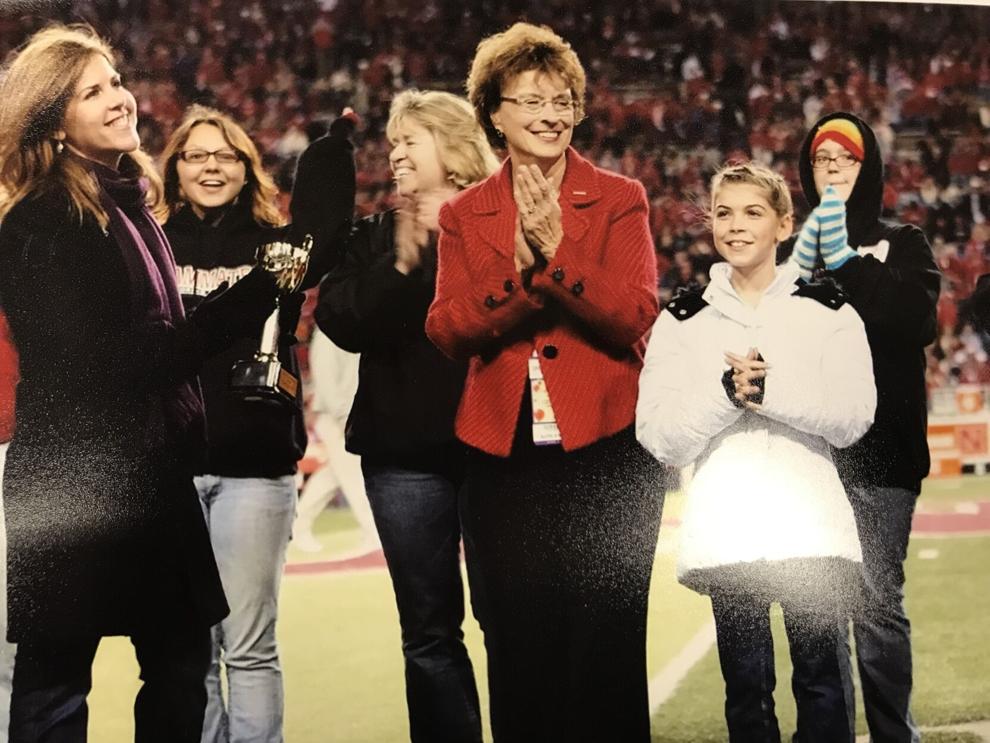 "Tom Osborne's success and legacy coaching the Husker football team is unmatched. However, what he and nancy have nurtured with TeamMates over the last 30 years will be their biggest contribution to young people and to mankind. Another legacy unmatched and one that will endure."

~ CINDY AND MOGENS BAY, TeamMates supporters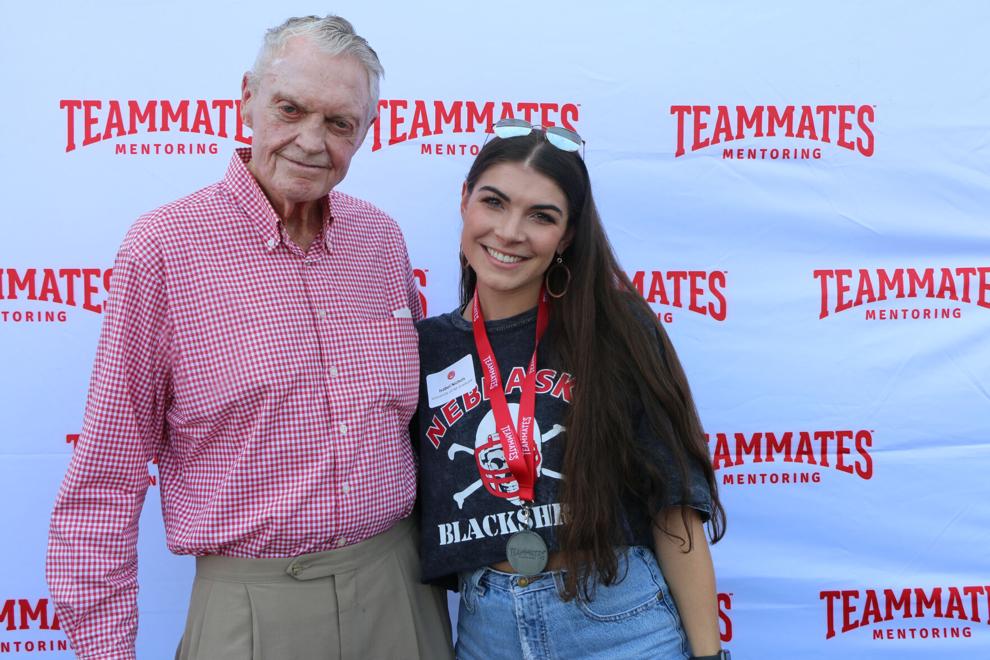 The mission of the TeamMates Mentoring Program is to positively impact the world by inspiring youth to reach their full potential through mentoring.
Building a relationship
TeamMates today is a school-based, one-to-one mentoring program serving boys and girls in 3rd through 12th grade. School districts participate in chapters across Nebraska and the surrounding states of Iowa, South Dakota, Kansas and Wyoming. Students can either self-nominate or they are nominated for the program by a caring adult in their life.
The focus of the mentoring relationship is for an adult volunteer to build a positive relationship with a student and help them reach their full potential. Mentors must be at least 18 years of age and have a high school diploma or GED equivalent.
"TeamMates is A 'Triple-A' investment. It delivers a huge payoff for mentors, mentees and our community. It enters its fourth decade with great leadership and momentum."

~ WARREN BUFFETT, Chairman and CEO, Berkshire Hathaway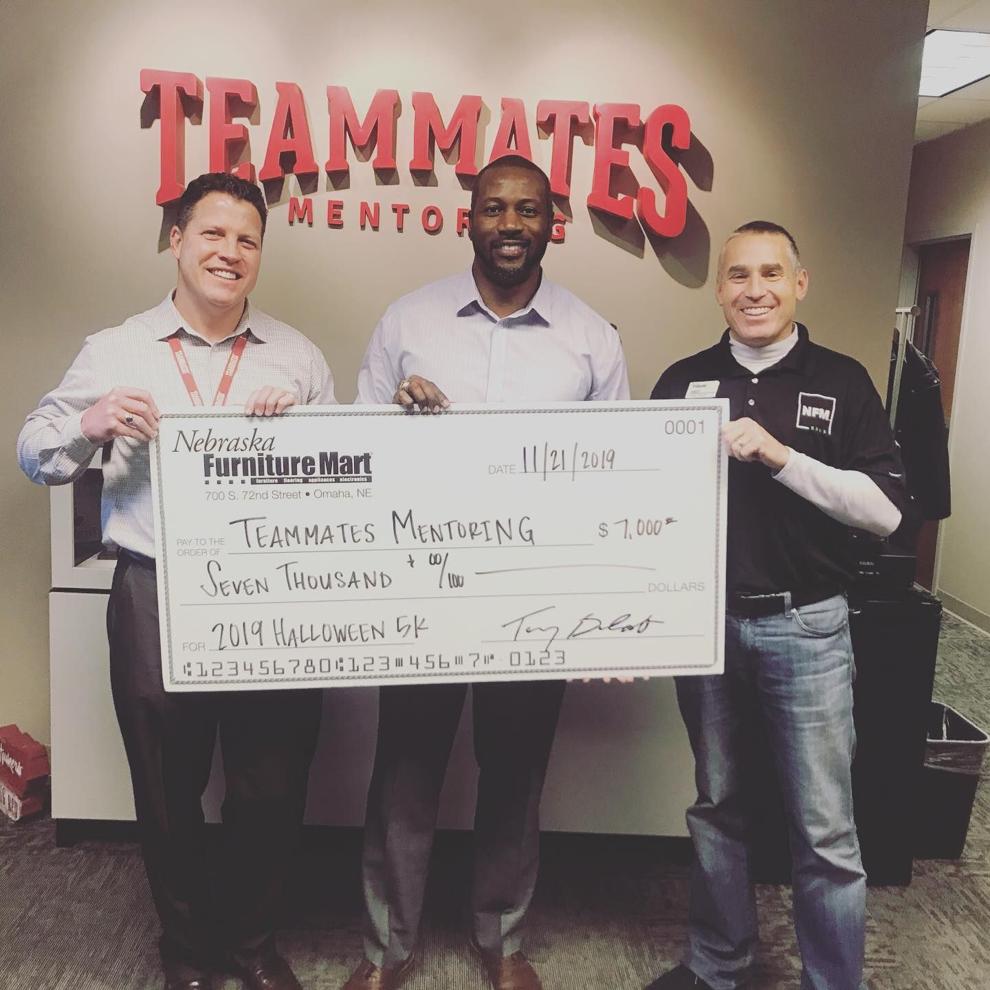 The vision of the TeamMates Mentoring Program is to become the gold standard of school-based mentoring programs and serve 12,000 youth.
Mentors commit to spending one hour each week with their students and by simply showing an interest in their life, they help identify the gifts and talents of young people and provide them a sense of hope and vision for their life. Each mentoring relationship is unique and the meetings can range from helping with homework to sharing a hobby to having a casual conversation.
Each TeamMates chapter is funded locally by direct donations and fundraisers conducted throughout the year. The average cost to support a mentor/mentee match is 25 percent of the national average for organizations with a one-to-one model. The organization's greatest need is mentors.
Some potential mentors hesitate to become involved because they feel they are not "super-successful," said Tony Veland, a TeamMates mentor and board member. However, "You only need a caring heart."
"Think about what you could have benefited from as a kid, and try to provide that for one individual who needs that. That would be my plea, to try to get more people to help our cause," he said. "It doesn't take as much time as you think it does.
But we do want consistency in our program and we want to make sure our kids are meeting with their mentors regularly; that is a huge thing that allows success."
Somebody who helped
Veland, a former college and professional football player, is now the business development director for AIM Institute. He said his success was supported by informal mentors along the way.
"There were a few individuals who I admired and who I watched and listened to and who had a great impact in my life," he said. Veland's Benson High School football coach, Lonnie Tapp, and his UNL football coach, Tom Osborne, were among them.
"Congratulations to Tom and Nancy Osborne on the 30-year anniversary of TeamMates. Their leadership, vision and dedication in support of young people through mentoring has made an incredible difference in the lives of so many. The legacy of TeamMates will live on through multiple generations, and its impact will be substantial."

~ TREV ALBERTS, Athletic Director, University of Nebraska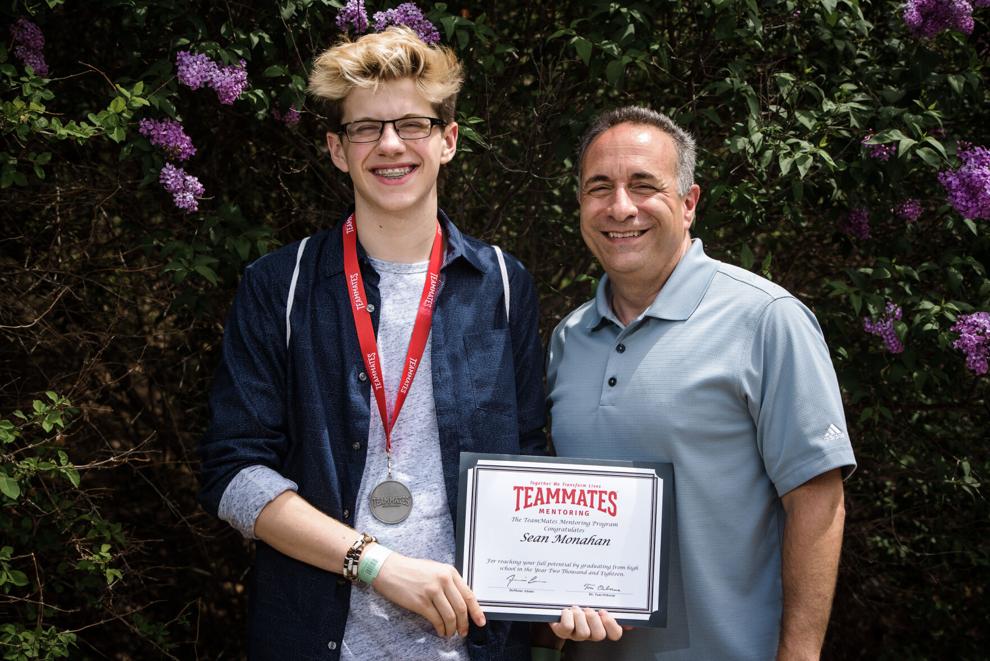 "They made it easy to connect to them and to trust them, because they showed they cared as much about the person as the football team. I probably respected them more than any other men who'd been around in my life except for my father," Veland said. "If you pay attention to people who've been successful, a lot of that success stemmed from somebody who helped guide them."
Tom Osborne himself said he was positively influenced by several mentors over the years.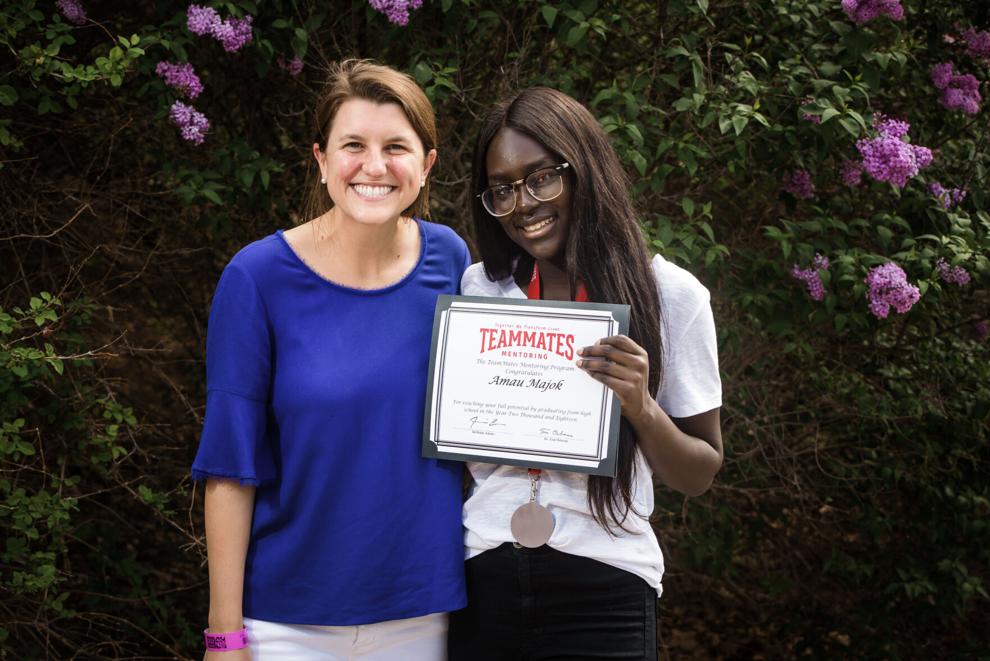 "My dad went into World War II when I was four and he was gone for five years, over in Europe. I had an uncle who lived across the road and he kind of took me under his wing, he took me hunting and fishing and spent time with me and was very helpful," he said.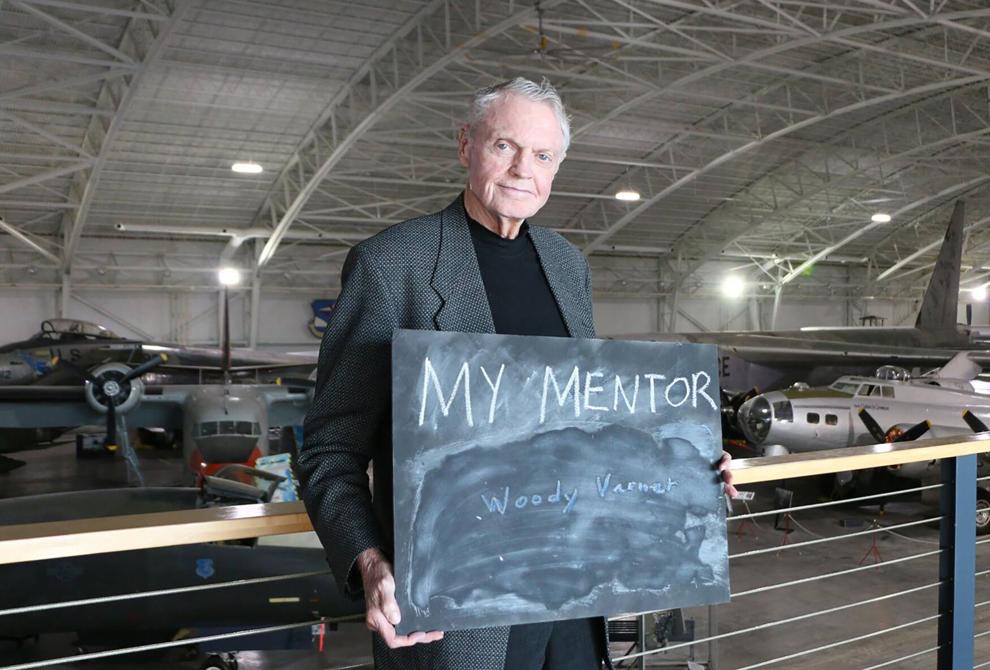 "Later on—when Woody Varner was a chancellor at the University of Nebraska—I was in my early 30s and a young football coach, and we won a lot of games. But when we didn't beat Oklahoma, life got pretty hard. So, if we'd lose to Oklahoma, there would be a knock on the door and it would be Woody, or his wife Paula might come over. And I'd be sitting there with the shades drawn and the phone off the hook because I'd be getting the calls from all the bars and the people who were mad they'd lost a bet."
Osborne chuckled at the memory. He added, "And to have the chancellor of the university come by was somewhat reassuring, and to have him on your side. Woody always had a good sense of humor and I'd count him among the mentors who've been influential to me."
Denny Walker, founder of Jet Linx Aviation and emeritus member of the TeamMates board of directors, helped the organization expand from Lincoln into Omaha. Like Osborne, he said he benefited from being a mentee.
"I had key mentors in my life and without them I would have never, ever been able to do the things I've been able to do as a person. They give you guidance and support," he said. "It wasn't an organized mentoring program, but the people who helped me were my coaches, for one, and my father."
"Because of the worldwide pandemic, our world changed dramatically in 2020. Many parts of society's vulnerabilities have been seen. We need each other. Our youth need all of us more then we can ever comprehend. It takes a village to raise children more today than ever. Giving back by being a TeamMates mentor, developing a relationship with a young person is no better way to be a gift that keeps on giving."

~ JIM PILLEN, TeamMates Foundation Chair
Serving as a mentor through TeamMates has been "of the best things that's ever happened in my life," he added. However, it hasn't always been easy. One young man Walker mentored years ago tended to miss many of the mentor/mentee meetings and neglect his schoolwork.
"I wanted him to be successful more than he did, and that became a problem," Walker recalled, adding that he questioned—after the youth reached adulthood and left the program—if he'd ever been a positive influence on him.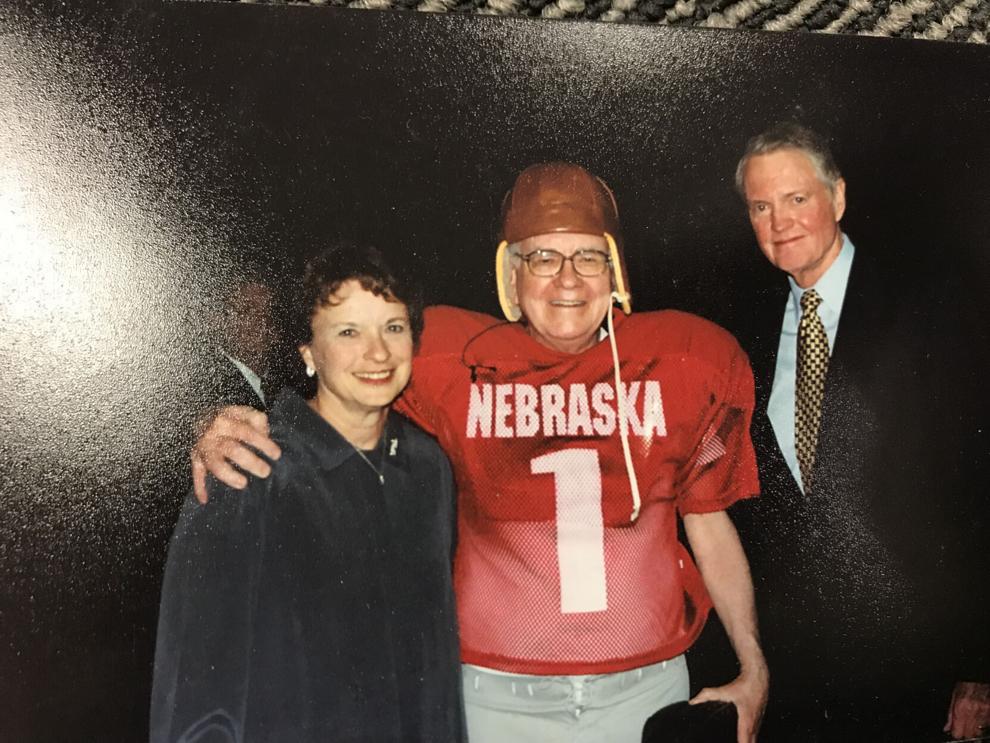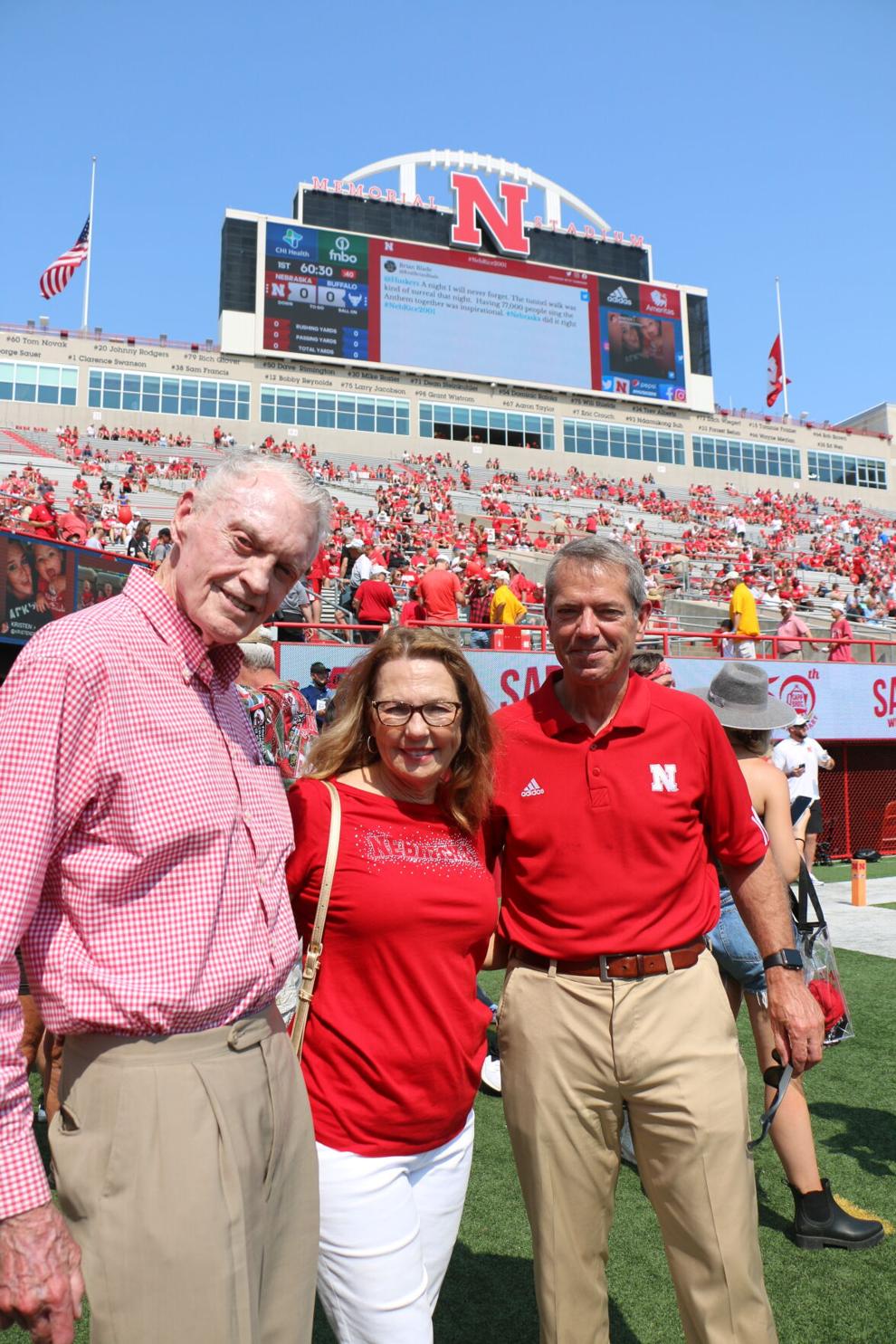 Listen and share
A few years later, the young man requested to meet with Walker, surprising him with the announcement that he was on track to graduate from his college program.
"I asked him, 'how did you do it?' And he said, 'I just started doing the things you said to do,'" Walker said. "I went to his graduation!"
Mark Bope, a sophomore at Millard North, was matched as a 4th-grader with Dr. Deepak Gangahar when he joined TeamMates. Gangahar, a retired surgeon, is chairman of TeamMates Board of Directors and still serves as Bope's mentor ("We just call him 'Doc,'" Bope said.)

"This has been one of the best experiences I've ever had in my life, meeting up with him every week at school and talking about random stuff, really," Bope said. "That has been life-changing for me."
Bope's interest in becoming a mechanical engineer connects well to Gangahar's experience in thoracic and cardiovascular surgery¸ said his mother Deborah Gleich-Bope, a former school counselor and administrator.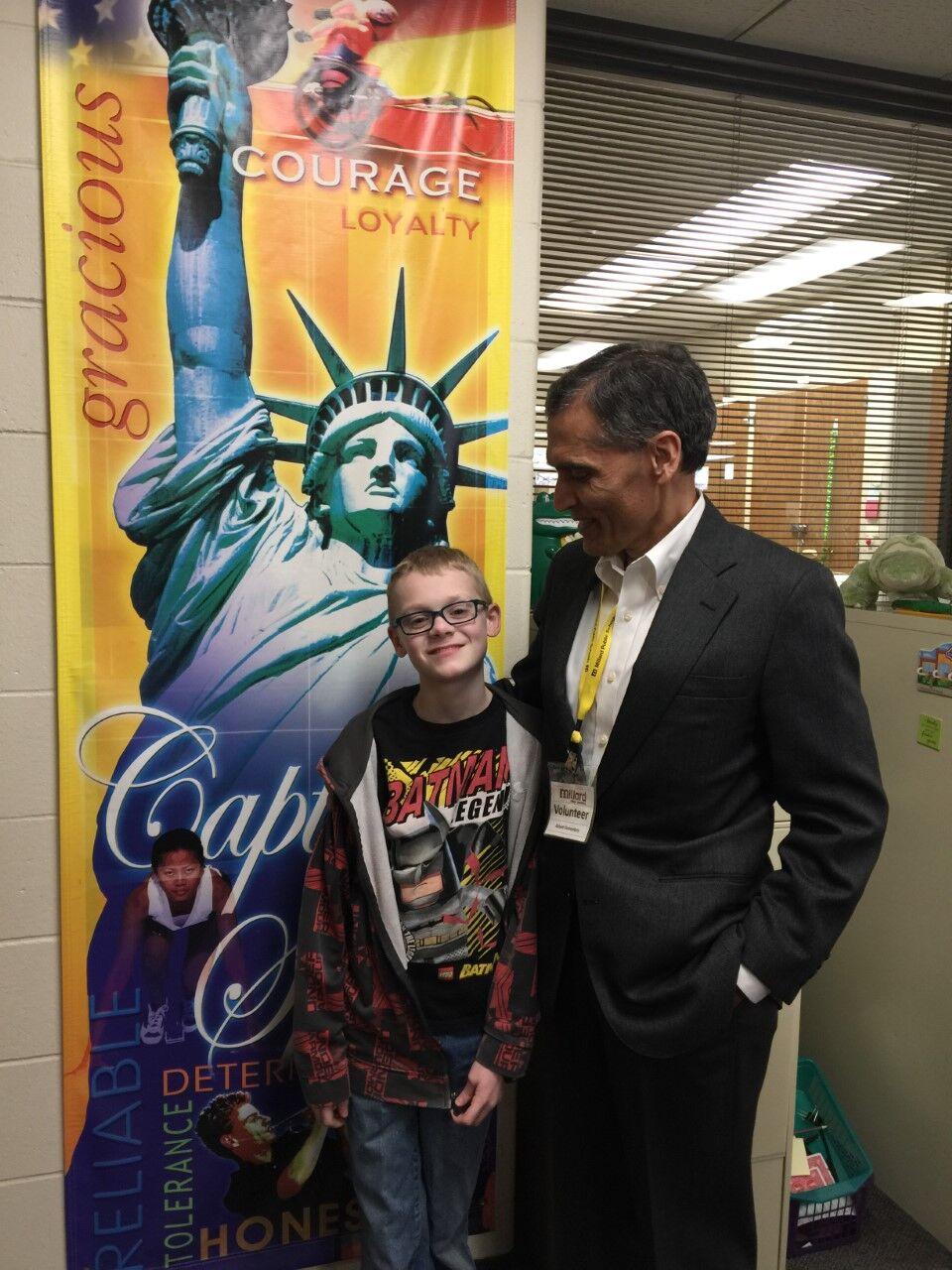 "I think both Doc and Mark are inquisitive; they're always asking questions about the world," she said. "Doc's focus is the human body and Mark's focus is machines."
Gangahar said mentors benefit successful students like Bope, as well as those who may be struggling.
"Mentoring should not carry a stigma. It's not for only troubled kids, but for all kids," he said. "Whatever they have in mind—good, bad or ugly—we are there to listen and share our experiences."
Bope said he feels Gangahar enjoys the company and conversation as much as he does.
"They have a great relationship," Gleich-Bope said. Her original hope when enrolling her sons in TeamMates was for Mark and his brother, 2021 Millard North graduate Nate, to make a positive connection.
"I thought it would be good for my boys. We are not from Nebraska, we have no family here whatsoever, and my husband travels a lot for his job. It was always just me and the boys; there wasn't really anyone else," she said.
"I thought getting them a mentor would be a way to get them another caring adult in their life who they could talk to and get advice from, who's outside of just me and their dad."
Bope said he likes that Gangahar is not an authority figure or a peer.
"There's no fear in telling your mentor anything...the mentor is just there," he said, adding that he especially appreciated his mentor's support during one stressful period.
"Doc helped me get through that whole situation," he said. "The longer the meeting went on, the happier I felt that I was here."
Gangahar said his goal for Bope and his second mentee is simple: "Hopefully I will watch them blossom, succeed, and be happy."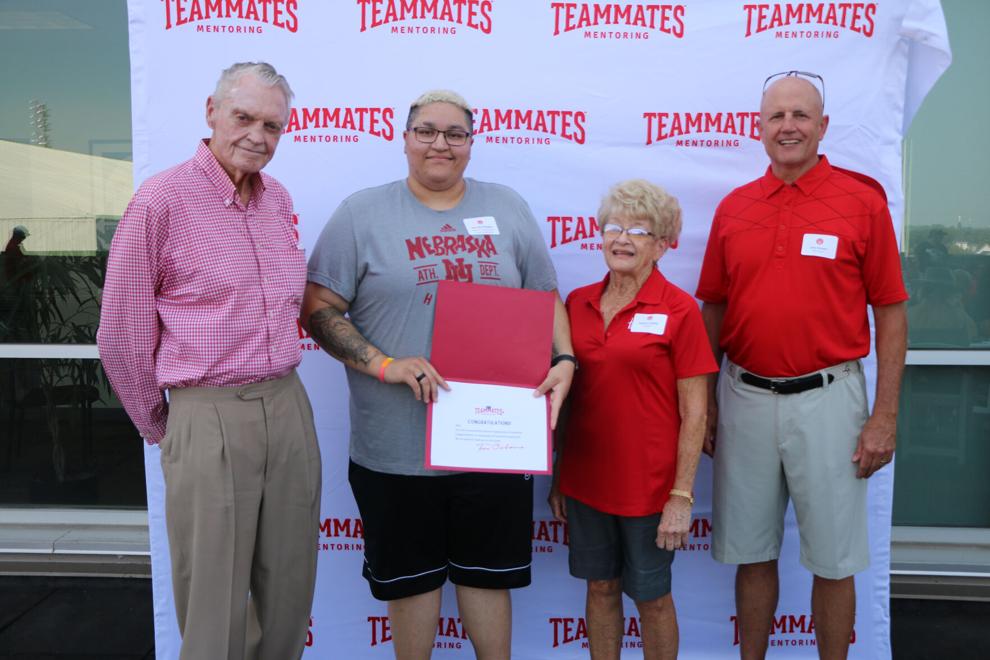 A trusted friend
Osborne said serving as a TeamMates mentor was different than his role as a coach or father.
"A mentor, as we see it, is simply someone who cares unconditionally. They're not judgmental, they're not a parent. Sometimes kids get used to being told what to do by a parent and sometimes—and I guess I would count myself in that number—parents aren't really good about sitting and listening without judgment to their kids," he said. "It's having a safe, trusted friend in your life who shows up every week and listens, and maybe reflects, and maybe says once in a while, 'Have you thought about this for handling this problem?'
"And, of course, there are lots of kids who have only one parent in their life and we have some who have no parents. So having somebody in your life who cares about you and loves you unconditionally is very powerful.
"We're not asking the mentor to replace the parents; we don't want parents to feel threatened that someone's trying to take their role. But we do feel that having someone who is an advocate and who cares about you can provide a good perspective about things simply because of more life experience. When you're 14 or 15, you haven't been through lots of things that older people have already, and they don't have all the answers but at least they have some answers."
Walker and Veland said mentors provide a unique objectivity and credibility.
"(Mentees) need guidance. They need discipline developed in their lives. They need to hear and listen to people who are adults who've been down the road," Walker said. "In most cases, once they trust you they'll open up and tell you things that are going on."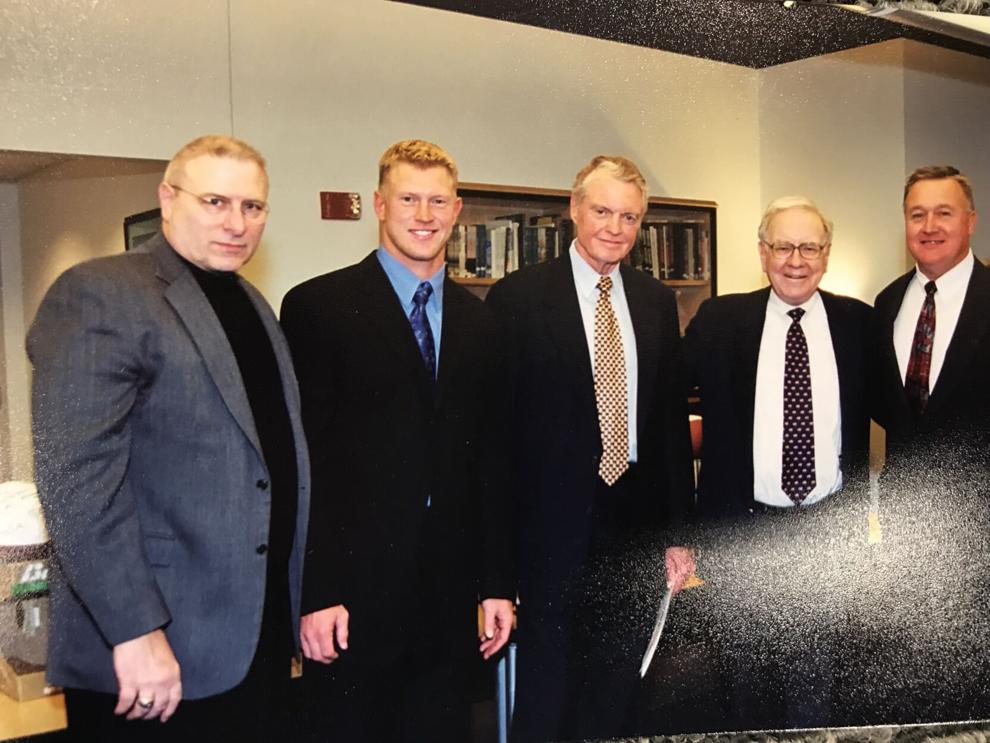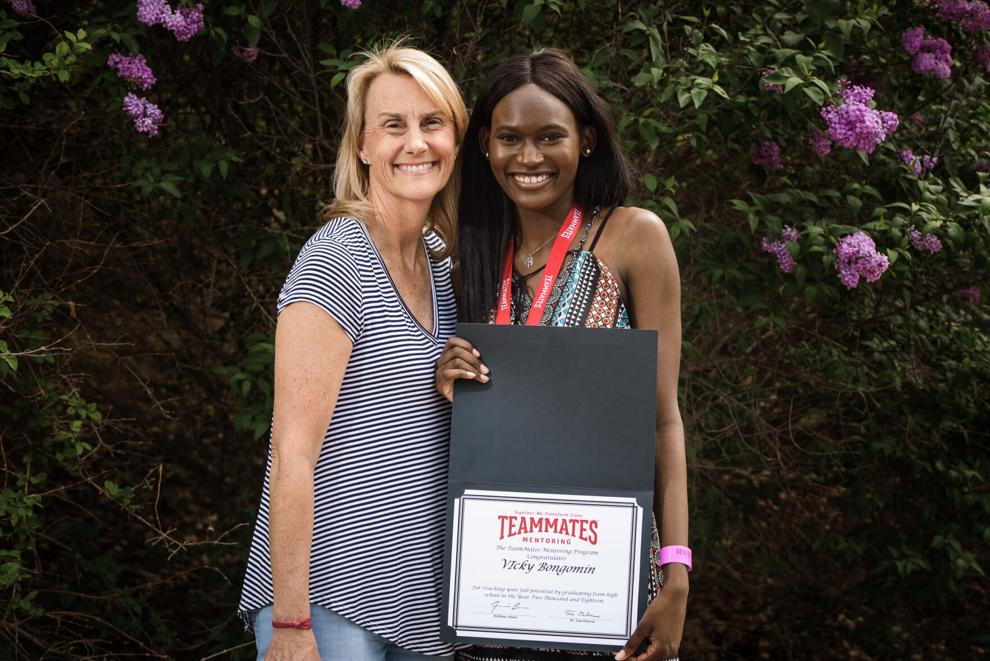 "It gives us a chance to reflect on the lessons we've learned over the years and use that information to instill into the life of a kid. Sometimes I think we get so busy with just trying to move forward that we forget where we came from, and forget that we were a kid at one point, and forget the experiences that we've had that could truly benefit someone," Veland said. "Being able to use that to help someone and instill something into the life of a kid—the feeling that you get from that is really worth its weight in gold."
The match is beneficial to the mentor, too, Adams agreed.
"Our mentors share with us that since they became mentors, they are more engaged with their work and their family. They have higher levels of hope for the future as a result of their mentoring experience," he said.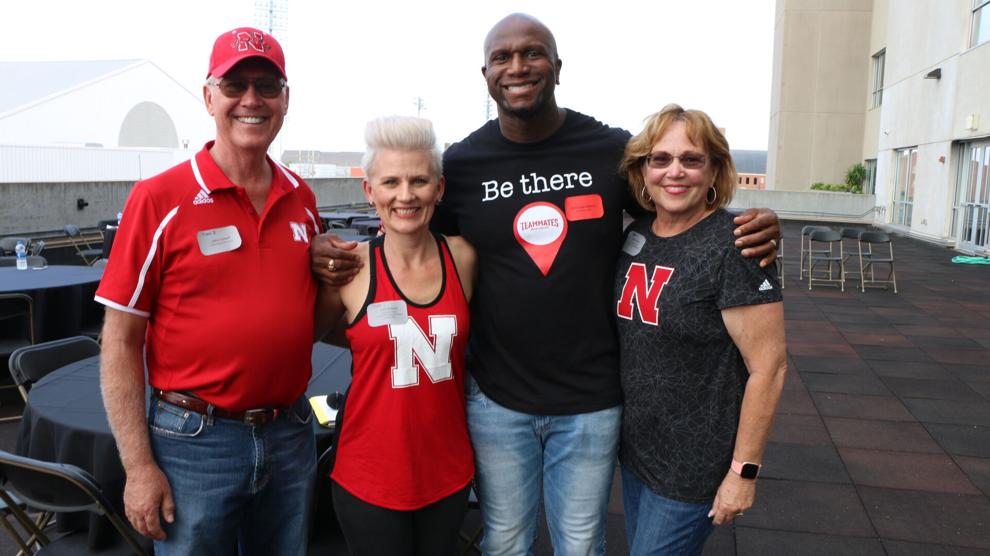 "When you're matched with a kid, it creates a sense of accountability in yourself as well. Because if you're giving them advice, you really don't want to be a hypocrite," Veland said. "It keeps you on your toes and you make sure you're being the person you're portraying to be."
Standard of excellence
The participating school districts benefit from higher graduation rates and other positive indicators among TeamMates students, Osborne said.
"In about 85 percent of our matches attendance improves, and in about 75 percent of our matches discipline and less problems occur; and less classroom disruption, teen pregnancy, substance abuse and so on," he said.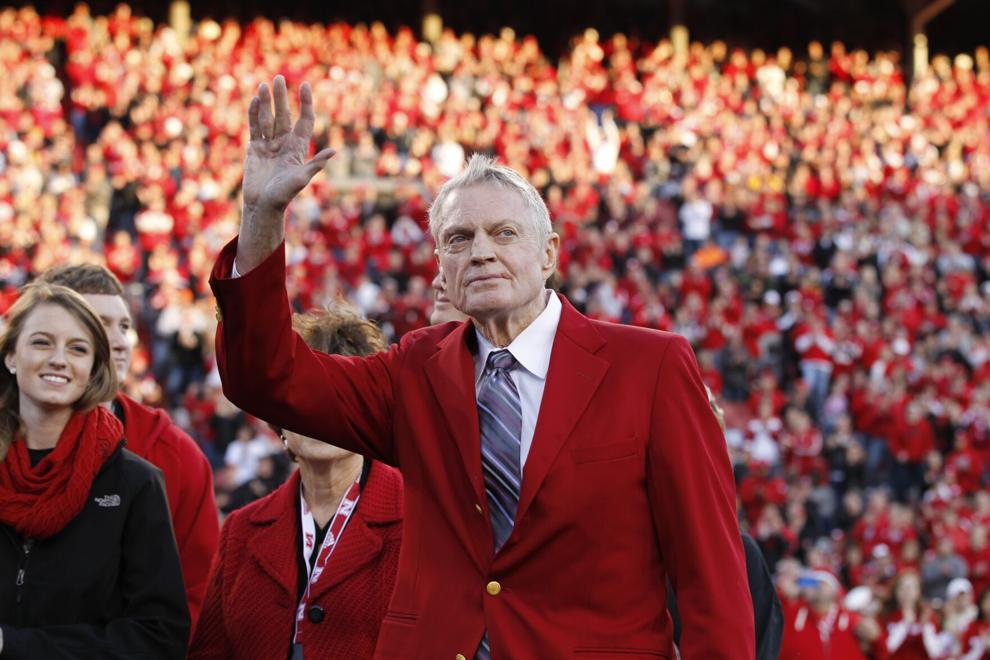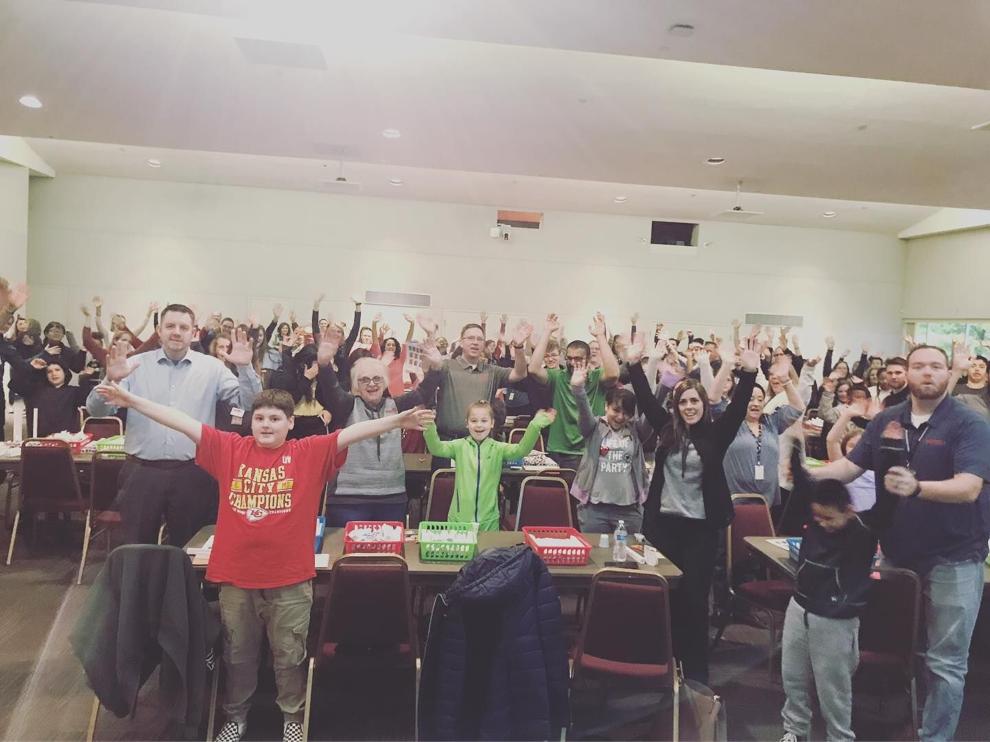 Plus, TeamMates has a high standard of excellence in protecting participants.
"That safety record is something that's, of course, very important to parents and the school administrators. That's one of the main reasons why we're school-based, because when mentoring occurs in a school setting, there are always other people around and the people are mentors for the right reason," Osborne said.
The school-based model provides a safe environment for TeamMates matches to meet, and the online portal is secured and monitored. Mentors must pass a background and reference check and safety issues are regularly reviewed with mentors, mentees, building coordinators and program coordinators. Additionally, TeamMates provides a hotline 24/7 for anyone to report a safety concern.
Potential mentors can visit the organization's website at TeamMates.org or call the TeamMates office at (877) 531-8326 (TEAM). Potential mentees must be enrolled in a school sponsoring the program (every school district in the Omaha metro area participates) and can nominate themselves or be nominated by an adult.
A parent or guardian must provide written permission for the student to participate in TeamMates as a mentee.
Reaching their potential
The program works, Tom Osborne said.
"Statistics prove that youth who are mentored and receive support and guidance from a caring adult show measurable improvement in academic achievement, attendance, self-esteem, and motivation to succeed," Osborne said. "We annually collect data reported by each school where match meetings are held and the data confirms that mentoring has a significant impact on a student's success as 95 percent of TeamMates senior mentees graduate; 91 percent of TeamMates mentees had higher levels of hope; and 85 percent of TeamMates mentees improved their attendance."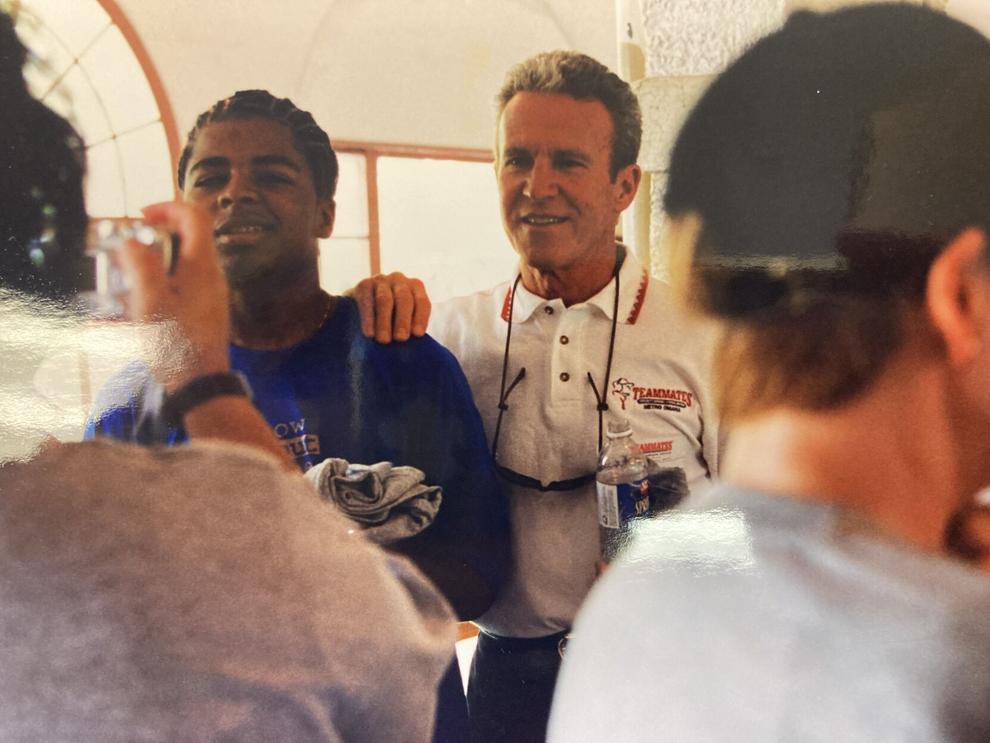 "Bob and I send our thanks to Tom and Nancy for having the vision of TeamMates and for their efforts over 30 years to nurture and grow the organization. There is no question that TeamMates has made a lasting positive impact on the lives of an impressive number of young people throughout Nebraska and the surrounding states."

~ CYNTHIA MILLIGAN,
TeamMates Foundation Board Member, W.K. Kellogg Foundation
"When you look at the graduation rates and you look at what (mentees) do as individuals, it's off the chart," Walker said. "It's extremely effective, and the biggest thrill I get out of it is hearing the stories of either people I've recruited or who I meet who are mentors, or being at a seminar and someone wants to tell a story about their mentee; it's very emotional. It brings tears to your eyes. I have never recruited anyone who doesn't say that it's one of the best hours of their week, when they go to see their mentee. It's just amazing what it stands for and how simple it is: one hour a week at a school of your choice and at a time of day when you can be there."
The one most precious thing in life is time," Gangahar said. "One hour a week that is all we are requesting people consider giving…TeamMates is building the future."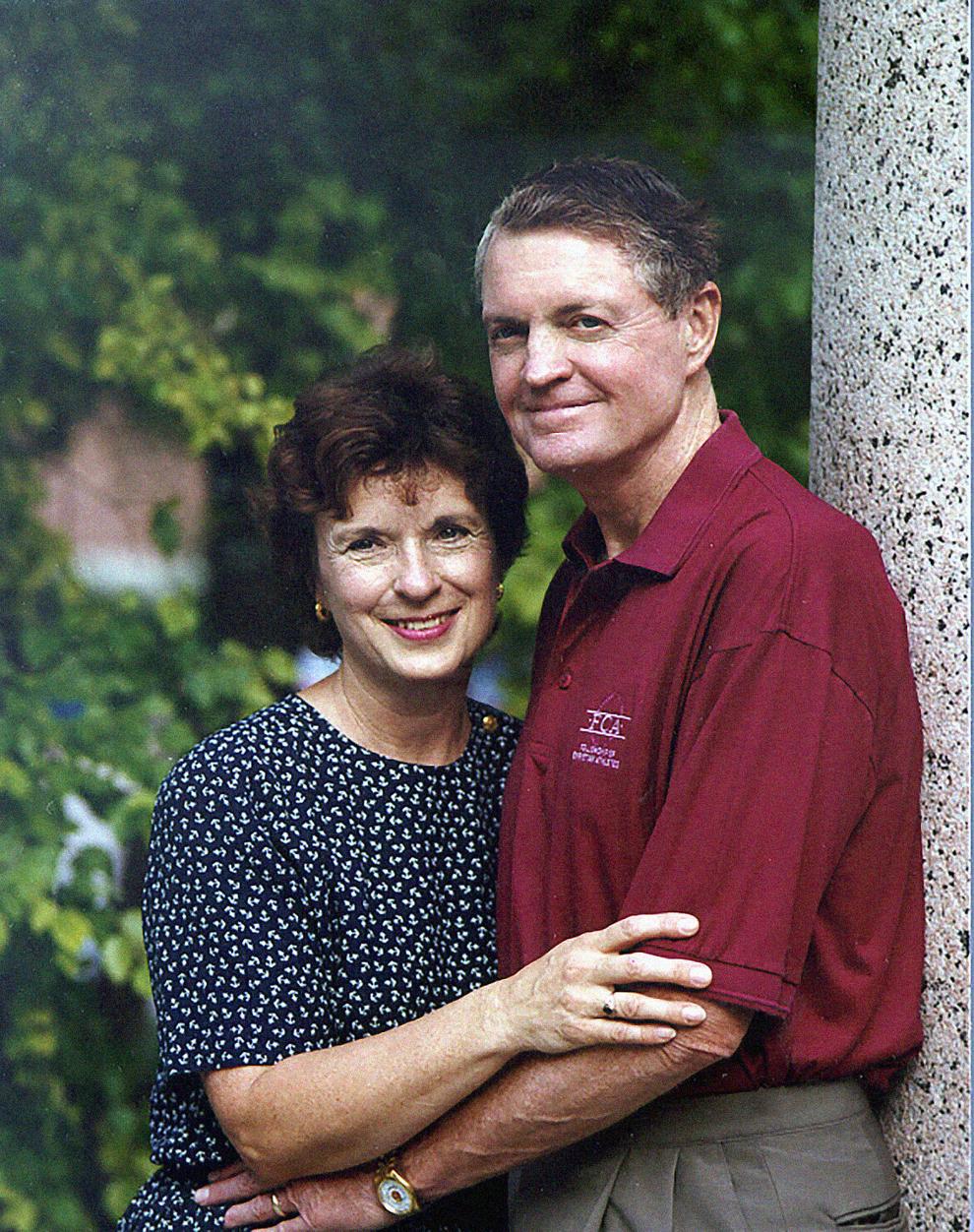 "The best organizations aspire to greatness through the impact they have on the world and yet few achieve it like TeamMates has. From the vision set out 30 years ago, to the mission of inspiring youth to reach their full potential, to the well-orchestrated execution of matches across 180 communities, TeamMates has excelled at changing the lives of tens of thousands of kids while helping them to become productive, hopeful adults, citizens and humans one child at a time.

In addition, the many adult mentors have also become better humans through the experience of mentoring and changing lives.

Congratulations, Tom and Nancy, on a dream and vision realized!"

~ JANE MILLER, President and COO, Gallup
---
HONORING THE OSBORNES:
Advertising Sponsors Section 
---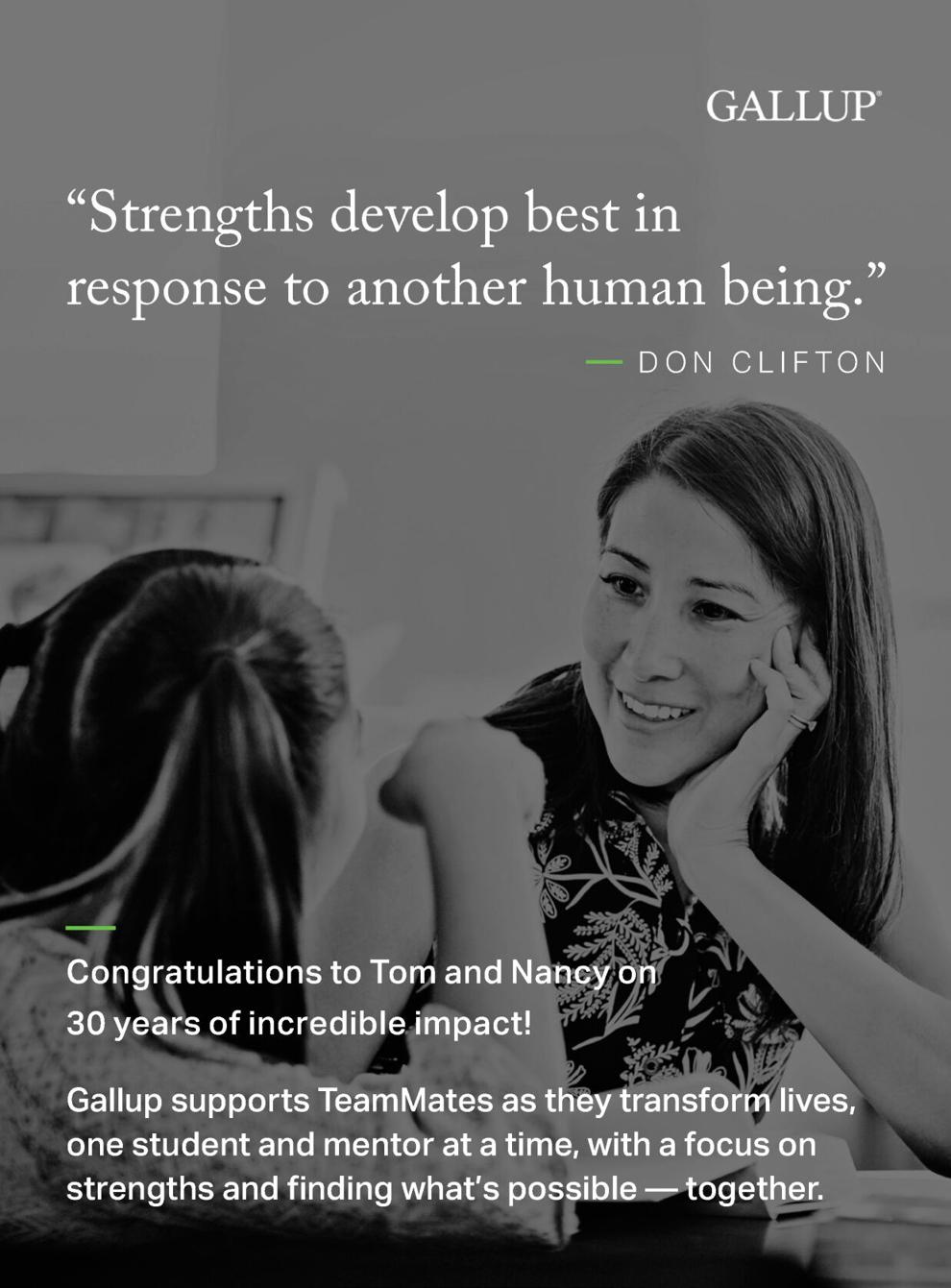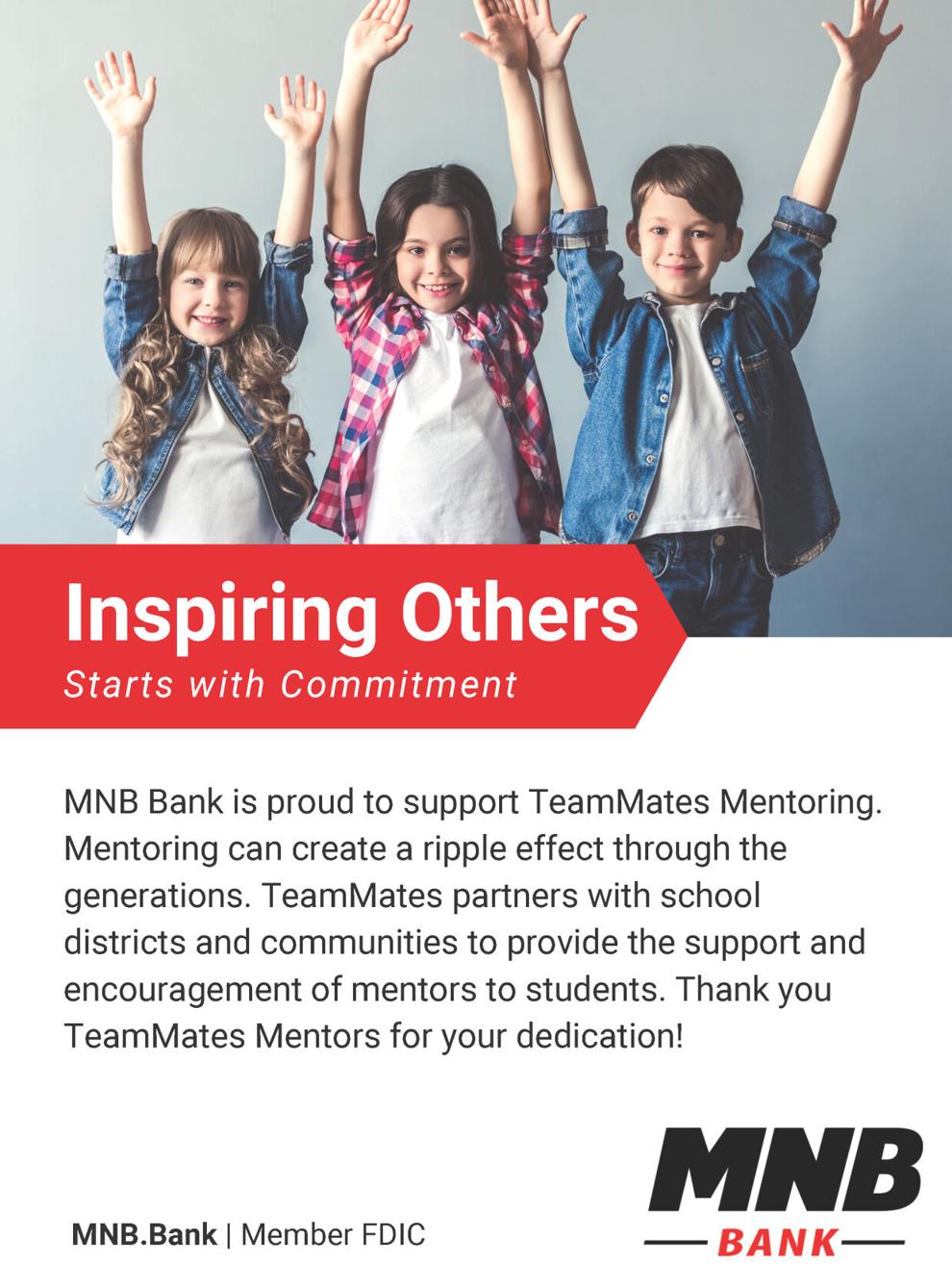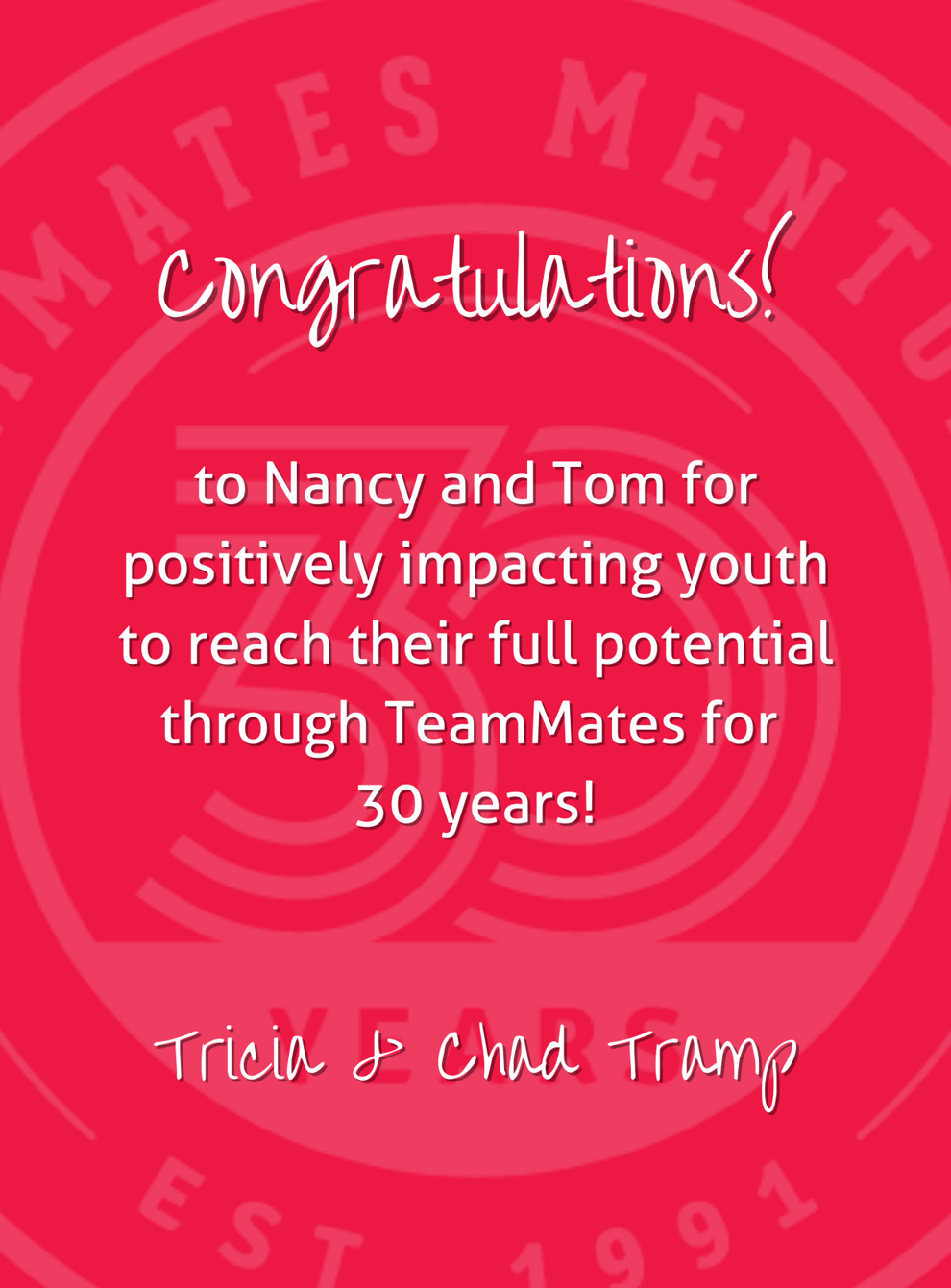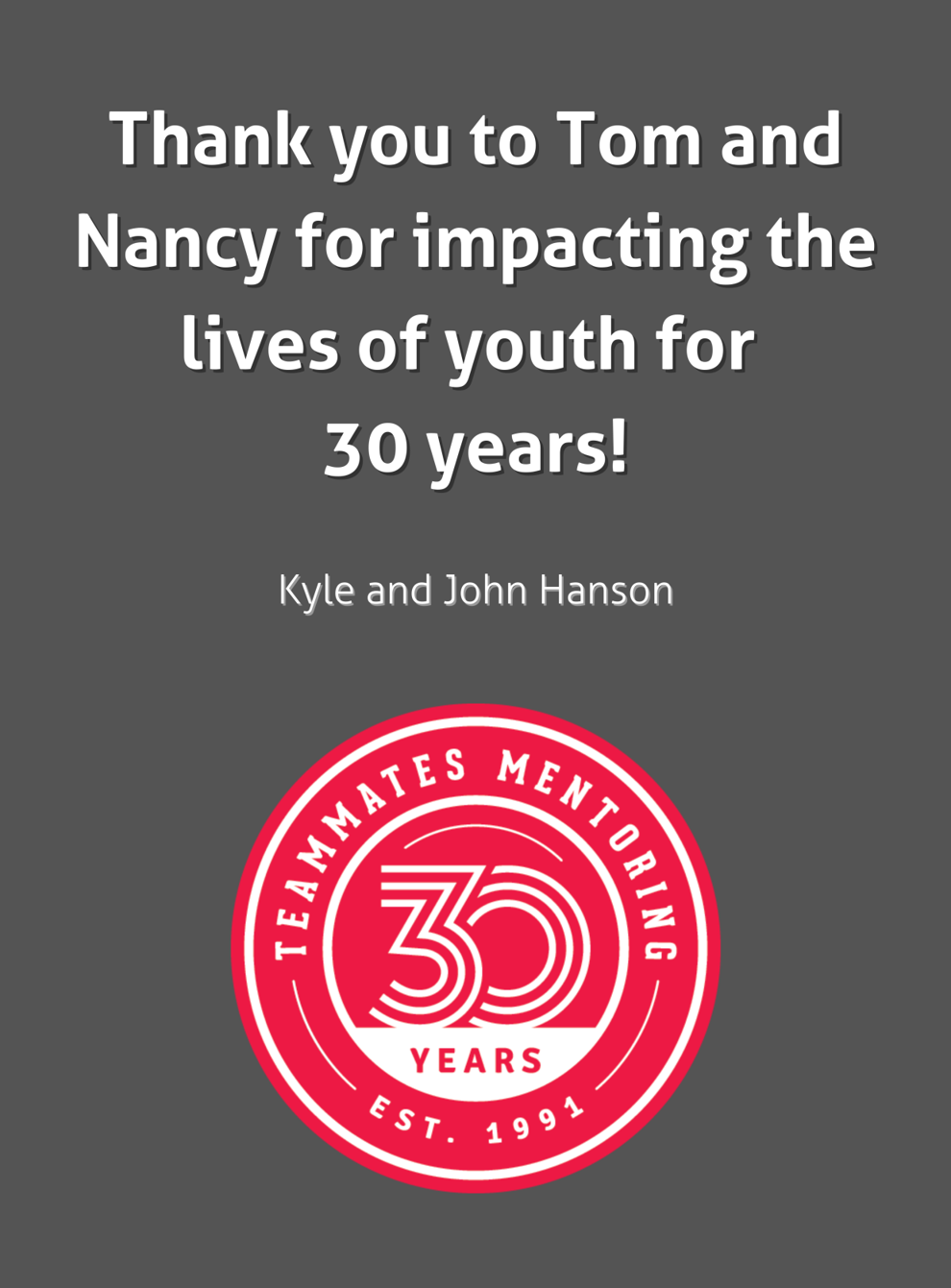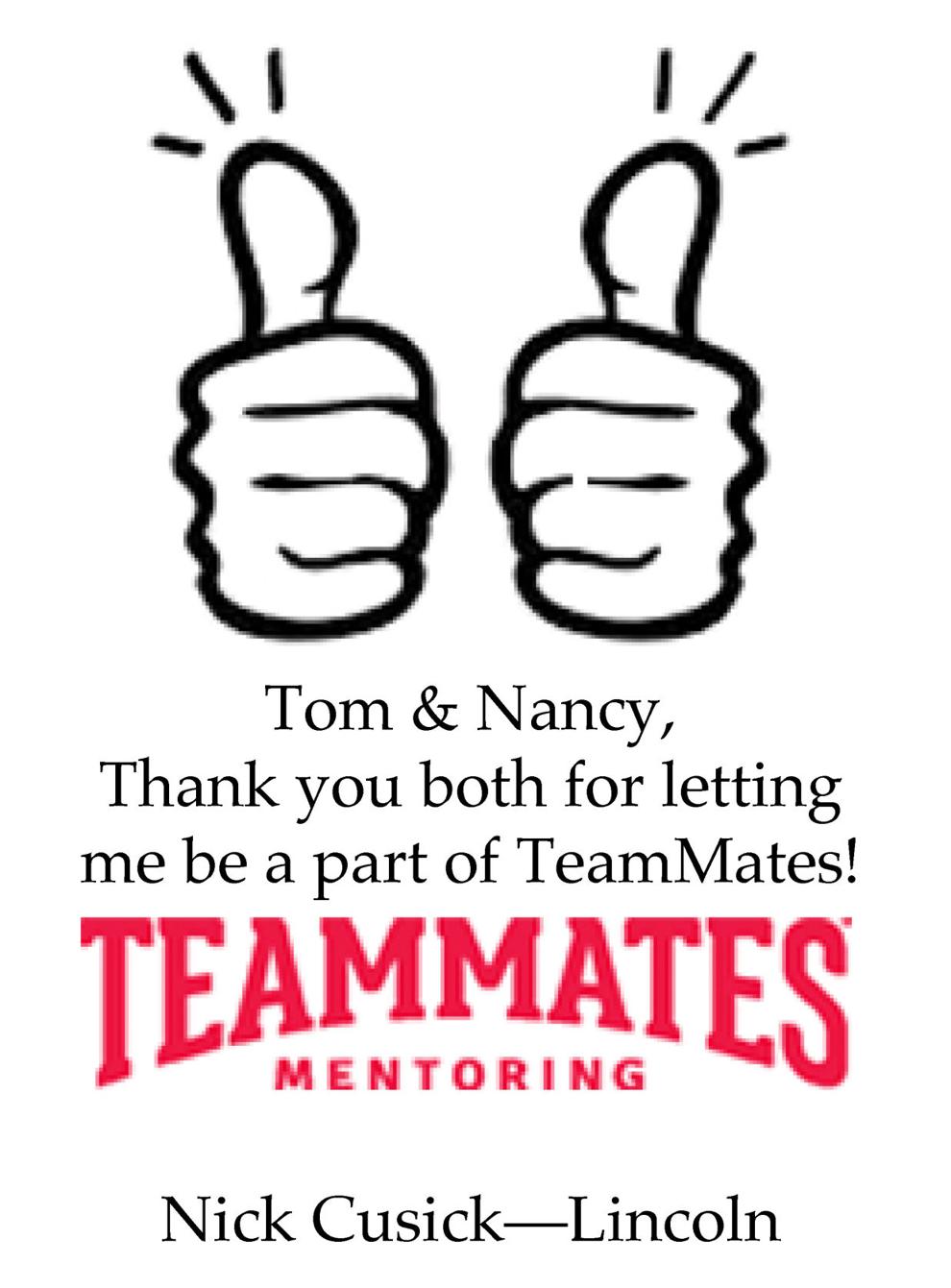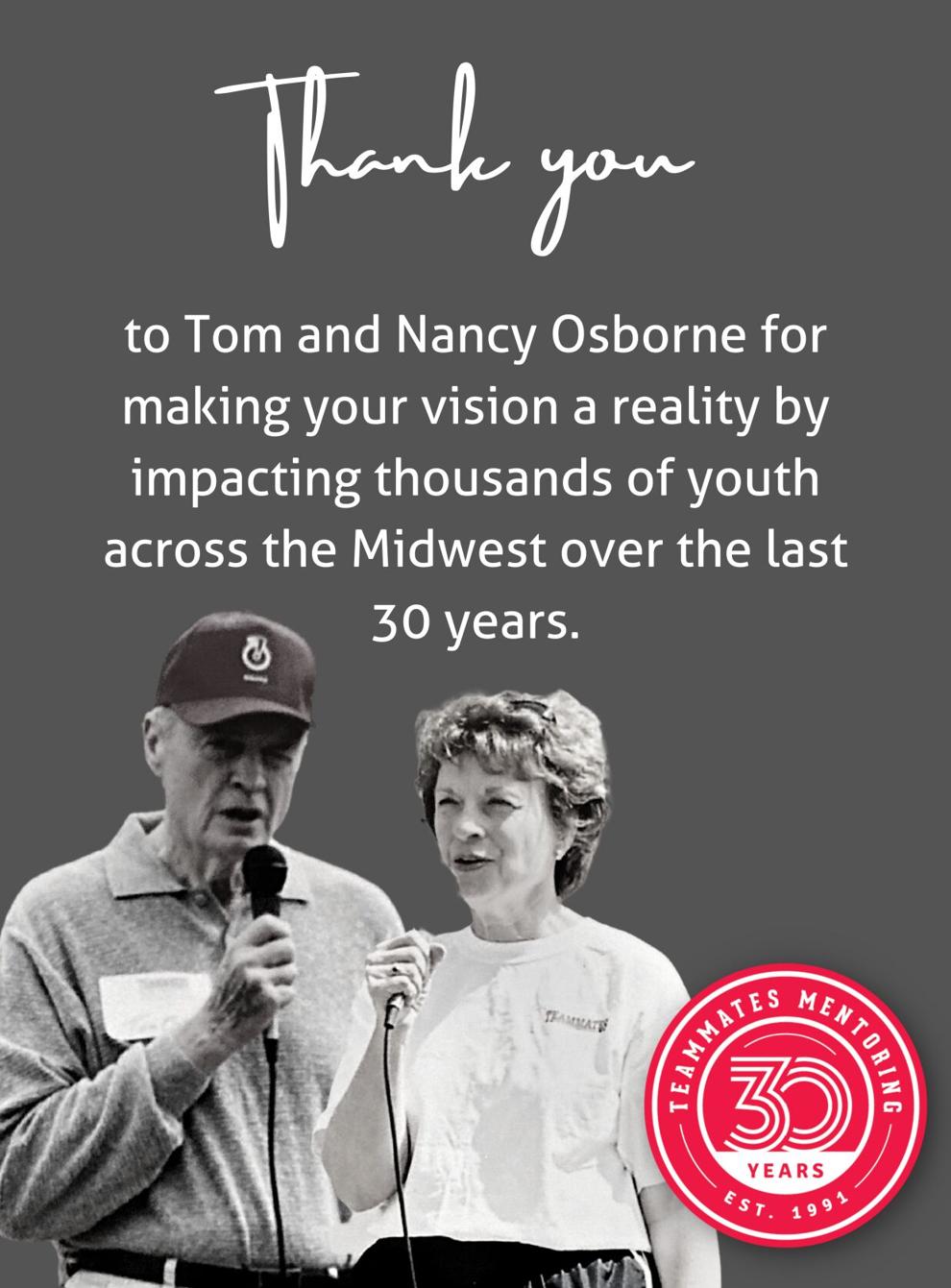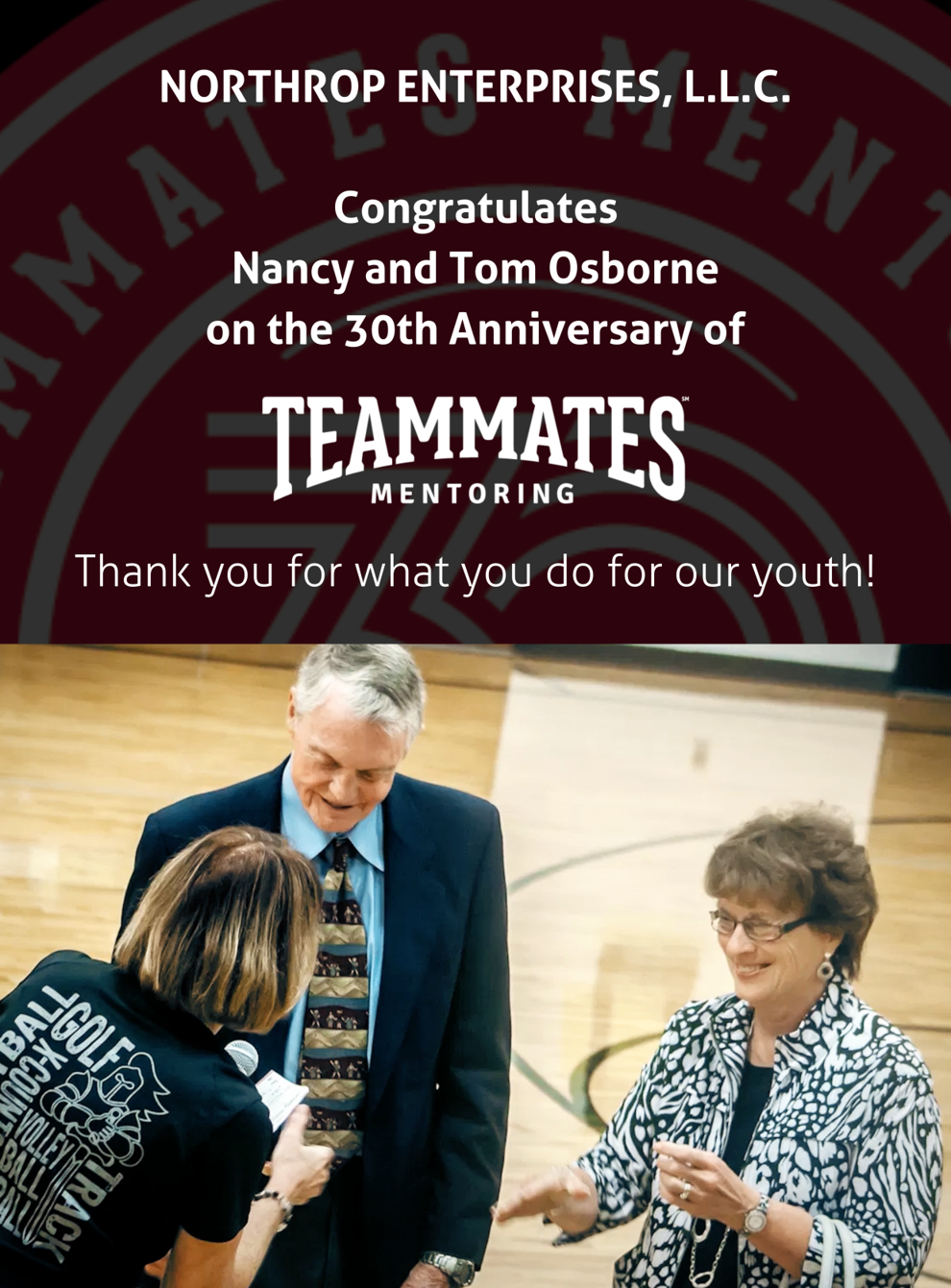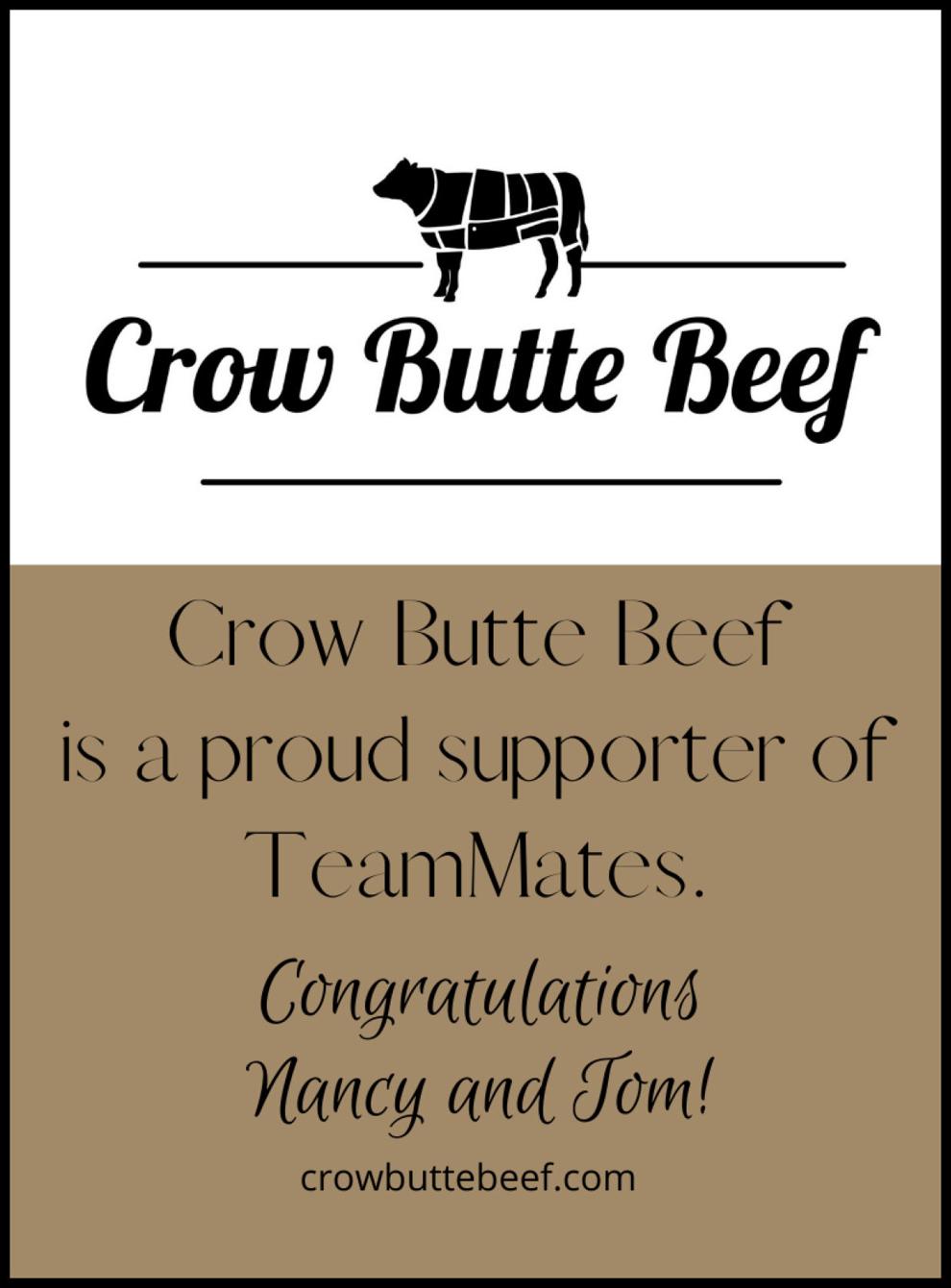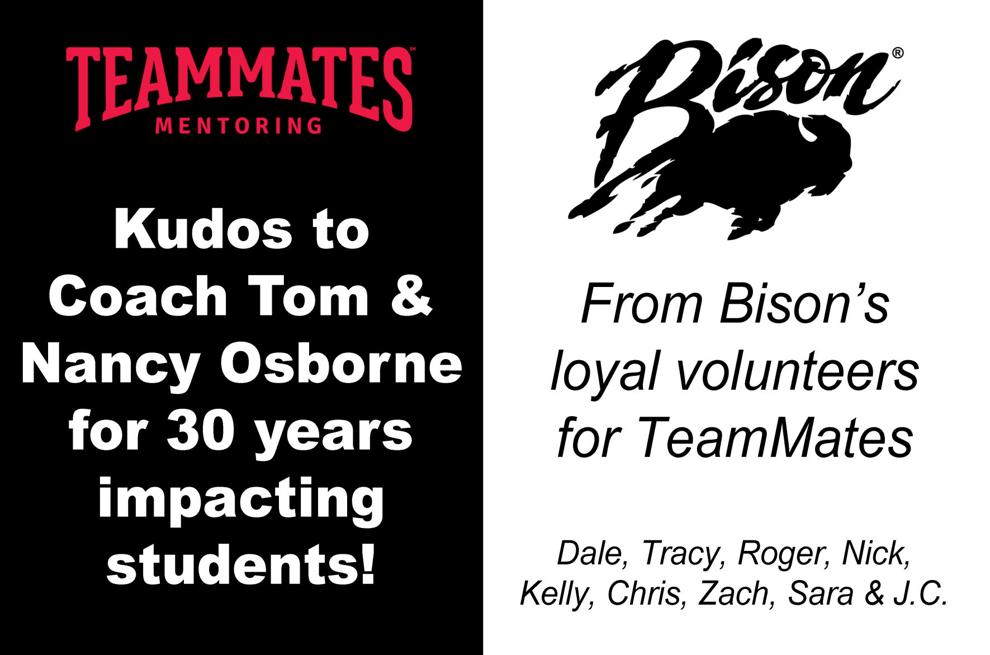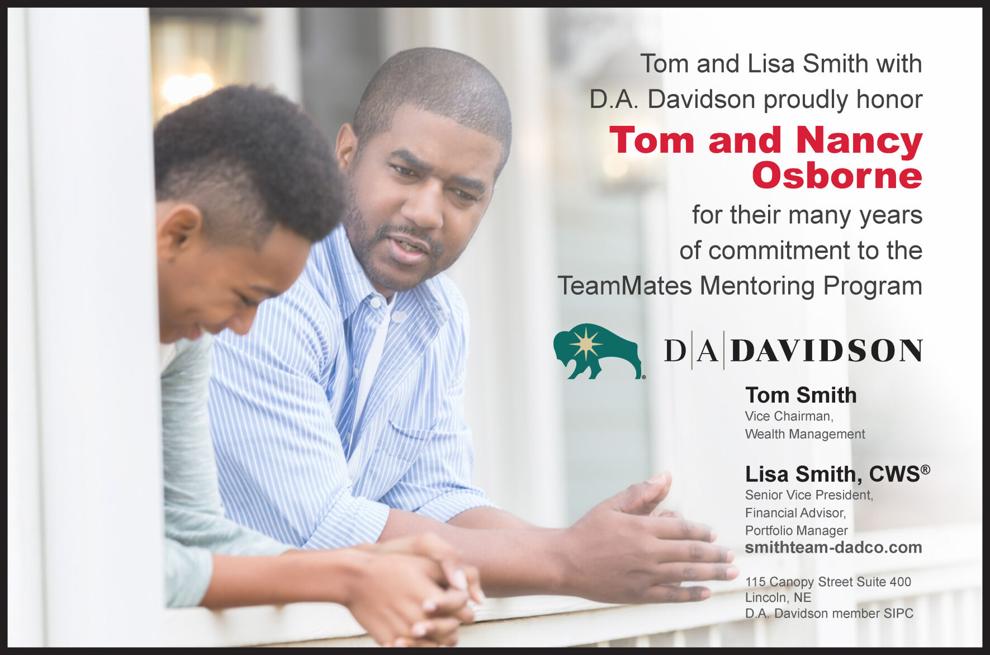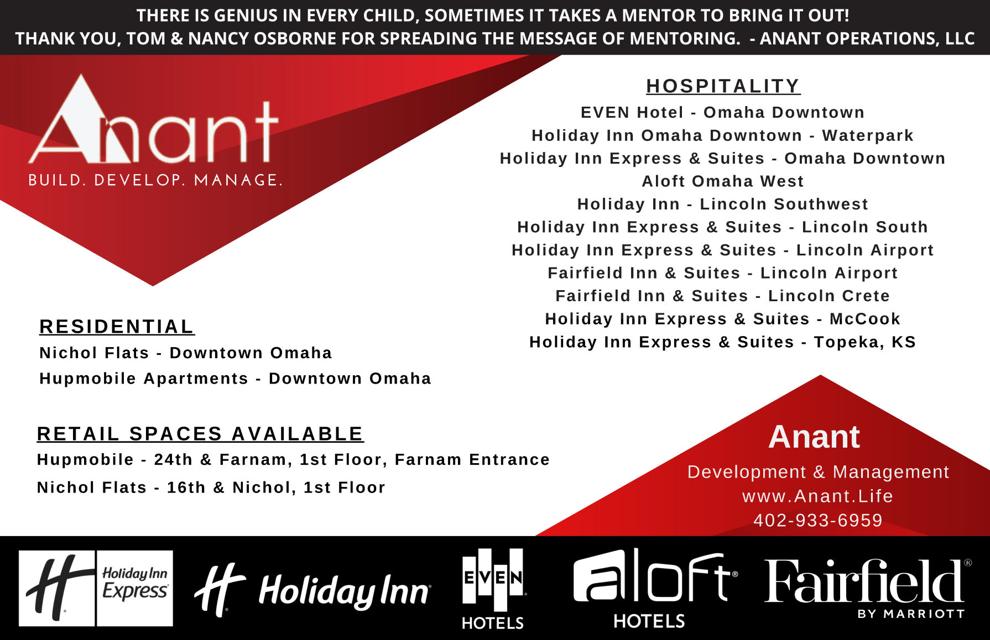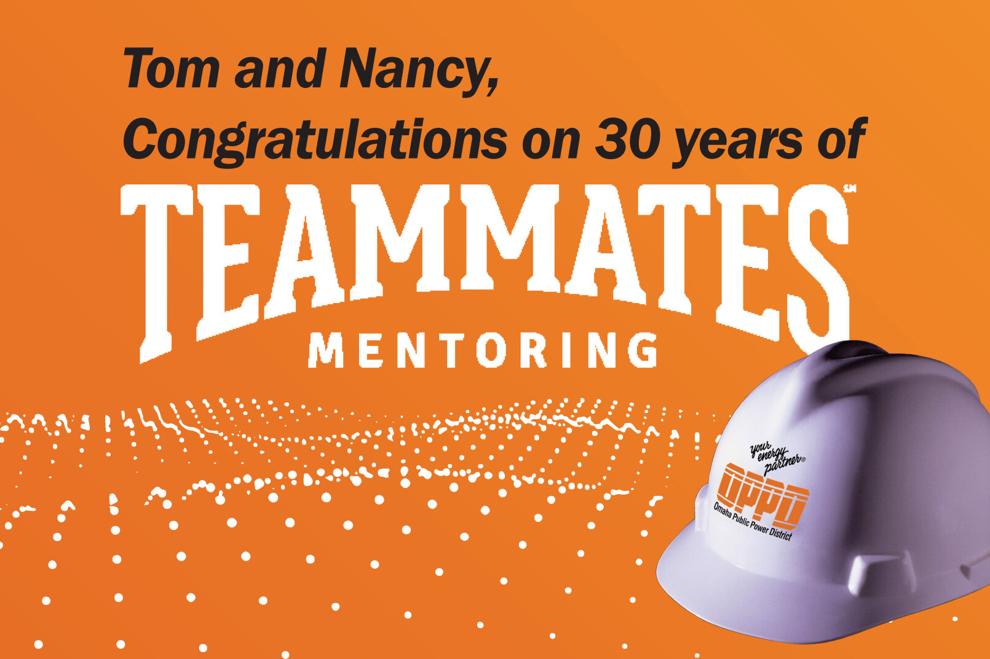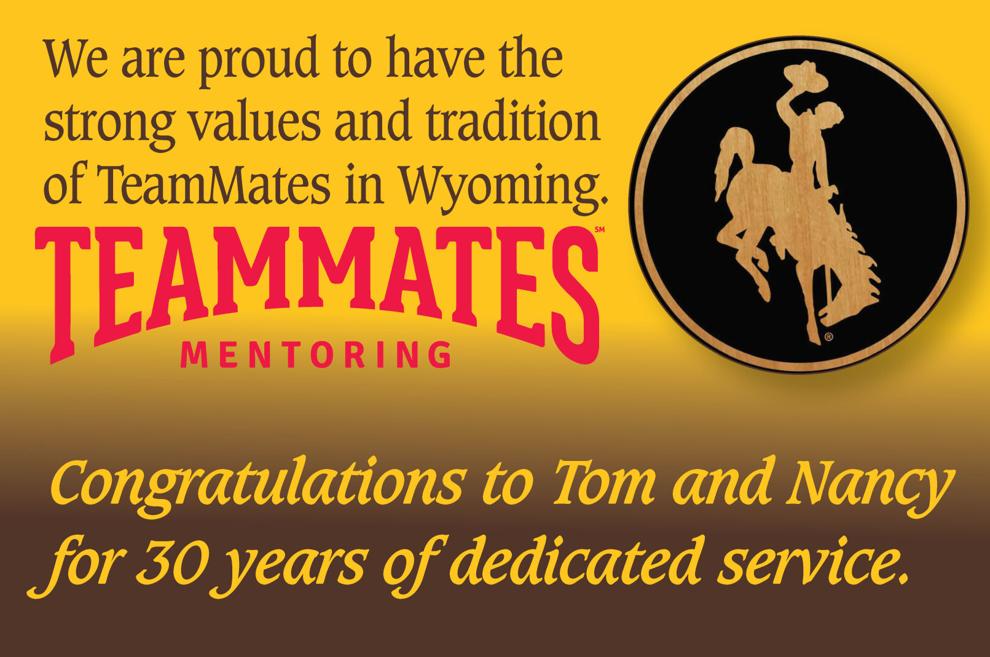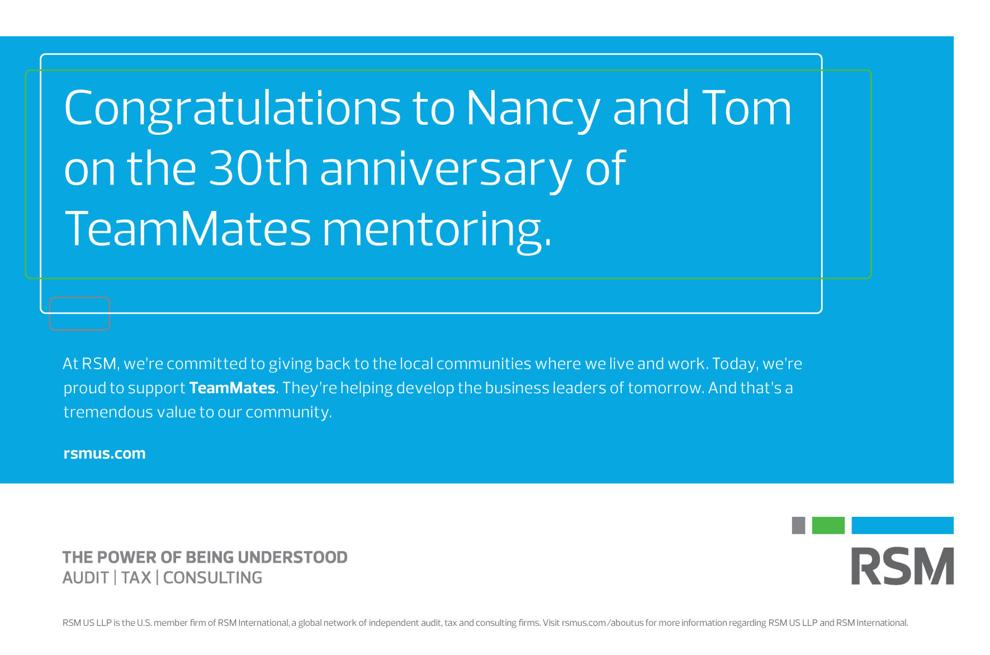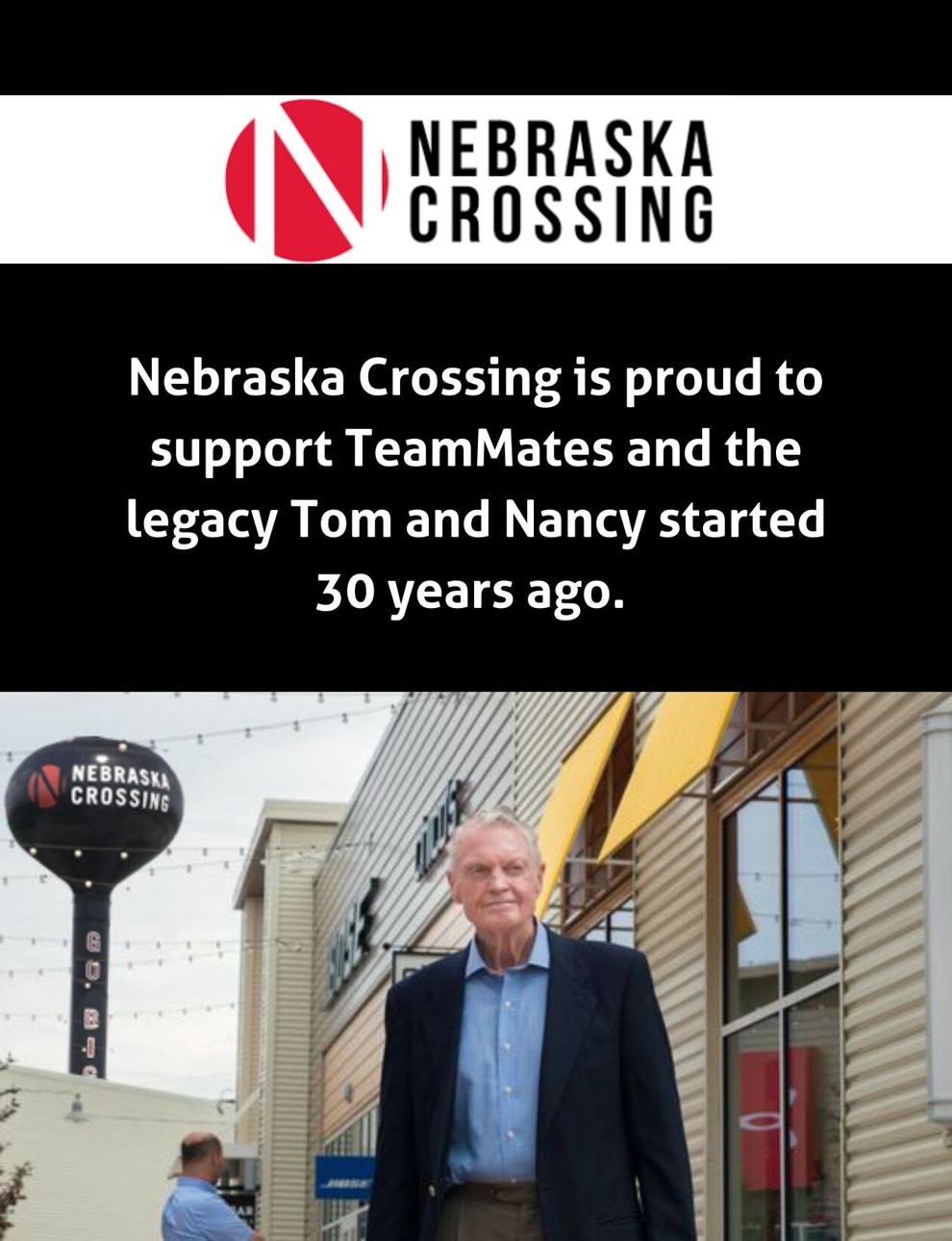 ---