Pathfinders

Women Leading the Way for Other Women
Julie Cornell is known to Omahans as a longstanding television journalist and newscast anchor.
Beverly Kracher, a college professor for nearly three decades, founded a local nonprofit focusing on business ethics in 2005.
Sasha Shillcutt is a medical professional and professor, and she's also the founder of a company that empowers women.
Heidi Wilke is an advocate for sexual assault victims and founded a local program which provides expert and compassionate emergency care and evidence collection.
Sherie Thomas is a member of the police department who was recently promoted to captain, and is often recognized in the community for her recent role as a public information officer.
---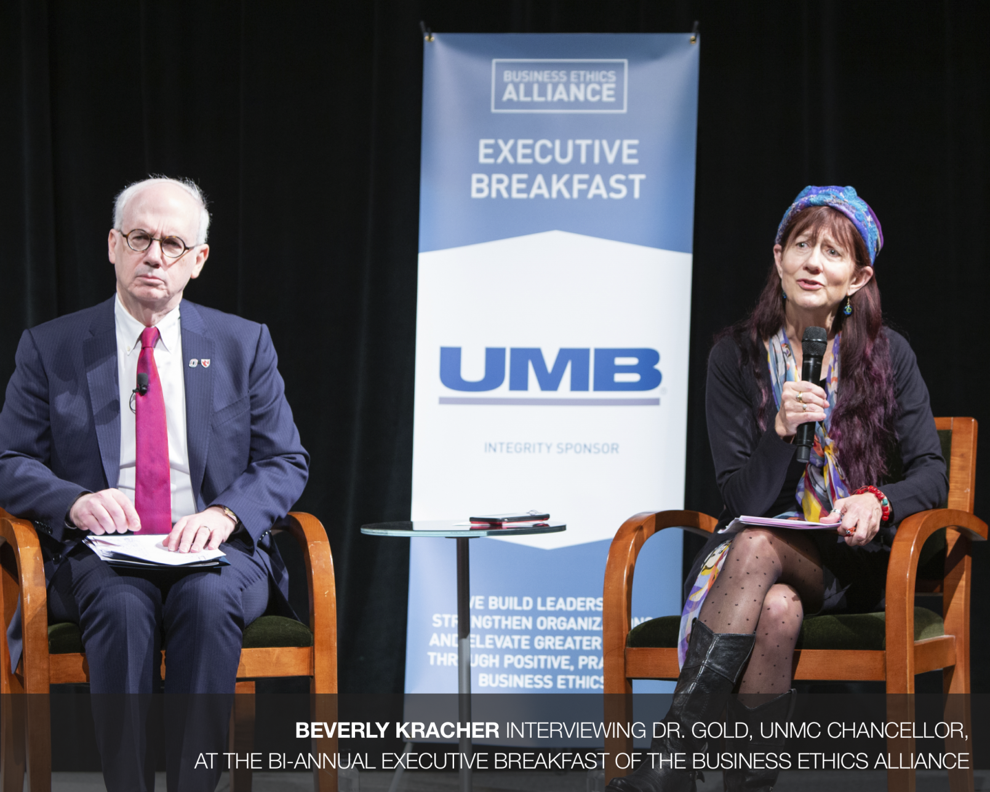 Dr. Beverly Kracher
is the first female endowed chairholder in Creighton University's Heider College of Business, and she is also the founder and former CEO of the nonprofit Business Ethics Alliance. She's only in her early 60s, but when Kracher entered the workforce, it was at a time when women were underrepresented in many workplaces and especially in leadership positions.
Kracher recalled her acute awareness of being the only female employee at the Department of Roads early in her career, but she saw discrimination as early as college.
"I remember a class I took in graduate school, and I was the only female in the room, as usual," she said. "The professor went around the class and gave extensive content feedback on all of the male's papers. He got to me and said, 'Beverly, your paper is typed very well.' That was it. Seriously! I don't think he knew what to do with a female student."
People have told her she has a "chip on her shoulder" when she relates experiences like that, Kracher said. "But it gets burned in your brain that you are judged differently."

---
Julie Cornell
Other women can relate. After graduating from journalism school, Julie Cornell, now an anchor for KETV, entered a shifting field. Cornell said she remembers feeling in the 1990s like she wasn't being taken seriously because she was both young and female. Focus groups at the time revealed that many older men said women didn't belong on a news set and that they wanted to see only men, per tradition.
"That was hard to take," she recalled.
By the time she landed in Omaha, where she's been for 29 years, broadcast journalism was a better place for women.
"I started out in a really small market and I took meaningful steps to work my way up," she said.
"I really feel like the pioneers came before me. There was a generation before me—Carol Schrader, Loretta Carroll, Rose Ann Shannon, Marcia Ladendorff—and they were really the pioneers who came to this male-dominated field and had to break down barriers and take a lot of criticism and behavior that is no longer acceptable. They really started it off."
---
Realization and inspiration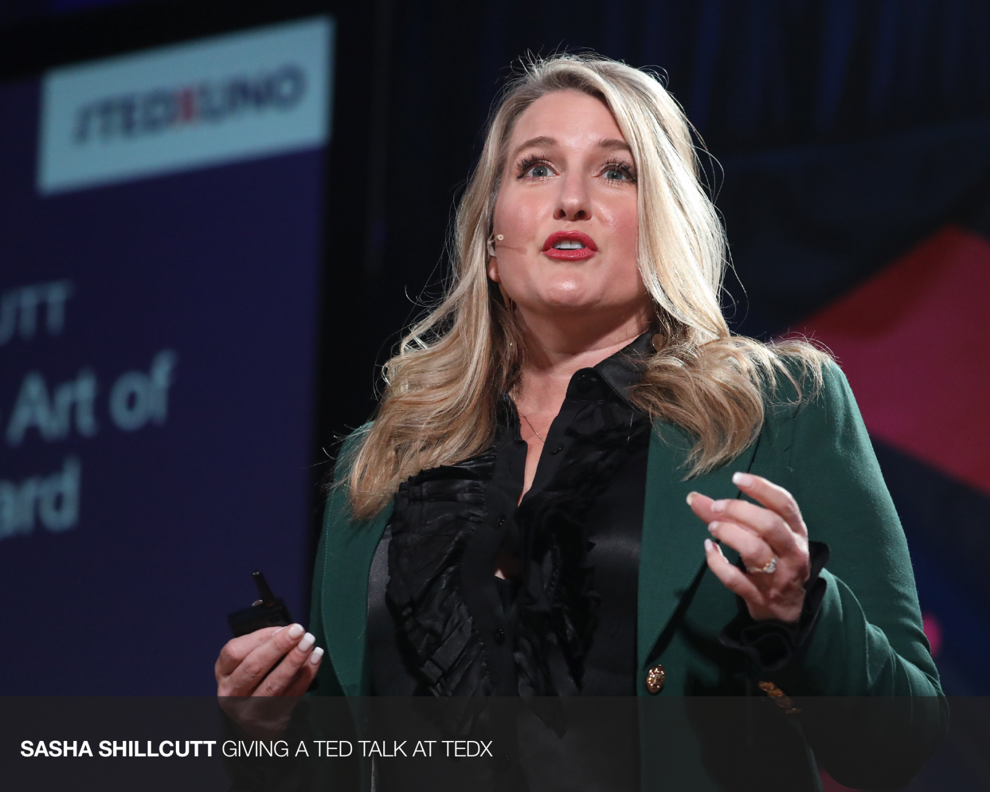 Dr. Sasha Shillcutt
has been successful by all counts—one of the youngest members of her department to earn tenure, recipient of an NIH grant, more than 50 articles published in peer-reviewed publications—yet she was surprised to discover that as time went on and she advanced in her medical career, she experienced more discrimination and disengagement.
"In about 2013 I came to a pivotal point in my medical career where I had a lot of success speaking, doing research, and writing and publishing. But I felt very isolated as a woman in medicine," she said.
It eventually led to burnout, Shillcutt said, but also a realization.
"I went through a year of intense self-discovery and putting my health and well-being back in first place in priority. I also realized I needed female friends and peers," she said.
Shillcutt reached out to women she'd met throughout the country and created a group of nine women that became a community. She also realized she was not alone in her experiences from wanting to be seen to contending for leadership to figuring out how to lead.
"That (group) became my company, Brave Enough (becomebraveenough.com), which now has thousands of women in my community," she said. "I started a community online, and then I started a conference and events, and wrote a book, and now I teach classes for women professionals on how to create work/life balance and success on their terms."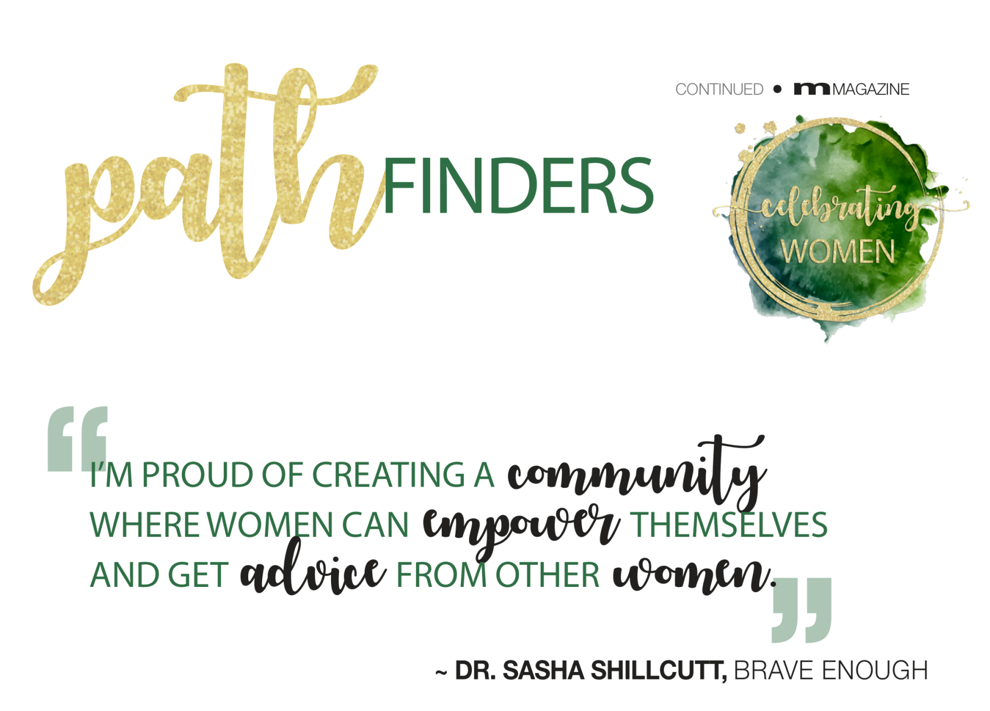 ---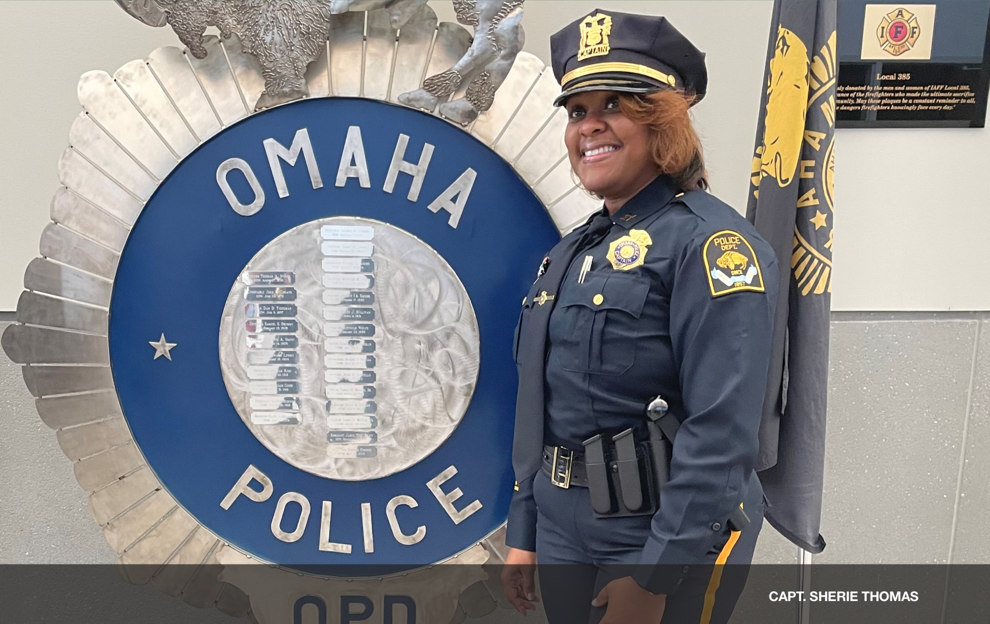 Sherie Thomas
By the time Sherie Thomas entered training for the Omaha Police Department in October of 1998, law enforcement was already welcoming more women in the ranks.
"If it's a traditionally male-dominated field, it does not mean that you cannot pursue a career or break a barrier or shatter a ceiling because of what people say, or what they've been told or what tradition is. What do you believe you can be? What do you want to be?" Thomas said. "With hard work and determination, you can be anything. I mean that, and I hope that women truly believe that."
Her nearly 23-year career has been diverse—In-Service Training, Internal Affairs Unit, Domestic Violence Unit, on patrol, in schools, Public Information Office, Front Desk Unit—with universal success punctuated by steady advancement. In March, Thomas attained the rank of captain and now oversees several units.
"Of course I wasn't the first, but I do believe that I give other women encouragement. You know how the saying goes, 'If you can see it, you can believe it?,'" she said. "I know that there were women who came before me and I'm very thankful for those who paved the path before me. I look to continue to further that path and continue to inspire other women and young girls to be all that they can be."

---
Fighting the stigma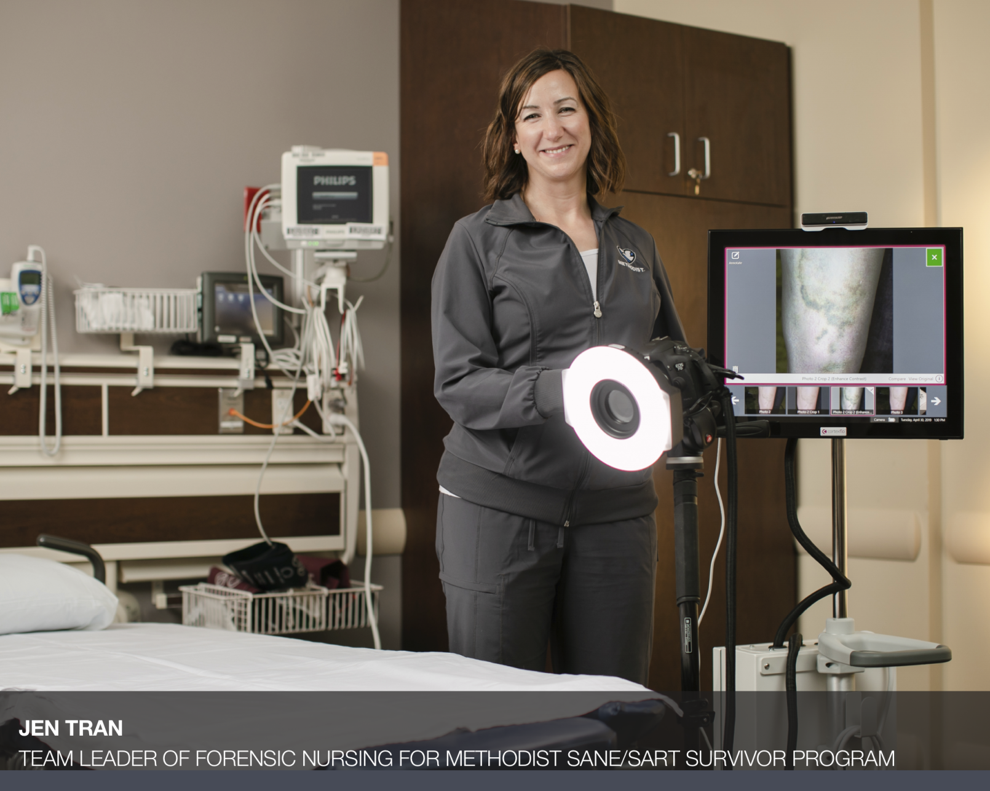 Heidi Wilke
was a trailblazer of a different type. In 2002, she survived being abducted, robbed and raped. She chose to come forward and openly speak about her experience despite the stigma of sexual assault still culturally prevalent at the time; she even faced discouragement from other female family members. Wilke, however, said she felt she could help others by being forthcoming. She faced her attacker in court. She also began speaking to groups about finding support after sexual assault and discovered that every time she shared her story, "it became a little less intense." Wilke emphasizes that she always says women who choose not to talk about similar experiences should be respected.
"Everybody handles it in their own way after they've been through a rape or a sexual assault. I can understand why people would hesitate to report everything; I've known women who have waited years. I don't know how you hold that in; that was never my path, but there are women and men who do that… Whatever path you choose, know that path is okay. And nobody should tell you it isn't," she said. "You should choose what works for you, and if you decide you do want to tell somebody, you should not feel bad about it and will hopefully find somebody who listens and doesn't judge."
Wilke has been that listener for many other survivors and still talks to community groups occasionally. She's seen the stigma surrounding people who've experienced sexual assault decrease over 20 years, "but we still have a long way to go."
In 2003, she and her husband, Jeff, were instrumental in establishing Methodist Hospital's Heidi Wilke SANE/SART Survivor Program. The program, which was the first of its kind in the area, provides survivors of sexual assault with expert and compassionate emergency care and evidence collection. Wilke said she's proud to lend her name to a program that now serves both women and men, and its team also receives special training to serve the LGBTQIA+ community. In 2020, the program cared for 264 survivors.
"It's a whole different experience now, having a nurse who's specially trained to deal with you and access to advocates from Women's Center for Advancement, and having a special place to be where you're not sitting in an emergency room with other people," Wilke said. "It takes away the shame factor."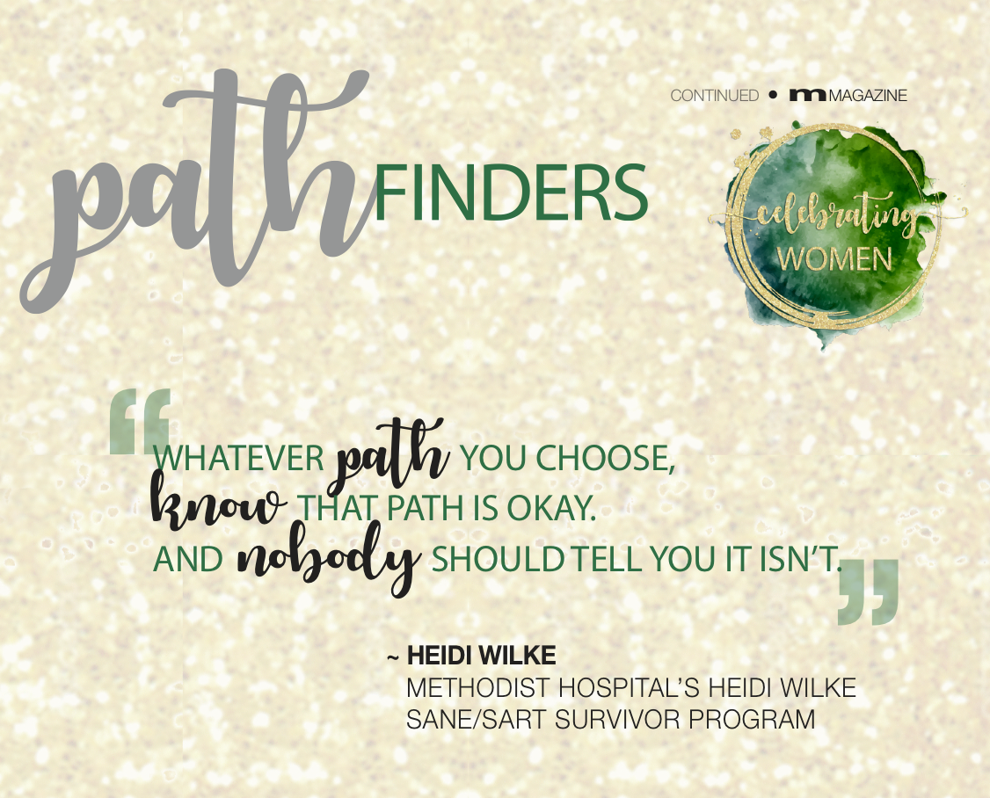 ---
Work/life balance
Creating a path for others is not without its struggle.
"You're wearing multiple hats," Thomas said. "It's a balancing act."
She became pregnant with her oldest daughter while in college. "I had a lot of responsibility plus school as a single mom at the time," she said. "I was determined to finish—and I did. I graduated and later on started my career with the police department."
Thomas married and had two more children during her career, plus has some additional responsibilities with her parents after her mother experienced a life-changing health crisis. None of it is easy, she said.
"I am a wife, mom, daughter and a community leader but still trying to strive to be successful in my professional career," she explained. "Police officers are people, too, and they have challenges as well. And it's a stressful field where you have to be mentally and physically present, ready to show up and deal with the unknowns of the day."
Shillcutt said she found that other women related to the quandary of achieving work/life balance. For her it was difficult "trying to show up fully as a mom without sacrificing my career" while simultaneously "showing up for patients but not sacrificing family."
"It's very hard. I think it's like that for most women in most professions, certainly," she said.
"There are many studies to show—it doesn't matter what profession you're in—that women do nine more hours of domestic duties (than their male partners) in a week, on average, in the U.S. It's funny because women go, 'What's wrong with me? Why can't I do this?' It's not you."
When she travels for speaking engagements, people still ask who's watching her children, Shillcutt added. "But nobody would [ever say something similar to that] to my husband."
Cornell and her husband Bill Randby (who's a meteorologist on the KETV news team alongside his wife) welcomed twins 18 years ago when their first child was still a toddler. Cornell said it could be "overwhelming" at times, but she didn't want to let go of her meaningful career.
"A lot of women think they have to do one or the other, but I think there are creative ways to do both…I was fortunate enough to able to take eight years and go part-time; my bosses offered it at the time," Cornell said. She focused on feature stories and documentaries during that period. "I felt like I did some good work while launching (her children) into their school years."
Slow change
Kracher has the benefit of both perspective and hindsight, but she said one struggle for women in the workplace is that change can be frustratingly slow.
"Because of the nature of the transfer of knowledge, change doesn't happen in one generation. It's one step forward, two steps back," she said. "It's the delicate generational dance, when to advise or when to simply smile and say, 'You will learn through your own experience.'"
Shillcutt said change is still slow in her sector. In medicine, women make up the majority of workers but a small percentage of leadership.
"So there is a massive disconnect. We are many in the ranks, but we are few at the top and we are not where decisions are being made routinely," Shillcutt said. And in any profession, she added, women can face backlash if they are considered too assertive or the opposite. "So you might as well be yourself."
Looking back at her career, Shillcutt said she would do some things a little differently
"I think I would have waited less for someone to give me permission to start my community, write my book, do my own thing," she said. "I think as women we work above and beyond to be noticed and we
think if we work hard and have good outcomes and produce a lot, naturally we'll get promoted or we'll be recognized, or someone will select us for this leadership course or some professional development. But that doesn't happen, and I wish that I would have not waited for someone to give me permission to do the things I know I could have done earlier in my career."
Shaking up the conversation
Kracher said there are advantages of being the first woman in any environment.
"When people have been doing the same thing for a while, they often want something that wakes them up again. When a woman walks in the room and there hasn't been one in the room, that wake-up happens: 'There's something new going on!'" she said. "You can shake up the conversation and the way things are thought about and really contribute to a growth that wouldn't happen otherwise."
The process is not only productive, it can even sometimes be fun, Kracher said. And over time she's seen less delineation between 'male' and 'female' management styles.
"I would not say I brought femininity; I brought being a female leader to my community," she explained.
There is a lot of hope for future generations, Kracher added. Homogenous board rooms of Caucasian middle-aged males are dissipating and being replaced with teams of greater diversity in most sectors. Things may not be ideal, but it's still better for women in the workplace today than in past decades. And they're still fighting for equality.
"The joy I feel when I see the strength and courage of our young leaders; I am so proud. They dream the impossible dream, too. They fight the unbeatable foe—yes, this is a song," she said, with a smile.
Thomas said she's seen improvement in diversity throughout her time in law enforcement.
"It is progressing," she said. "You see more women who are chiefs of police. I've met Black women who are chiefs of police in different police departments throughout the company, which is very encouraging and inspirational. And it seems like there are more women going into law enforcement."
Cornell said she's witnessed a similar, welcome shift in the broadcast news sector.
"It's so much better. It's evolved so much. Women are working every shift and every job; they're involved in every aspect of newsgathering and putting a newscast on the air and putting a website online. They are general managers, they are news directors, anchors, technical directors—they do everything… I would say there are more women in the field now than men," she said. "Especially in the last 10 years, there has really been an effort to look like our audience, to represent our audience; they're the ones watching us. We have such great diversity at KETV and I'm very proud of our team."
Kracher said she's happy to see more women in business find their presence.
"As I've matured, I've thought about having a voice. It's important to recognize our unique voices and use them," she said. "We are each different; don't hide and don't be afraid. We have to have the courage to really be ourselves. "
Wilke has watched the SANE/SART program she established grow locally and serve as a model for other communities.
"So many good things came out of one bad thing," she said, adding that she's proud of being a survivor and overcoming trauma. "I relate it to putting it on a shelf. I know it's on the shelf, but I don't have to pick it up every day. I can pick it up and look at and think about, not being afraid and not being ashamed."
Shillcutt said she's glad she created the supportive community she needed and shared it with others.
"I didn't have a lot of funding, I didn't have a lot of business experience. But I trusted my gut and I went for it," she said. "I'm proud of creating a community where women can empower themselves and get advice from other women. Because what I've found is that almost everything you've faced as a woman, someone else has already faced and figured out. When we share that, you get great advice and great feedback and you get confidence: 'She faced this and figured it out, I can too.'"
Thomas has not only has excelled in her career, the self-described "people person" enjoys her work. "I think it's a perfect fit."
"There are so many different ways officers can impact the community," Thomas said. "One of my favorite quotes is, 'Be the change you want to see in the world.' I believe that and I try to walk that out and exemplify that in what I do… I actually am eligible to retire now if I wanted to, but my future aspirations are to continue to rise in rank and serve my community."
Cornell said she looks forward to pioneering into the future.
"I'm the first generation to really transition into the digital world in media. I started with an electric typewriter and five-ply paper scripts. Now you can change things on the fly, and internet and social media is 24/7. If you learn to adapt and grow with your career, you can have it forever. You have to be willing to change, and it's constant," she said. "What's next? Who knows?"
---
"With hard work and determination, you can be anything. I mean that, and I hope that women truly believe that."

~Capt. Sherie Thomas, Omaha Police Department

---

 

"If you learn to adapt and grow with your career, you can have it forever."

~Julie Cornell, KETV

---

"You can shake up the conversation and the way things are thought about and really contribute to a growth that wouldn't happen otherwise."

~Beverly Kracher, Creighton University Heider College of Business

---

"I'm proud of creating a community where women can empower themselves and get advice from other women."

~Dr. Sasha Shillcutt, Brave Enough

---

"Whatever path you choose, know that path is okay. And nobody should tell you it isn't."

~Heidi Wilke, Methodist Hospital's Heidi Wilke SANE/SART Survivor