GROWING WESTERN IOWA
Community Foundation for Western Iowa
---
Philanthropy
Investing in the region to lift up communities
Numerous foundations along with contributions from businesses and private donors create a robust philanthropic spirit in southwest Iowa fueled by the desire to uplift the region for the benefit of all its citizens.
In May, Pottawattamie County Community Foundation became Community Foundation for Western Iowa (givewesterniowa.org). President and CEO Donna Dostal said. The new name reflects the evolution of the organization since it was established in 2008 and the expansion of its services and support of philanthropy.
Beyond Pottawattamie County
Over the last 15 years, the foundation team learned how necessary it is to build funding sources for areas of need, where caring and committed donors can invest their charitable dollars in ways that fill their passion, while creating lasting change in communities, Dostal explained. Two "Field of Interest" funds were established, the Women's Fund of Southwest Iowa and Southwest Iowa Mental Health and Substance Abuse Fund, to support nonprofit organizations in nine counties throughout southwest Iowa while increasing access to philanthropic funding in a holistic and regional way. In addition to the new funding sources, the organization established a "Make It Happen" fund development program to help nonprofit organizations build leadership within their organizations, and to assist them in developing a rich culture of philanthropy in the communities they serve. The organization is also bringing SHARE Iowa (see page 10) to the region to support nonprofit organizations through donor engagement and a high level of donor-centered service.
The name change reflects a mission that has grown beyond Pottawattamie County and into the western Iowa region to build community through giving while being a leader in donor-centric philanthropy.
"From a broader perspective, what we will look forward to is more investment in our nonprofits, making sure that culture of philanthropy is very deep and wide, and that will absolutely spread to our nine counties and hopefully beyond," Dostal said. We will be helping to make sure their capacity is strong through fund development and development of their day-to-day resources so that ultimately they can look to us down the road for their long- term sustainable investments as well, their endowments and such.
"The other way we're going continue to grow and provide additional resources is through new relationships with corporations, so they can be philanthropic in a way they never felt possible and have a deeper connection back into the communities where they have people who live work and play and come to work every day at those corporations. We want to be that conduit for corporations, so they know how to be better connected and make impact.
Dostal also called out partnerships with Iowa West Foundation, Charles E. Lakin Foundation and Southwest Iowa Nonprofit for Collective Impact (SINC) for their collaborative work in the region.
"We really look forward to the future this is creating for folks who want to live, work, play and grow in western Iowa and make western Iowa great," she said. "And I am so grateful for all of the support from our charitable investors and the faith our community has put in the foundation,".
Lakin Foundation
The Charles E. Lakin Foundation serves six southwest Iowa counties: Pottawattamie, Mills, Montgomery, Cass, Page and Fremont. It also serves Douglas and Sarpy Counties in Nebraska. The service area reflects the life and work of the late Charles Lakin, a businessman and philanthropist who was born and raised in Emerson, Iowa, and essentially started his career there through farming. Throughout the years he accumulated properties on both sides of the Missouri River. He moved to Omaha in the 1970s and began his philanthropic giving around the same time, and said Jennifer Green, who is in operations and grants management for the Lakin Foundation.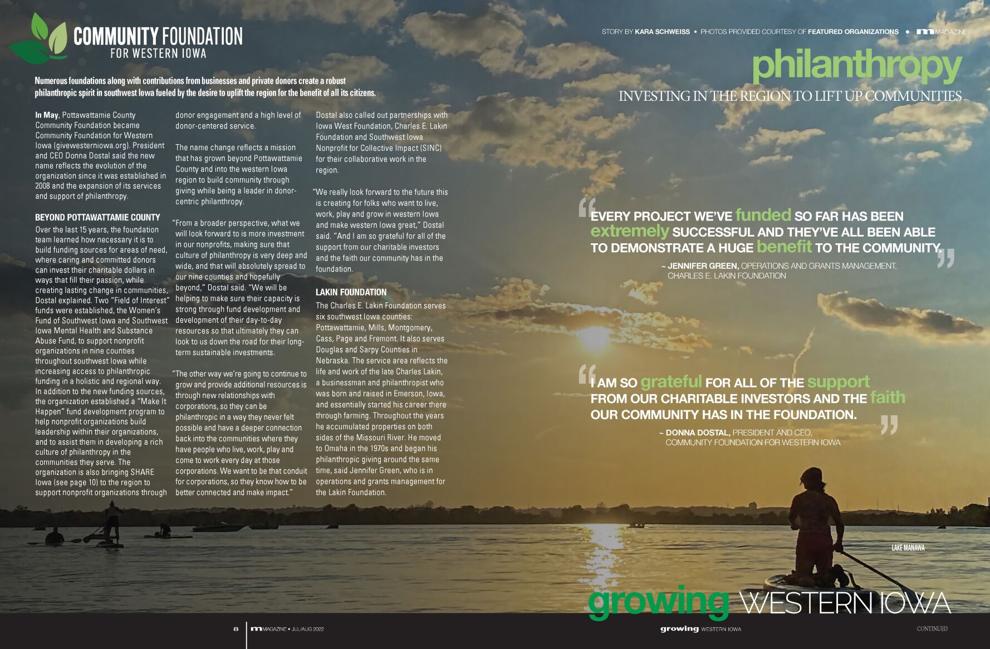 Charles E. Lakin Foundation
"He really had a soft spot for children and families—that was one of his main focuses—and also the importance of education," she said, adding that the Charles E. Lakin Human Services Campus, dedicated in Council Bluffs in 2008, carries Lakin's name. "This was the culmination of agencies coming together and trying to be a one-stop shop for families in need or in crisis.
Two other projects named for Lakin were underway at the time of his 2016 death, the Charles E. and Florence Lakin Community Center in Malvern (Florence Lakin hails from Malvern) and The Charles E. Lakin YMCA in Council Bluffs.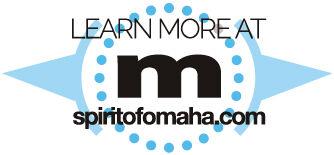 View more images from the Lakin Foundation Ribbon Cutting here: