"Libretto" Roger Weitz's Opera Omaha Story
Roger Weitz, who departed Opera Omaha at the end of 2022, looks back at his 11 years as General Director of Opera Omaha and his career in the arts.
Omaha native Roger Weitz thought he was lucky to land an internship at Opera Omaha between his junior and senior year studying voice at Carleton College in Northfield, Minnesota. Not only was he happy to be at home, the experience also revealed a new career path.
"I didn't love performing and I hadn't really found my operatic voice… In the summer of 1998, Jane Hill was the executive director and Hal France was the artistic director. And for a summer I just embedded myself; whatever needed to be done, I was happy to do. I had a lot of different kinds of jobs, including with the company's community engagement programs, which at that time involved lots of run-out performances," Weitz recalled. "And it was that experience at Opera Omaha as a summer intern that really opened my eyes to the creative world of managing an arts organization."
After graduation, Weitz went on to serve as the artistic administrator for Chicago Opera Theater from 2000 to 2007, as a Kennedy Center (Washington, D.C.) fellow from 2007 to 2008, and then back to Chicago Opera Theater, where he was general manager until 2011.
Then, in 2011, incredible luck struck again when the top position opened up at Opera Omaha.
"The opportunity for me to do this job—to run the opera company of record in my hometown—is so rare in the field. In 2011, I was looking to leave Chicago and this job became available and I applied. The stars were just lined up in such a unique and amazing way," he said. "I was a general manager of Chicago Opera Theater, but to be the general director—which is really the not only the chief executive officer, but also the chief artistic officer—to get to run the company, to get to do that in my hometown where I had family and my wife and I were starting a family, that was incredible."
Repertoire
Under Weitz's leadership over the next 11 years, Opera Omaha was recognized for diverse and artistically excellent programming, and the company saw impressive growth. Ticket sales, season subscribers, the company's endowment, and the annual budget all doubled in size. Plus, donations increased every year during Weitz's tenure, and the company ended all but one year in the black.
Programming expanded, too, during Weitz's 11 years with the company. Opera Omaha debuted 25 original productions including 19 Opera Omaha premieres and six world premieres. In addition, community collaborations, education and engagement programs, and the number of individuals served have all increased.
"Roger's diverse talents and aptitudes have enabled the company to achieve prominent excellence, making Omaha a destination for opera," Opera Omaha Board Chair Elisa Davies said, citing Weitz's "outstanding leadership in making Opera Omaha artistically vibrant, relevant to today's audiences, and fiscally responsible."
"He will leave us in a strong position as we embark on our next chapter," Davies said.
Acts
Weitz chose The Omar for the metroMAGAZINE photoshoot because it carries meaningful memories as the site of a 2014 special event that took place in conjunction with a new production of "Agrippina" by early-music specialist and conductor Stephen Stubbs and stage director James Darrah.
"We went to the Omar Baking building because it had lots of unique architectural features with brick and wood and black and skylights and beams and all sorts of creative possibilities for us to incorporate production design so that the guests, as they moved around the room, felt like they were in an opera. And we had singers in formal attire; the idea was that if they were walking next to you, you wouldn't know if they were a party guest or if they were a part of the cast," Weitz recalled, adding that the event garnered positive attention and the associated production signaled a creative evolution for Opera Omaha. "It was an indicator to me that I was on the right track.
Weitz said he sees his most significant professional accomplishments as "raising the bar on our productions inside and outside of the Orpheum Theater and expanding Opera Omaha's civic footprint to be in true service of our community."
Opera Omaha's core programs beyond the Orpheum, its home performance venue, now include the Holland Community Opera Fellowship, the ONE Festival, Amplifying the Black Experience, Opera Outdoors, Student Dress Rehearsal, Opera In Conversation, Poetry and Music Project in partnership with Nebraska Writers Collective, Opera To Go, Classroom Visits by Artists, and more. Weitz's tenure encompassed the introduction of all of these except the Classroom Visits by Artists program, which was in place when he joined the company.
The Holland Community Opera Fellowship launched in 2017 brings in entrepreneurial artists to help build reciprocal relationships with community organizations, schools, and health care and nonprofit service providers to support inclusive programming and workshops tailored to the groups it serves. In 2018, the ONE Festival (ONE being short for Omaha, NE) citywide event began its first year of celebrating new work and contemporary artists through multidisciplinary performances.
"Roger's diverse talents and aptitudes have enabled the company to achieve prominent excellence, making Omaha a destination for Opera." 

~Elisa Davies, Board Chair, Opera Omaha
In 2020, artists Chabrelle Williams and Melanie Bacaling collaborated with Opera Omaha to create Amplifying the Black Experience with a vision to celebrate and introduce the multifaceted stories of the Black community through art, music and multimedia. This locally focused programming flourished under the leadership of Opera Omaha's first Director of Belonging and Inclusion, Andrea Joy Pearson.
"Stereotypes about opera persist: that it is elitist, that you need knowledge of music or foreign languages to understand it, et cetera. We've tackled these stereotypes by striving to be one of the most relevant, accessible and innovative arts organizations in Omaha and one with a dedication to producing art and programs that resonate with our community far beyond the typical opera audience," Weitz said. "Economic pressures, volatility and uncertainty compound issues around financial support for the company. Opera Omaha has wonderful, generous, and loyal supporters that have helped us weather these storms and I could not be more grateful for this community."
One of those storms was the COVID-19 pandemic.
"It was the biggest challenge I faced as general director. How could we continue to serve the community when it wasn't safe to gather artists, let alone perform for a live audience?" he said. "We found new ways to deliver programming online and adapted to find creative ways to rehearse and perform in ways that met our constantly evolving safety protocols."
Finale and curtain call
As pleased as he is to see arts organizations bouncing back, Weitz announced in 2022 that he had made the decision to step down from his position at Opera Omaha, a move that took effect at the end of the year. He was motivated by personal reasons: his 11-yearold son, Freddie, has autism and a seasonal program under which he is thriving is based out of state. Weitz and his wife, Kate (see Common Senses cover story, metroMAGAZINE February/March 2022) will stay in Colorado part of the year so their son can receive the services that are working best for him. Weitz himself will still be involved with opera, he emphasized.
"I currently serve as a director on the board of OPERA America, the national service organization for the field of opera; I am active on several committees and am a co-leader of their new general directors forum. I will term out of OPERA America board service in June but plan to remain active with that organization," he said.
He added, "I'm going to be looking for opportunities that I can engage with remotely. I'm signed on as a project advisor for a new opera that is under development. I'm working with the composer and creative team, but it also involves a significant AI component. Now, that's not my expertise; I'm more on the opera side. I'm going to be supporting that project and helping that come to fruition. And I imagine, as I do that, that there may be lots of different kinds of projects like that… I love working with artists, I love the creative minds. I love working with people who see the world in just a slightly different, more creative way. I just love the creativity of it. So, whatever I do in the future, I want to continue to be supportive of working artists."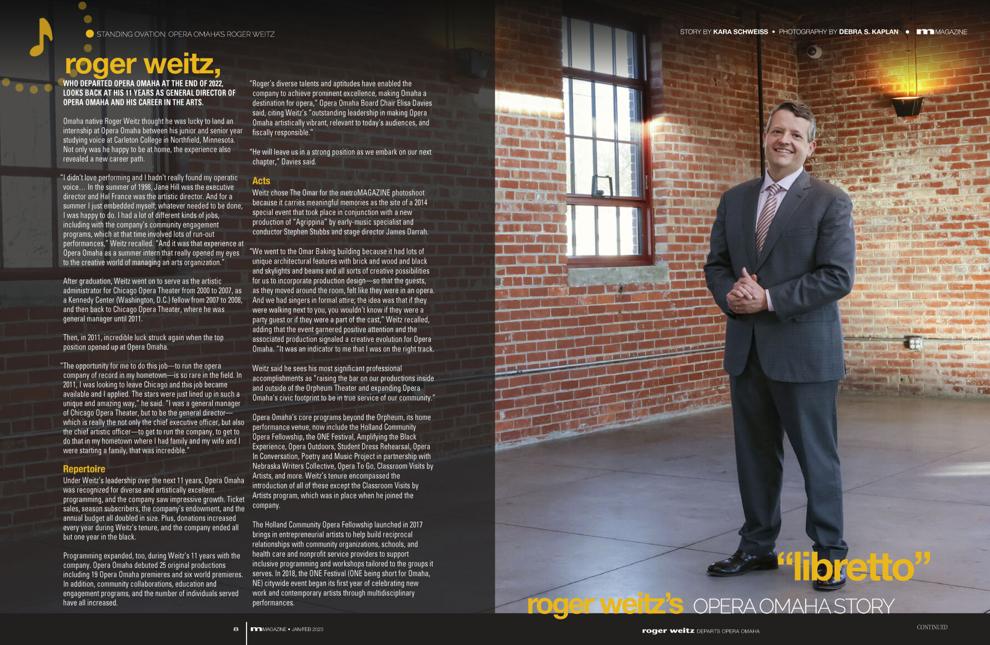 A Roger Weitz's Timeline
2011 - Roger Weitz joins Opera Omaha after 11 years with Chicago Opera Theater
2013 - Opera Omaha joins San Francisco Opera and the Kennedy Center in co-commissioning Jun Kaneko to design a new production of Mozart's The Magic Flute
2013 - First Opera Outdoors production held in Turner Park: now in its 10th year, this annual, free summer concert entertains thousands of community members each year
2014 - New, adventurous and immersive gala format launched in connection with production of Handel's Agrippina, both directed by James Darrah in his Opera Omaha debut
2017 - Commission and world premiere of Stranger from Paradise by Nevada Jones and Kevin Lawler: during Weitz's tenure the company debuted 25 new productions including 19 Opera Omaha premieres and 6 world premieres.
2017 - Launch of the Holland Community Opera Fellowship, a groundbreaking community engagement designed to serve as a creative and artistic resource to the community.
2018 - Opera Omaha launches the inaugural one festival, a multi-week festival that explores the boundaries of Opera in unexpected locations around the city
2018 - Opera Omaha makes its New York City debut with touring performances of Proving Up by Missy Mazzoli and Royce Vavrek
Weitz elected to the Opera America Board of Directors
2020 - Company navigates successfully through Covid pandemic providing virtual community programming, digital and virtual reality productions, and a new neighboring concert series.
2022 - Opera Omaha opens the season with X, The Life and Time of Malcolm X, co-produced with Detroit Opera, the Metropolitan Opera, Seattle Opera and Lyric Opera of Chicago
2022 - Roger Weitz steps down from Opera Omaha