Women Who WOW
Dr. Stephanie Vondrak
Intentional Practice
Dr. Stephanie Vondrak has practiced health-centered dentistry for more than 20 years. Now she's introducing a new concept she calls 'Intentional Dentistry' that also includes wellness and longevity along with making a difference in the community.
It's easy to see that Dr. Stephanie Vondrak was a cheerleader in her University of Nebraska-Lincoln days. She's high-energy. Dynamic. A relentless multitasker.
"I'm naturally just a fast talker/fast mover kind of person," she said. "I'm a super-driver personality. An extrovert, for sure."
Vondrak is less intense at times, though, like when she's hanging out with her three kids, taking a walk, or enjoying a hot yoga class. And when it comes to her dental patients, Vondrak really takes her time. As a health-centered dentist, she's mindful of the connection between oral health and general health and wellness. She not only provides fundamental services like exams and teeth cleanings, but also rehabilitative and restorative dental care. She also goes beyond traditional dentistry to address problems like airway issues in growing children, sleep apnea, and TMJ (temporomandibular joint) pain.
Intentional Practice
A patient's initial consultation with Vondrak is a detailed conversation covering concerns, goals and options as well as overall health and wellness, and it's followed by a phone consultation and comprehensive written plan.
"I designed a practice around wellness and individualized care, about really getting to know the patient," she said. "That's different. In a physician's office, the model doesn't allow time for that. Most appointments are 15 minutes; how can they know my entire body?... The model is wrong. It shouldn't be about volume."
Vondrak's level of caring for her patients is evident by the stories she's shared about their inspiring successes over the years as a columnist for this magazine.
Looking back, Vondrak has always been driven and innovative. Since graduating from dental school at the University of Nebraska Medical Center more than 20 years ago, she has completed hundreds of hours of continuing education. She's also board-certified by the American Academy of Craniofacial Dental Sleep Medicine to use sleep appliances to treat patients with sleep apnea. She purchased her primary practice, now called Vondrak Dental (www.drvondrak.com), in Elkhorn in 2004, and a second dentist, Ashley Rainbolt, joined later. She and Rainbolt now own Wilson Dental, in partnership, since 2017 and Candlewood Dental since 2018. Both practices provide the same health-centered model of care and are both located in Omaha.
Vondrak is also on the leading edge of a new approach she plans to carry even further forward. "We've established a new LLC, and it's called 'Intentional Dentistry.' For Ashley Rainbolt, my partner, and me, this defines us. Our dental practices are intentional about improving health, wellness and longevity of our patients," she said. "I even want to expand this concept of 'Intentional Dentistry' to mean how we take care of our staff, how we are perceived in the community, what we do for the community."
As the owner of multiple practices, Vondrak said keeping everyone happy is an important—albeit challenging—goal.
"I think what makes people truly happy is having an intention that's bigger than yourself, right? Going to work just to get a paycheck limits your joy and what you do," she said. "So, I had this concept, this idea of building something where people could find more of a motivational resource for different things. All individuals on our dental teams all have something to offer that can be beneficial to our patients, whether it's healthy recipes or lifestyle tips. There are so many ways to provide wellness. I've studied the power of mindset and how it affects your day. There's so much that we have to offer. I feel like all these things I've done over the years are coming together to be able to offer something that's really empowering to other professionals as well as our patients."
Passion for helping
Given the multitude of responsibilities that come with being a small-business owner, Vondrak personally understands the need to cultivate wellness.
Vondrak said her parents influenced her passion for helping people.
"My mom was a teacher; that's obviously a 'giving-back' profession. And my dad was the CEO of Mosaic," she said, explaining that Mosaic serves individuals with intellectual impairment. "You know, I was really lucky to have amazing parents and watch what they were able to do."
Helping people became Vondrak's measure of success.
"I felt like if I always do the right thing, and put my patients first, that I'd feel great at the end of the day and I'd be doing something profound," she said. "For me, success is being able to know that I did something that made somebody's life better."
Vondrak is also willing to take risks. Some of her patients need years-long, intensive treatment that requires their active involvement and sincere commitment.
"To get to the underlying reasons of jaw pain, sleep problems, headaches, you have to unwind years of destruction, years of chronic issues even in kids… It's like, 'I'm in this with you if you're in it with me. I can't guarantee success. But I can tell you all the reasons why this should work if we work together,'" she said. "I think it's my dedication and my ability to try things that are hard and not be worried if it's going to fail; and the patients who choose to trust me know I am in the journey with them, together: I think that's what's made me successful."
"With intention," Vondrak emphasized, she is serving the community in broader ways, too. All three practices recently begun partnering with Rejuvenating Women, a nonprofit that serves survivors of human trafficking and exploitation, to provide dental-care kits and dental health education.
Vondrak also shares her experiences as a health-centered dentist and introduces the concept of 'Intentional Dentistry' through public speaking engagements.
"I would like to continue speaking and teaching, because I feel like that's a way to be very impactful," she said.
Plus, Vondrak has even bigger ideas for what's ahead.
"I would love to be able to have a facility one day where we could have collaboration in one physical space to keep growing a team of dedicated professionals who could help patients get what they need in one location," she said. "That would be a dream, an aspiration, to continue to find people I can collaborate with, who would want to work together to make the process easier for patients."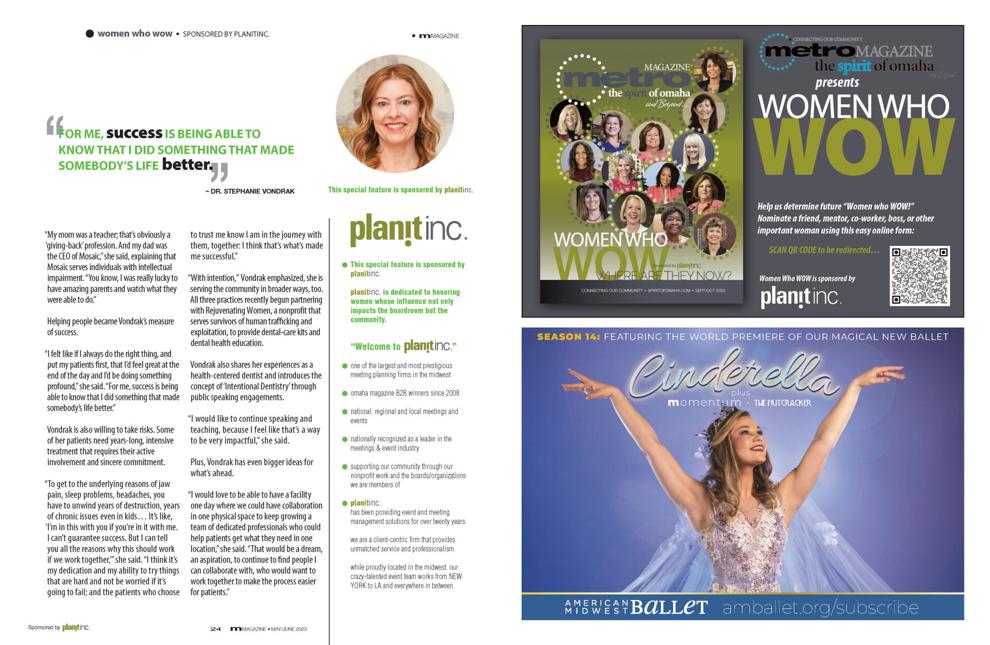 ---
This feature article is sponsored by planitinc.
planitinc. is dedicated to honoring women whose influence not only impacts the boardroom but the community.

Welcome to planitinc.
• one of the largest and most prestigious meeting planning firms in the midwest
• omaha magazine b2b winners since 2008
• national, regional and local meetings and events
• nationally recognized as a leader in the meetings & event industry
• supporting our community through our nonprofit work and the boards/organizations we are members of
planitinc.
• has been providing event and meeting management solutions for over twenty years.
• we are a client-centric firm that provides unmatched service and professionalism.
• while proudly located in the Midwest, our crazy-talented event team works from NEW YORK to LA and everywhere in between.