Women Who WOW
Driving it Forward: Pamela Finn
Pamela Finn has forged a unique career that included roles unusual for women at the time and founding enterprises that operated in international markets, thanks to her tenacity and willingness to try new things.
Pamela Finn certainly has an impressive resume. Currently, she is president of  business development for Burlington Capital; in this role she is involved in the company's capital investment decisions and serves as a general partner in Proven Ventures, a Burlington Capital Fund. Prior to joining Burlington, Finn was CEO of Creative Enterprises, Inc. a design and manufacturing company she founded in 1989 and sold in 2016. She founded an international manufacturing entity, Creative Enterprises Hong Kong Limited, in 1992 and owned a portfolio of residential and commercial real estate in the U.S. and Hong Kong until 2016. And those are just her entrepreneurial accomplishments.
"I can remain positive, even when things around me are difficult," she said. "Somewhere along the line I learned— or maybe I made this up, I don't know— that 'no' does not really mean 'no,' it just means 'this isn't the right place or time—keep going.'"
Finn's tenacity served her particularly well at a time when not a lot of women were business owners and very few people were doing business in Asia. She said she knocked on a lot of institutional doors in an effort to acquire financial backing for what would become Creative Enterprises.
Driving it forward
Finn, who is from the area, said she was born with an entrepreneurial spirit.
"I knew when I was young that I wanted to own a business," she said. "So, you just keep driving it forward."
Finn earned a degree in fashion merchandise and design from Patricia Stevens College. Early in her career, she worked as a buyer for the Omaha-based Richman-Gordman stores and had the opportunity to work directly with Dan Gordman and Bob Gordman, leaders in the family-owned business. She then moved on to bigger markets, eventually living and working in New York and Atlanta. She came back to the Midwest for a Topeka-based position with Payless Shoe Source, at that time a division of May Company Stores.
"We had about 3,000 stores at the time I started with them, and (the company was) growing at a pace of a new store every 19 hours for the first few years," she said. "It was a crazy time in retail."
Shoe buyers at the time, even for women's lines, were predominantly male. Finn nevertheless landed a position as a buyer/ line-builder for the company.
"I got to buy everything in the store that was not a shoe," she said. "I did hosiery, jewelry, handbags, shoelaces—if it was in a store and not a shoe, it was in my department."
The work and international experiences opened unexpected doors.
"The flip side of that was I gained experience over a broad range of products. We were early in direct importing from Asia, which led to interesting experiences and knowledge I could not have otherwise gained," Finn explained. "This position, connections overseas with factory owners and expertise in importing led directly to establishing Creative Enterprises and the career of building product as a supplier within the athletic industry."
Unexpected ideas
After Finn sold Creative Enterprises, Inc. a new opportunity unexpectedly emerged with Burlington Capital; Finn already knew founder Mike Yanney and CEO Lisa Yanney Roskens through several community connections.
"I remember saying to Lisa I'd just do this temporarily; because I had not worked for anybody for 25 years, I might be a terrible employee," Finn said, with a chuckle. "Six years later, I'm still here. I've learned so much. You know, I brought some unexpected ideas to the company, including a Nebraska-based venture fund, which no one would have ever guessed Burlington would have done. They have been supportive, and actually excited about it; the company has an entrepreneurial foundation at its core, so it's been a great experience to be part of this team."
"I can remain positive, even when things around me are difficult" 
~ Pamela Finn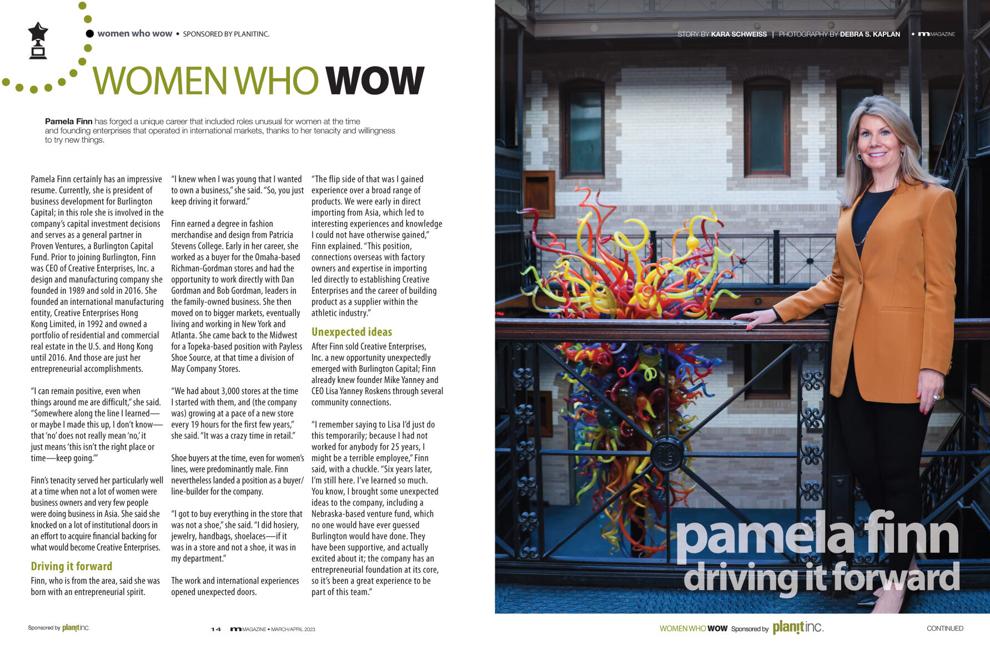 Finn's community involvement includes serving on the board of the Greater Omaha Chamber since 2015, as vice president of the board of Restoring Dignity, and on the board of the Fashion Arts Collective. She also has been involved with the Heart Ministry Center, Marian High School, and World Wide Adoption Links, and she and her husband Kevin Jackson have chaired galas for Brownell-Talbot, CUES Schools and Lutheran Family Services.
"I have always been actively involved in the community. I think it is just part of who I am, that you give back," she said. "I've been known to reach out to the executive director and say, 'Hey, I love what you are doing, what can I do to help?'"
Finn, who was raised in a "large, loud, Irish family" (they all live in the area), said her greatest joy comes from family. She and Jackson have two children: daughter Tehra, who was adopted from Vietnam as an infant and is currently an IT project manager with General Motors; and son Brandon, adopted from Japan at a few weeks old, who is now in a doctoral program in occupational therapy at Creighton University.
"They are by far the greatest blessings in my life, and we are so proud to see their accomplishments as young adults," Finn said.
Finn said she doesn't have hard plans for the future, but being open to unexpected paths has made things interesting so far.
"Life is an education," she said.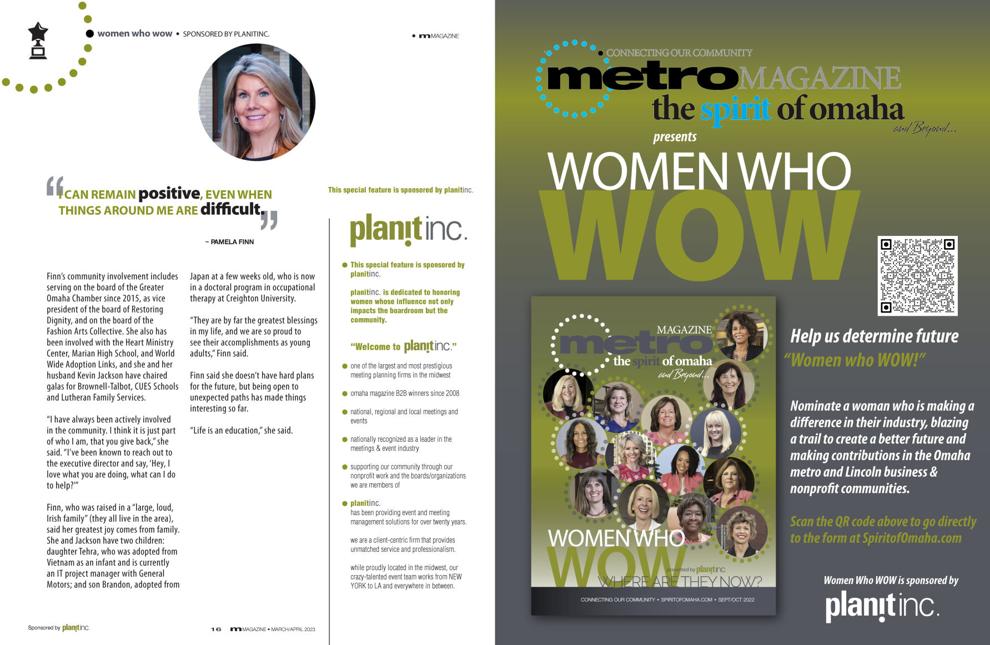 ---
This feature article is sponsored by planitinc.
planitinc. is dedicated to honoring women whose influence not only impacts the boardroom but the community.

Welcome to planitinc.
• one of the largest and most prestigious meeting planning firms in the midwest
• omaha magazine b2b winners since 2008
• national, regional and local meetings and events
• nationally recognized as a leader in the meetings & event industry
• supporting our community through our nonprofit work and the boards/organizations we are members of
planitinc.
• has been providing event and meeting management solutions for over twenty years.
• we are a client-centric firm that provides unmatched service and professionalism.
• while proudly located in the Midwest, our crazy-talented event team works from NEW YORK to LA and everywhere in between.