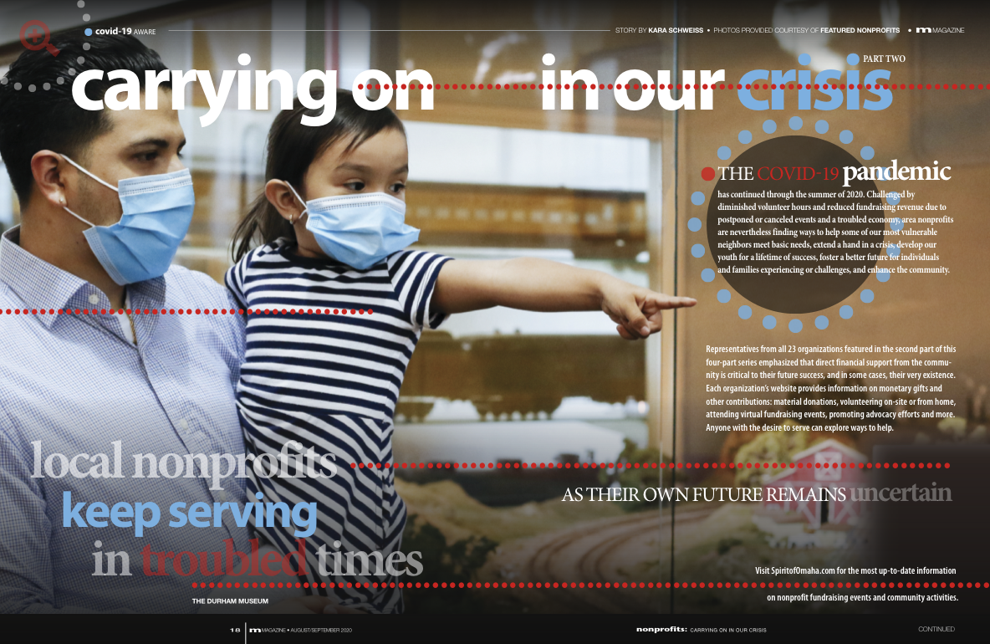 Representatives from all 23 organizations featured in the second part of this four-part series emphasized that direct financial support from the community is critical to their future success, and in some cases, their very existence. Each organization's website provides information on monetary gifts and other contributions: material donations, volunteering on-site or from home, attending virtual fundraising events, promoting advocacy efforts and more. Anyone with the desire to serve can explore ways to help.
Visit SpiritofOmaha.com for the most up-to-date information on nonprofit fundraising events and community activities.
Serving Our Youth
Make-A-Wish Nebraska
One moment changes everything
Since its inception, Make-A-Wish Nebraska has granted more than 2,850 total wishes, as many as 120 wishes per year, for children with critical illnesses. The organization has had to make the difficult decision to postpone all wish travel indefinitely and cancel participation by "wish kids" in Make-A-Wish activities and events that involve large gatherings, President/CEO Brigette Young said.
"Make-A-Wish is committed to rescheduling every postponed wish but needs the community's help now more than ever. The health and safety of our wish families is our priority, and—as always—we remain committed to our vision of granting the wish of every eligible child," she said. "Although we're not able to grant travel wishes right now, we continue to grant as many non-travel wishes as possible."
Postponed wishes will need financial support when circumstances improve, Young said. "We are asking the community to rally together to ensure we can continue granting wishes as soon as travel restrictions are lifted."
Mid-America Council, Boy Scouts of America
Unparalleled experiences for more youth
"The legendary Scouting programs instill positive character, good citizenship and leadership experience in more than 15,800 youth across the 58 counties served by the Mid-America Council," Scout Executive/CEO Chris Mehaffey said. "Since 1910, the Boy Scouts of America has inspired youth through educational programs designed to build character, citizenship and personal fitness. With the support of nearly 4,700 positive adult mentors, youth learn self-confidence and values guided by the Scout Oath and Law."
The pandemic has affected services, staffing, funding and recruitment. Troops and activities including camping and the Scoutreach after-school program continue to adapt, Mehaffey said.
"Our staff and volunteers have tirelessly transitioned our traditional program into stay-at-home educational activities for every Scout rank, tips for continuing to work on advancements, and kid-friendly content that connects Scouting with their daily lives," he explained. "Our goal is to make it easier to deliver the Scouting program by making plans more accessible to leaders and those who can help leaders, like our parents."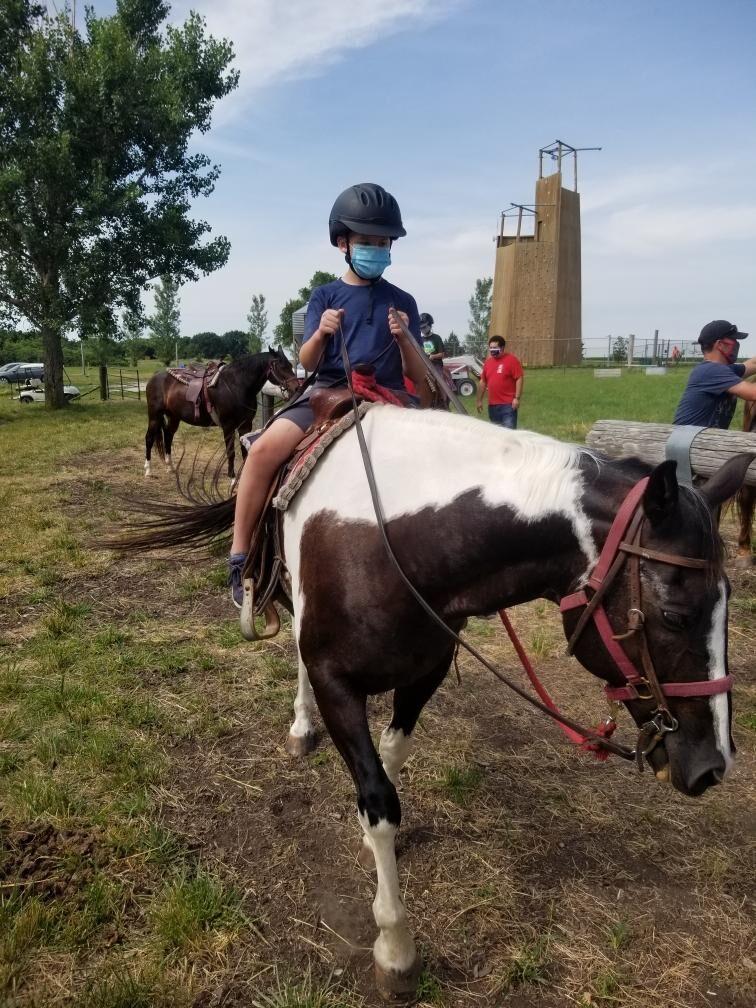 Girl Scouts Spirit of Nebraska
Building girls of courage, confidence and character
"Girl Scouts Spirit of Nebraska is the largest girl-serving organization in the state," Marketing Director Shannon Peterson said. "Our one-of-a-kind leadership development program provides age-appropriate, progressive opportunities in entrepreneurship, outdoor adventures, STEM activities and life skills. Girl Scouts offers every girl the opportunity to build courage, confidence and character, and to make the world a better place by discovering her inner strengths, passions and talents."
The organization indefinitely closed facilities and canceled in-person activities, and converted the artVenture fundraiser to a virtual silent auction.
"We quickly pivoted our quality programming online, offering virtual programs for at-home enrichment experiences. Girl Scouts at Home offers a collection of online activities, camps and badge-earning workshops designed to give girls something familiar and fun to do and to keep them connected to Girl Scouts."
Girl Scouts at Home is available to anyone, Peterson said. "We also are looking at creative ways for girls to sell Girl Scout Cookies online, so all those Thin Mint fans won't miss out on that special time of year."
Partnership 4 Kids
Foundation for success from kindergarten to careers
Partnership 4 Kids serves Omaha Public Schools students using a designed curriculum that helps build self-confidence, career interests, needed life skills, and school engagement.
"Building a futuristic mindset is critical to students realizing their potential," President and CEO Deb Denbeck said. "COVID-19 has really challenged us in all areas because we are a school-based program, serving 3,300 students, along with the support of over 300 volunteers that work in concert with our staff to assist in programming and support."
Technology needs are a struggle, Denbeck said. School closing has necessitated a transition to virtual programming and a change in focus.
"We are continually working with our students and families and providing monthly cleaning supplies, we participated in a hygiene drive, and we continue to work food distributions and provide mental health referrals as needed. We are also doing virtual programming with middle- and high-school students through the summer and have also prepared three plans to conduct safe and effective programming this fall…These are difficult times and we must balance safety for our staff and students."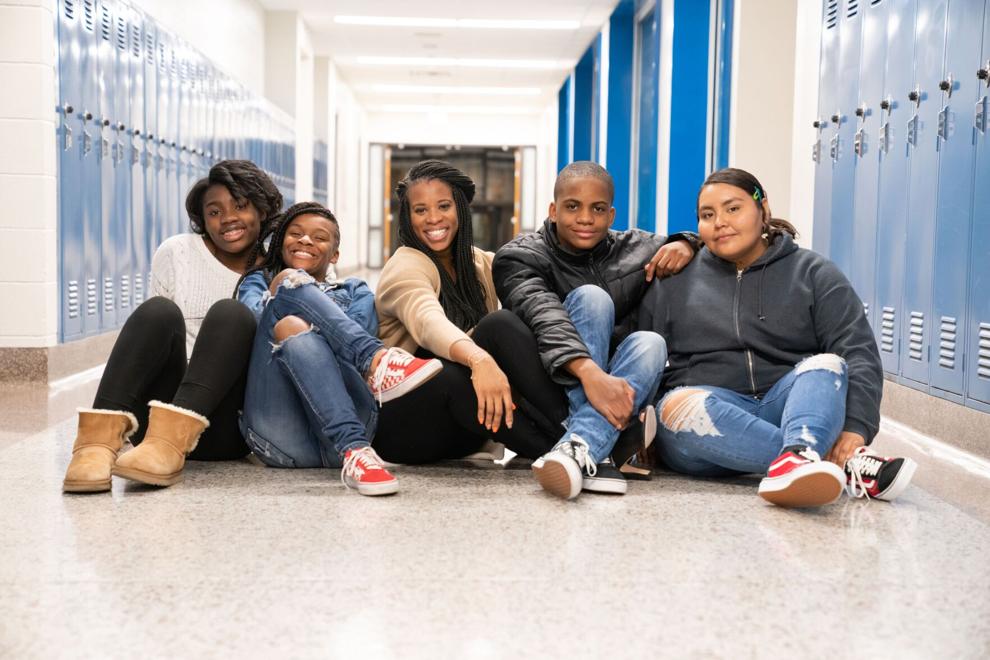 Serving to Support Empowerment
Outlook Enrichment
Building greater independence for people with vision loss
"Outlook Enrichment's goal is to empower our neighbors living with vision loss and blindness to live life independently, confidently engage in their communities, and continue doing the things they love in a more inclusive world," Executive Director Donna Aman said. "We help anyone living with vision loss find the resources they need, learn how to use technology to stay independent, find out about employment opportunities and stay active through recreation and cultural activities."
Cancellations and postponements have reduced interactions with volunteers, potential supporters, and partners, Aman said. "Outlook has not been able to host visitors for tours and technology demonstrations, reducing our outreach to the community, which affects program enrollment and financial contributions."
The organization has adapted, Aman added. Outlook and Vision Resource Coalition partners created a dedicated COVID Help phone line and resource webpage compatible with software used by people with vision limitations. Outlook shifted technology training and recreational programs to virtual delivery and even launched some new programs to meet emergent needs like Vision Loss Peer Support Groups.
Cross Training Center
Providing experience and skills for success in the workplace
Cross Training Center provides vocational training and job experience for those who are not able to attain a job due to challenging backgrounds and circumstances.
"We empower and equip those who have been incarcerated or homeless, involved in gangs or substance abuse, have mental or emotional disorders, have been a victim of human trafficking or domestic violence, or live in poverty for numerous reasons," Executive Director Brenda Banks said. "They receive life-changing training and experiences in order to gain employment on a career path that breaks the cycle of poverty for generations to come."
Cross program and businesses—Cross Electronic Recycling, Redeemed Computers & Electronics, Cross Automotive, Cross Events—have been compromised by the pandemic, affecting finances, client and students, volunteers and customers, Banks said. As its operations resume, the organization needs the public's patronage and support. Because of many factors including reduced training opportunities and competing against more people looking for employment, the long-term outlook is concerning for the people Cross serves.
Crossroads of Western Iowa
Touching lives to shape extraordinary tomorrows
Crossroads of Western Iowa empowers individuals with disabilities, Director of Philanthropy Hannah Smith said, serving more than 600 Iowans.
"We offer supported community living, employment services, and day habilitation, so our clients may reach their full potential at home, at work, and in their communities," she explained. "Our services help clients gain life skills and strive for independence to enhance their quality of life."
Group-based programming was suspended but many services were converted to virtual delivery. Residential-home staffing has been boosted, and additional increased costs include sanitation supplies and personal protection equipment for staff and clients. Additional responsibilities like grocery shopping and pharmacy runs for clients allow them to quarantine at home.
To keep clients engaged in the community, Crossroads has started "Across the Road" video chats with volunteers and clients. "We would be thrilled to welcome volunteers…play online games with clients, talk with them about their hobbies, discuss movies or books, or help them gain a skill like gardening or sewing," Smith said.
Serving Seniors and Creating Homes
Dreamweaver Foundation
Making lifelong dreams come true for terminally ill seniors
"Our eight-year old, Omaha-based nonprofit has gifted over 300 dreams to seniors in southeast Nebraska and western Iowa," Executive Director Cheri Mastny said. "Because seniors are an at-risk population, we have not been able to grant dreams since the onset of the COVID-19 pandemic. Instead, we've shifted our focus to our Connecting Hope Campaign. The Dreamweaver Connecting Hope Campaign aims to lessen feelings of isolation, depression and loneliness within the senior population by providing Facebook Portals to seniors so they can be together with their loved ones virtually."
The Connecting Hope campaign is especially important because it's uncertain when the organization will be able to grant dreams again," Mastny said. "This is a great opportunity to help lift the spirits of seniors during these hard times, to keep them connected to their family and friends."
Visiting Nurse Association (VNA)
Expert and compassionate care to all
"VNA has an unwavering commitment to the health and safety of patients who might otherwise be ignored, and our expertise serving the socially isolated through community home healthcare is unmatched," Vice President of Development and Communications Dr. Carole Patrick said. "With 124 years of expertise, VNA impacts healthcare issues that need innovative, expert, and compassionate resolution. We have set the standard for quality home healthcare, hospice and supportive services, wherever individuals and families call home. We provide public health nursing to those who struggle to provide for themselves."
In addition to normal patient care, VNA is one of the only post-acute care providers taking COVID-positive patients into home healthcare and hospice, plus is training community partners in infection control, Patrick added.
"Historically, we stepped up to treat those impacted by the polio epidemic, Spanish Influenza, HIV/AIDS, and H1N1," she said. "We will serve COVID-positive patients as long as this pandemic impacts our community. Once a vaccine is available, we anticipate being on the forefront of providing vaccinations."
Project Houseworks
Keeping seniors safe and healthy in their homes
Project Houseworks provides free, critical home repairs and modifications to low-income senior homeowners in Douglas and Sarpy Counties, Executive Director Lynette Farhart said. "It is our mission to keep seniors safe and healthy in their homes, allowing them to age in place. We also host our annual Brush Up paint event, which is a free service that brings volunteers teams together to paint the home exteriors of our low-income seniors."
With both volunteer numbers and funding down, and interior home projects paused for safety, the organization has a large waitlist of seniors needing services. Plans to resume interior work are underway, but Project Houseworks has been able to provide exterior repairs through a new program.
"Now more than ever, it is imperative that we remain steadfast in our commitment to serving seniors," Farhart said. "These outdoor repairs and modifications not only increase safety for the homeowners and lessen their liability, but also beautify the neighborhood and bring pride to those in the area."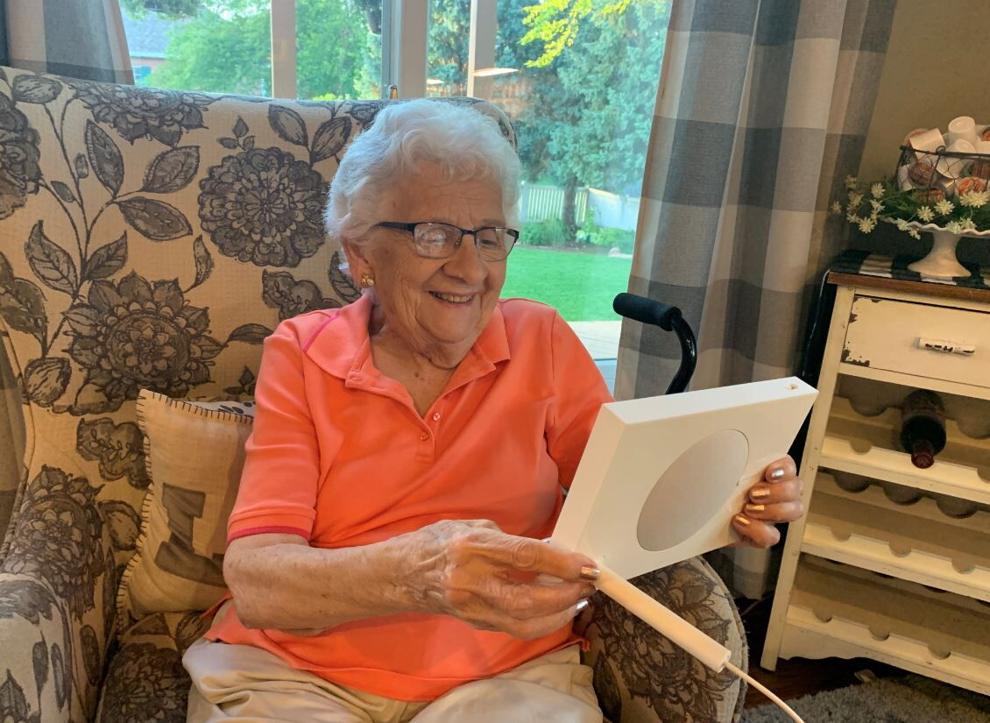 Habitat for Humanity of Omaha
The power of home
Habitat for Humanity of Omaha works to expand access to quality, affordable homeownership opportunities by building and renovating homes, repairing existing houses, taking down blighted structures, and advocating for better, equitable laws and systems. The organization works with families to help them acquire the access, skills and financial education necessary for successful homeownership.
"We've learned to work differently by utilizing technology to work from home, leaning on partners in the construction industry to help our builds stay on track, rethinking fundraising events, and finding new ways to ensure we're providing appropriate support and opportunities for families who partner with us," Volunteer Services Manager Jenny Schroeder said. "Having a safe, stable place to live has always been a basic human need; these times are making this even more clear. We know there will be many challenges in the months to come but we also know we can meet them by working together."
Intercultural Senior Center
Improving the well-being of older adults from around the world
The diverse Intercultural Senior Center (ISC) staff provides education, nutrition, physical activity, and case management assistance to seniors from over 20 countries to create opportunities for every person to embrace and enhance their community, Executive Director Carolina Padilla said.
"ISC fills a unique spot in the community's emergency food response with deliveries of food pantries, hygiene items, and prepared meals directly to seniors' doors, which allows vulnerable older adults who need assistance to stay safely at home," Padilla said, adding that an "all-hands-on-deck" situation emerged when services were rapidly expanded in response to the pandemic. Other activities became online or phone-based. People over 65 are at greater risk for COVID-19, but the necessary isolation in the name of safety is hard on older adults.
"Seniors facing language and cultural barriers, poverty, and technology and transportation limitations will have an even more difficult time. ISC expects to the demand for our services and the need to advocate for older adults to increase," she said. "We all benefit from seniors' wisdom and talents, and a strong community will ensure that they are not isolated from others but instead given opportunities to thrive."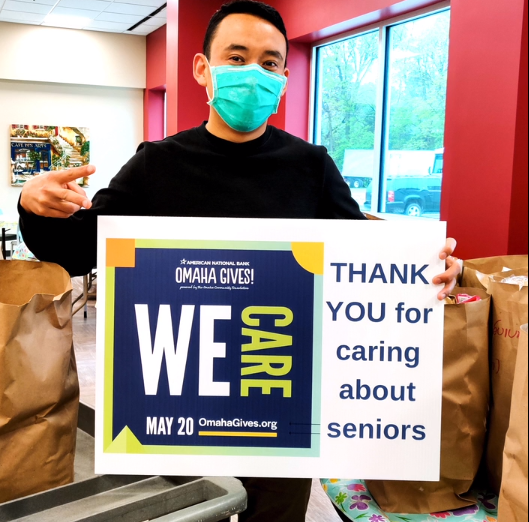 Serving New Americans
Centro Latino of Iowa
Educating and empowering the Latino immigrant population in southwest Iowa
"Centro Latino is well-known for helping the Latino immigrant population navigate social systems and economic challenges. We do it face-to-face and one-on-one," Executive Director Ramon Calzada said. "We care about preserving the family structure and guide them through the process of self-sufficiency by learning new ways to adapt to a new cultural reality."
Fundraising events have been curbed, but social media fundraising campaigns have ramped up, Calzada said. "This has helped us to tell our story and invite many new people to join in our mission, especially empowering these new Americans as they earn the national recognition of being essential workers and appreciation for their sacrifice working to feed America as meat processors and migrant workers."
Centro Latino created a COVID-19 Solidarity Fund to alleviate economic and health disparities by supporting housing challenges and medical emergencies, Calzada said, especially for individuals whose immigration status makes them ineligible for governmental stimulus checks and/or unemployment benefits.
"We have not stopped educating and empowering the Latino immigrant population," he said.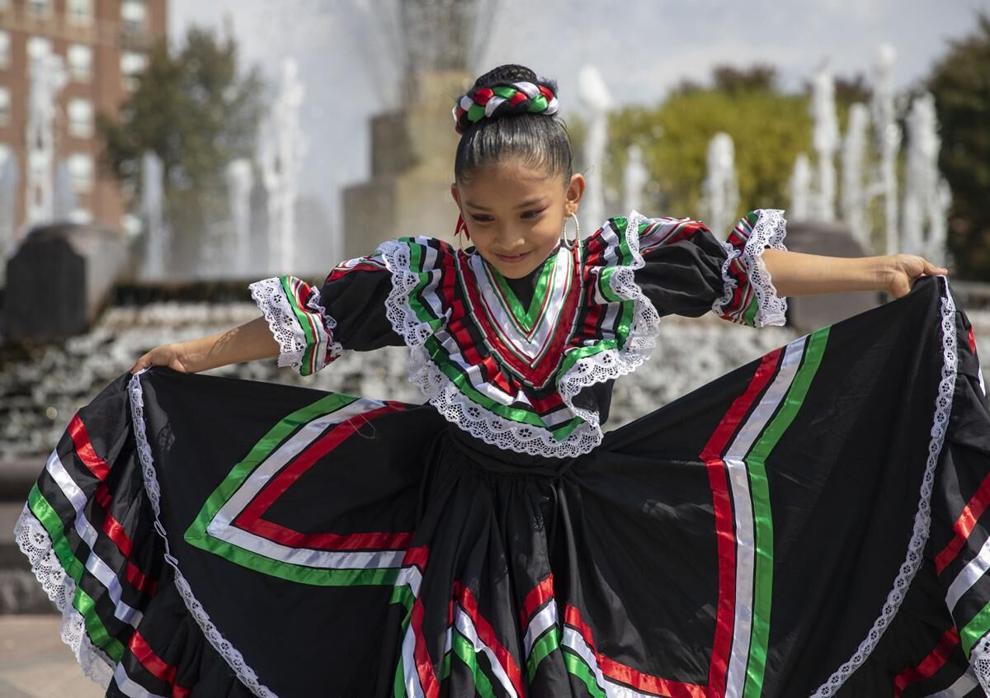 Serving Those in Crisis
Bethlehem House
Serving women who are pregnant and in crisis
Bethlehem House is a residential program for women experiencing a crisis pregnancy. Woman who participate are committed to creating and accessing healthy pathways to permanently break the cycles of poverty, lack of education, abuse and addiction.
Executive Director Joanne Hull said a spectrum of services are provided at no cost and aftercare services support participants even after they graduate from the program.
"Demands for services, including calls for help and outreach support, has increased by 30 percent over the course of the pandemic," Hull said. "Currently, Bethlehem House is operating at capacity, both in the residential program and through additional need among our aftercare clients."
Resources including volunteer hours, material donations and fundraising are reduced as need rises. "The effects of Covid-19 will continue to affect our financial fundraising forecast," Hull said. "It is likely that the pandemic will continue to drive the economic factors that drive our clients into poverty, increasing the need for our services in our community."
Rejuvenating Women
Supporting, protecting and restoring survivors of human trafficking
"Rejuvenating Women provides hope and restoration to victims and survivors of human trafficking by empowering survivors to lead healthy, independent lives," CEO and Founder Julie Shrader said. "We are committed to developing long-lasting relationships with the girls and women who are deeply traumatized. We raise awareness of human trafficking in Omaha and surrounding communities. Our team of dedicated staff and volunteers invest in the lives of each individual living in the recovery residential home as well as those participating in other programs and services that we offer."
Services continue with safety precautions in place although revenue from fundraising events has been grossly curtailed. Unfortunately, human trafficking has increased during the pandemic, Shrader said. "Time spent online has risen, thus allowing traffickers a way to lure both children and adults on commonly used websites and apps. COVID-19 has stopped no one from falling victim to sex trafficking."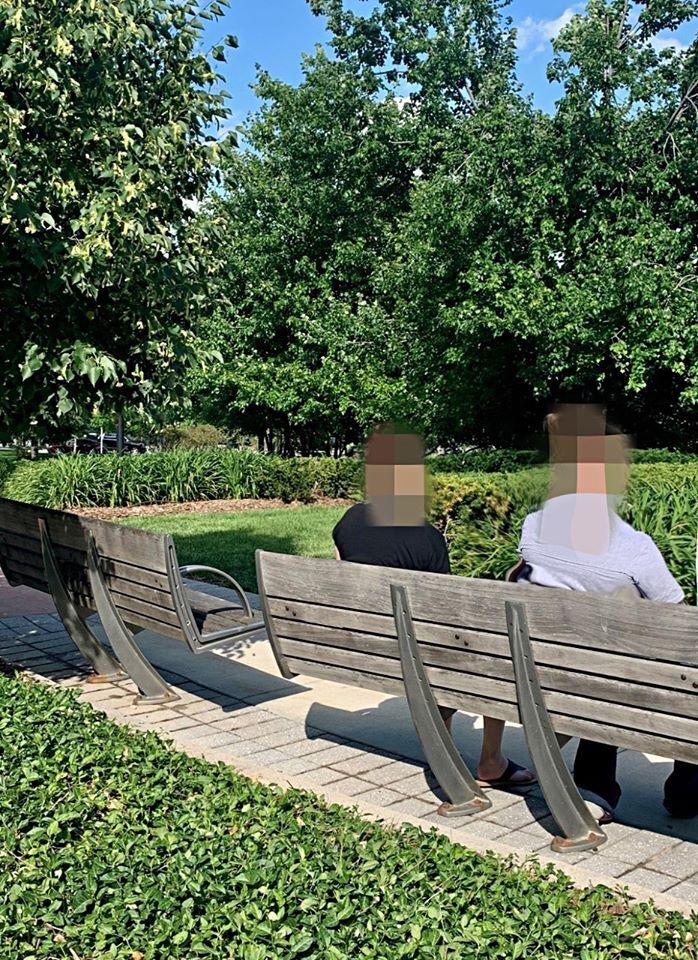 The Kim Foundation
Improving lives through mental health awareness and suicide prevention
The Kim Foundation's mission is to be a supportive resource and compassionate voice for lives touched by mental illness and suicide.
"We focus on connecting people to resources, while providing education on mental health promotion and suicide prevention, as well as providing data-driven prevention messaging," Executive Director Julia Hebenstreit said. "It is our goal at the foundation to bridge the gaps in mental health services and further encourage innovation that will enhance programs, expand services, strengthen organizational systems, and most importantly, transform lives."
The organization has been resourceful in finding new ways to engage the community around its mission through technology, Hebenstreit added, and to continue to serve individuals and families.
"The need for what we provide the community hasn't changed, we've just had to adapt how we provide it," she said. "Many people have been affected financially and emotionally due to COVID-19 and we will continue to see an impact. Since we are an organization that focuses on mental health, we believe the next weeks, months, and years to come will be very critical in connecting people to mental health services/resources."
Serving the Public: Arts, Culture, Technology
Do Space
Technology and innovative learning experiences
"At Do Space, the Omaha community has free access to powerful fiber wi-fi internet, high-end computer stations, 3D printers, and technology-focused learning opportunities," Executive Director Rebecca Stavick said. "Do Space has a little something for everyone, but we aim to make a significant impact on two key groups: under connected, low-income individuals; and entrepreneurs, inventors and creators. Membership to Do Space is absolutely free."
The facility was closed for three months but has now reopened with limited in-person services. "We were able to quickly mobilize our team and shift all of our in-person events and programs and bring them online," Stavick said. "It will be a while before we, once again, have hundreds of people in our building. Our focus right now is to have the greatest impact on those who do not have access to computers or the internet, and ensuring we are welcoming the people who need us the most into our building to take advantage of our equipment. We will continue our educational programs virtually until it's safe to hold in-person events. We will continue to wear masks and maintain physical distancing in our computer lab and other spaces in our building. We are committed to doing what we can to serve the community in the safest way possible."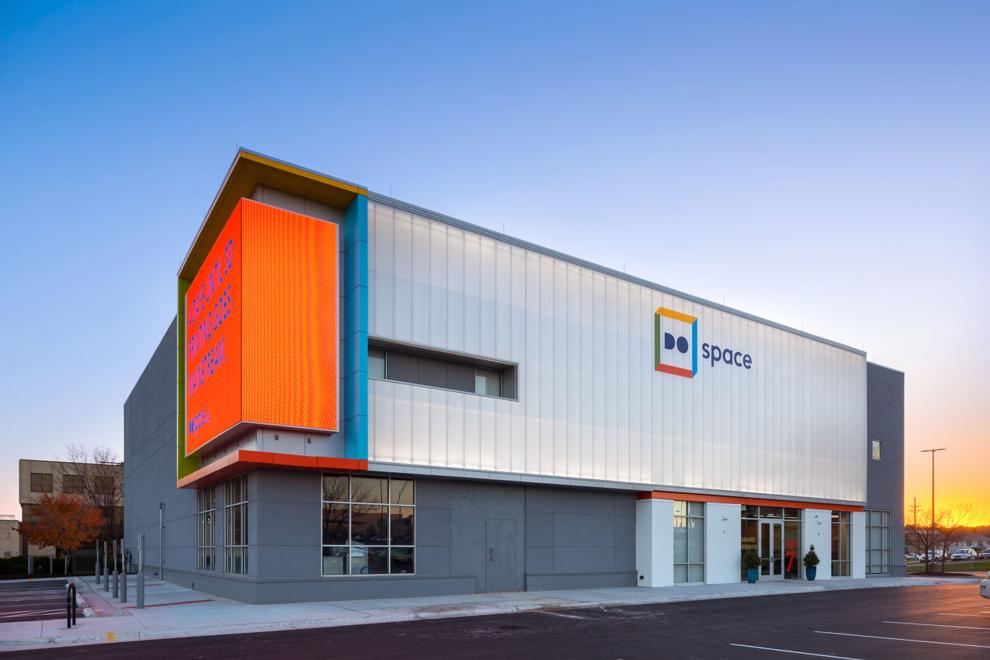 The Durham Museum
Omaha's home to history
The Durham Museum closed to the public for four months due to the pandemic.
"That closure had a significant impact," Director of Communications Jessica Brummer said. "Without guests in the building, no events, no tours, et cetera, we took a large hit. As with many arts organizations, we had to get creative on how we could carry on our work without being 'open.'"
Staff worked quickly to take education programs online, with great engagement, Brummer said; nearly 10,000 students participated in virtual field trips. "We also joined with several other museums in an effort to collect items and stories related to the pandemic in order to document this moment in our history."
A host of safety measures are welcoming guests back safely, she added.
"We can do our best to plan and project, but we just don't know what the weeks and months ahead hold. We will no doubt feel the financial impact in the future. We are hopeful we can stay creative in our approach and that we all come out stronger on the other side."
Joslyn Art Museum
Bringing people and art together
Due to the pandemic, Joslyn Art Museum closed from mid-March to early August.
"Along with a public closure comes a realization of determining what programming and exhibitions need to be postponed or canceled. We unfortunately had to cancel all summer exhibitions as well as all spring and summer programs and events," Director of Development Hillary Nather-Detisch said.
Nevertheless, the museum launched free virtual exhibition tours, talks with artists, gallery talks with curators, art making for children, resources for teachers and families, and an online seminar series, as well as summer camps and classes to serve the public in a virtual capacity, Nather-Detisch said.
In permanent displays and temporary exhibitions among nearly 20 galleries, the Joslyn Art Museum showcases art from ancient times to the present. Other highlights include a 1,000-seat concert hall, fountain court, education technology gallery, lecture hall, classrooms, sculpture garden, café, shop, and Art Works, an interactive space for art exploration. Free general admission makes Joslyn accessible for everyone.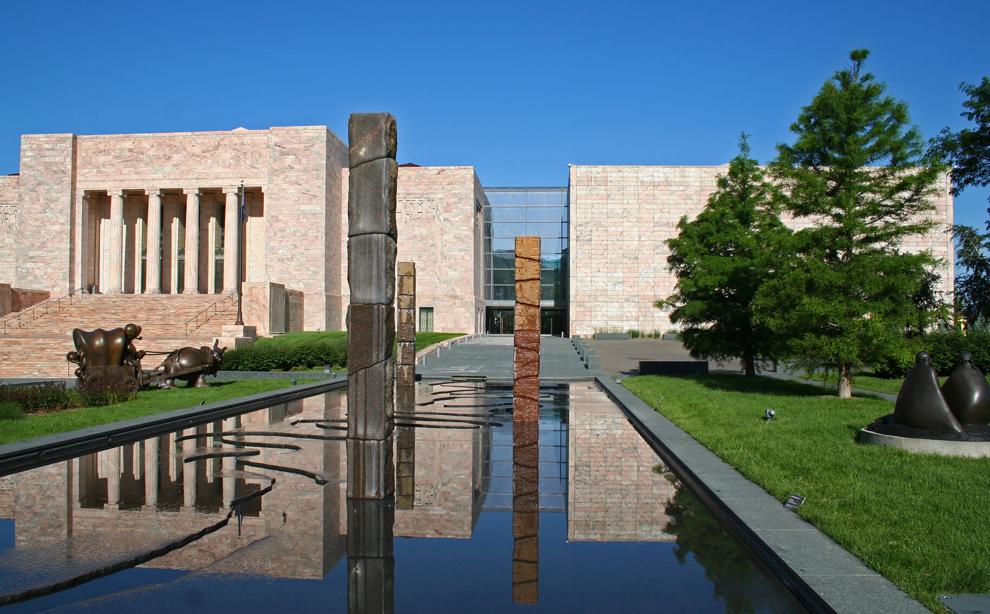 Omaha Children's Museum
​ocm.org
Engaging young imaginations, creating excitement about learning
Omaha Children's Museum facilities closed in mid-March and remained closed during what would normally be its busiest months.
"To adjust for revenue losses, we've had to reduce staff levels, adapt our temporary exhibition schedule, cut discretionary expenditures and rely more heavily on new and existing funding sources," Director of Marketing and Public Relations Kim Reiner said.
But OCM continues serving its primary audience: families with young children under ten years old, Reiner added.
"The museum has curated a robust online learning resource to encourage learning and play at home…Efforts to expand our museum offerings outside the walls of our existing facility are being planned, with an emphasis on serving children and families in our under-resourced communities in the service area," she explained. "We see our role in providing social and emotional development taking more prominence as our entire community recovers from this pandemic."
Serving Our Animal Companions
Midlands Humane Society
Serving animals in need of healing, hope and their forever home
"Our mission is 'To protect and nurture companion animals and enrich the lives of people who love them,'" Director of Development and Marketing Kori Nelson said. "We pride ourselves as being a resource that helps the community as they search to adopt animals, find lost pets, gain information and advice regarding animals and behavior issues; and as a place where volunteers can be part of our team in caring for the animals, our relationship with the public, helping to maintain the building/grounds and and assisting with fundraising."
Adaptations have been necessary to continue operations safely, Nelson said. Volunteers and staff are stretched to the limit but determined to ensure the organization continues to fulfill its mission.
"We have been blessed with a steady stream of adoptions," she said. "However, we are ready if there is a surge of pet owners needing to surrender pets for a variety of reasons."
Nebraska Humane Society
Offering safety, shelter and care for animals
The Nebraska Humane Society offers safety, shelter and care for animals in the Omaha metro area. NHS also provides animal control services to Omaha and all of Sarpy County; and rescues, rehabilitates and rehomes pets who need those services. NHS also provides education, encourages adoptions, and promotes responsible pet care.
"Funding has taken the biggest hit from COVID-19," VP of Public Relations and Marketing Pam Wiese said, explaining that events were either transformed into virtual affairs or canceled altogether. The organization did have to cancel some activities and services like shuttering the Spay & Neuter Center for two months, curtailing obedience classes and canceling camps through July, diminishing revenue streams.
"However, we continue to provide care to all animals needing our help," she said. Most services continue with modifications for safety and increased demand is expected. "Making up the loss of revenue will be a challenge, yet we don't see our needs lessening. In fact, we anticipate even more animals coming in, and more need for services like the pet-food pantry, if we see a resurgence and economic recovery slows down."
Promise 4 Paws
A sanctuary for senior dogs
"Our mission is to provide the best home-like environment possible so that our senior residents can live out their lives as happy and comfortable as possible. We are a free-roaming home where all the dogs can go about as they please, whether that means a nice afternoon nap on a comfy bed or a relaxing stroll around the yard," Promise 4 Paws Co-founder Tiffany Barrett said. "We have volunteers at the sanctuary 24 hours a day, seven days a week to care for the dogs."
Funding is down with the cancellation or postponement of the organization's regular fundraising events, Barrett said. "In the upcoming weeks, months and even years, we anticipate we will have to greatly update the way we do fundraising and construct our annual budget. The capacity of senior dogs we bring to the sanctuary directly correlates to the amount of funding we have. If we cannot afford to properly care for their needs, including but not limited to medication, vet visits and more, then we cannot bring in additional senior residents."
Members of the public are not currently allowed to visit the organization's facilities, but they can still see its residents online, Barrett said. "We are being more proactive in our social media postings to include videos and pictures in an attempt to give the public a better glimpse into our daily life."