Sleeves Up. Hearts Open. All In.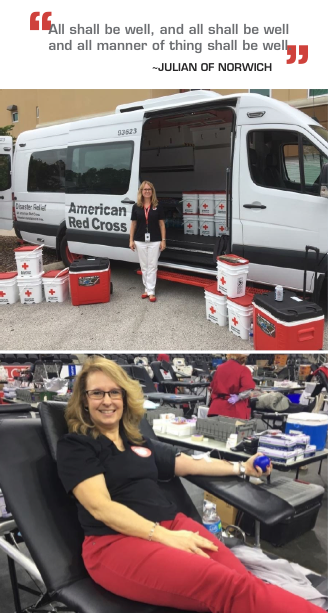 "I'm not afraid to try new things."

~Jill Orton
When Nebraska Iowa Region Chief Executive Officer Jill Orton began working for the American Red Cross 21 years ago, she knew she was continuing a family legacy of service careers; both parents were teachers. But she had no idea how deeply the organization was in her blood.
"My grandma actually was a Red Crosser. She used to set up the Red Cross dances, and this is where she met my grandpa," Orton said. "And she was a 20-year blood donor! I was looking at her donor cards and discovered that 10 years prior to my birth—to the day, my birthday—she gave her first Red Cross blood donation. We even have the same blood type… It was just like it was meant to be."
Leaving her comfort zone
Orton is from St. Paul, Nebraska, a town of around 2,200 north of Grand Island. She considered following in her educator parents' footsteps but instead studied chemistry and biology (pre-med) at Mount Marty University in Yankton, South Dakota. Marriage and her husband's career brought her to rural Nebraska.
"So I'm not a teacher and I'm not a nurse. I will say that it was a scary time in my life when I said, 'Oh my goodness, what am I going to do?'" Orton said. She started volunteering for the American Red Cross and also landed her first nonprofit job, working seven years as an assistant aquatics director for the YMCA in Hastings. "I coached every single swim team available: the high school team, a club team, the Y team. Those were my 'kids' before I had my own kids."
When she and her husband moved to the eastern part of the state for better auto industry opportunities for him, Orton said she admits she was reluctant to leave her comfort zone.
"But it opened so many doors for me. I started out as a safety specialist at the American Red Cross (then called the Heartland
Chapter) in Omaha," she said. "Within four years I was the director of the Health and Safety Services department, Training Services now. Then I decided I wanted to do something new, so I took my sales and marketing skills—transferable skills—and learned how to do fundraising." She put those fundraising skills to use on a national scale during 2012's Hurricane Sandy.
"I'm not afraid to try new things," she said. "I was able to help the Greater New York City Chapter build capacity."
Life-changing opportunities
Orton praises her employer for supporting professional development opportunities throughout her career. In 2009, she was allowed to be part of a one-month young professionals exchange to Taiwan with one Rotarian and three other non-Rotarians, an experience she calls "life-changing." She was also connected with the International Red Cross and Red Crescent during that time. Later, Orton received executive-track training through the Red Cross's Leadership Education and Development (LEAD) program. In 2010, she was promoted to executive director of the Loess Hills Chapter (Council Bluffs, Iowa). In 2013, she became the regional disaster officer for the Nebraska/Southwest Iowa Region, serving during the major June 2014 tornado outbreak that included twin twisters that decimated Pilger, Nebraska. Orton also experienced significant national deployments to disaster sites including Hurricane Irma in 2017 and Hurricane Florence in 2018.
"It was eye-opening to help people get back to a new normal," she said. "My job was to interface with elected officials to give them the skinny on what's going on and to make sure we are listening to what their constituents are saying."
When her predecessor and champion at her chapter retired, Orton saw it as her call to action to become a region executive. She was named regional CEO for Kansas, Nebraska and Southwest Iowa in 2014.
"It was one of the most difficult and challenging, yet rewarding jobs I've had. I have the same type of job now with a different team, but this first team I built from the ground up; it took five and a half years," she said. "I built that team and I adjourned that team as well; not everybody gets that opportunity. Fun is the reward of a highly-functioning team."
Resiliency
In 2020 Orton began her current role overseeing services in the realigned Nebraska Iowa region.
"Our communities see us as the one Red Cross, so we're becoming more integrated into a culture shift by not having two separate business models for our biomedical services, which are FDA regulated, and our humanitarian services," she said. "We're all humanitarian services; we have a life-saving mission to alleviate human suffering."
It's a huge mission that spans a wide breadth of services, and Orton's career has given her the opportunity to have a hand in all of them.
"By leading by example, I can inspire others to get involved. I can share my experience and mentor and coach others," she said. "It's about leading others to be successful, not just you, and something that takes being a leader from the front, sometimes being a leader from behind, and being adaptable and flexible.
The Red Cross really lives that skill set of resiliency, whether it be in communities, whether it be personally, whether it be for a family. I live that daily."
Orton added, "The Red Cross certainly has gotten into my blood. My aspiration is to inspire the next generation of Red Cross leaders so someday I can transition back into volunteering full time."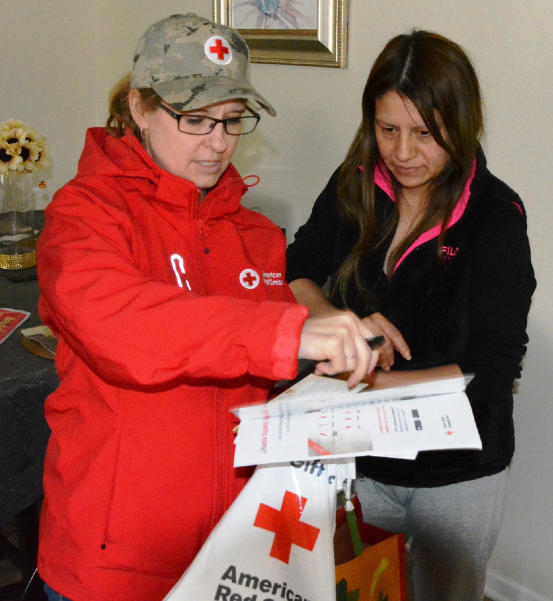 To volunteer with the American Red Cross, visit redcross.org/volunteer.
2912 S 80th Ave, Omaha, NE 68124 • redcross.org/Nebraska • (402) 343-7700