philanthropy is looking up​
Conduit and catalyst
The people of Southwest Iowa are generous in their support of the community through numerous foundations and other contributions. Donors often give quietly, not motivated by recognition but by the sincere desire to make the region better for all its citizens. 
The Pottawattamie County Community Foundation (PCCF) works with 
individuals, families, businesses, nonprofits and governmental entities to establish endowment funds and other philanthropic solutions that will benefit the community for future generations.
"We're very fortunate at PCCF to help be the conduit and catalyst for a great deal of the private philanthropy in the community," PCCF President and CEO Donna Dostal said. "The philanthropic landscape in our community is very strong."
A feeling of connectedness spurs much of the giving. Although Southwest Iowa isn't a densely populated region, there are many people who live in one place and work in another, so they feel they are part of more than just one community. Also, the region's location makes it possible to have ties to both the Omaha-Council Bluffs metro area and Iowa's capital city, Des Moines. 
"It gives the opportunity to be philanthropic across community lines…I think that is unique to the Southwest Iowa region," Dostal said. Where we identify lies between, and we also have our own identify as Southwest Iowa: how strong we are, how independent we are and how tremendously fortunate we are to have resources here we can take advantage of that make living and playing and working in Southwest Iowa both unique and attractive."
PCCF brings together multiple entities to help identify not only the region's needs, but also the most compelling ideas and projects that connect the solutions to the issues, Dostal said. The foundation also stimulates engagement.
Southwest Iowa is the heart and soul of our American nation; the Lakin family has called it home for generations. To emulate the morals and values found here would be an admirable goal for all and the Lakin Foundation is fortunate to be in the position to invest in Southwest Iowa.
~ The Lakin Family,
   Charles E. Lakin Foundation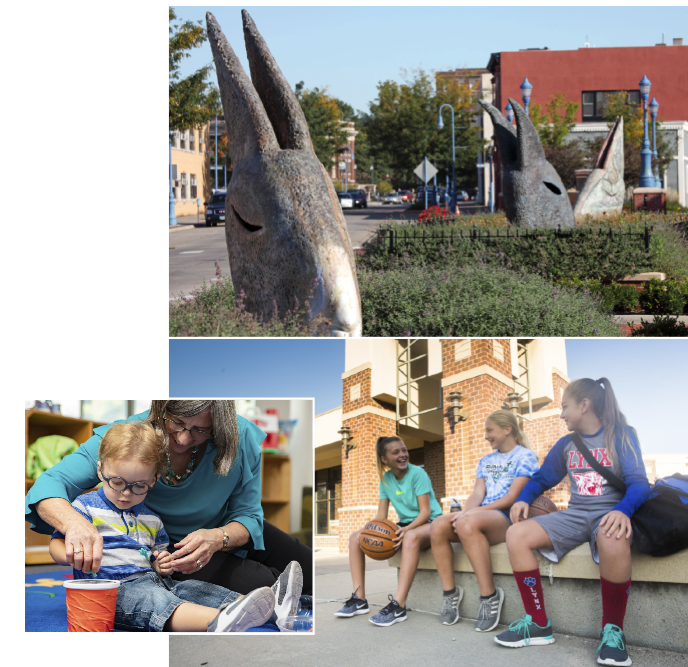 Bridging the region
"We're a young community foundation, but we've created a landscape or an opportunity to bridge the entire Southwest Iowa region...
we're really good at having the conversation on both sides," she said. "We have two primary objectives: to grow philanthropy throughout the community so we can create the solutions that are necessary to improve the quality of life across the entire Southwest Iowa region, and the other is to get the right people to the table to create those solutions." 
There are numerous examples of exciting and compelling projects in the area, like Avoca's Main Street program combining the best of the past and present in its downtown area, including its robust farmers market and autumn Longest Table celebration. Walnut's annual Antique Walk over Father's Day weekend is a big draw, and both Walnut and Oakland (see Education section) have created community centers to provide programming to citizens in town and in surrounding communities. Neola's Lookout Village creates housing for and supports the aging population. Two world-class hospitals, Methodist Jennie Edmundson Hospital and CHI Health Mercy Council Bluffs, are growing and constantly innovating to serve the people of Southwest Iowa. And these are just a few examples. 
"We're supportive of all these initiatives,"
Dostal said.
philanthropy •  in focus: "the whole picture"
 Iowa West Foundation
For nearly a quarter of a century, the Iowa West Foundation (IWF) has been synonymous with philanthropy in Southwest Iowa.
Driven by the vision to create a place where families choose to live and businesses choose to locate because of the quality of life, IWF grants and initiatives can be credited with the spectacular transformation of the Southwest Iowa landscape, most notably in its home base of Council Bluffs. 
Parks. Trails. The Council Bluffs Athletic Complex. The new YMCA. The always-packed Iowa West Field House. The soon-to-be-finished Iowa West Sports Plex. The show-stopping Pottawattamie Arts, Culture & Entertainment headquarters (see Dr. Ted and Polly Hoff sidebar). The Riverfront, which now features a picturesque community building. 
The Mid-America Center Entertainment District, which now houses a new brewery and soon a new restaurant. West Broadway, which now features multiple aesthetic improvements. All of these places and spaces are worth seeing for anyone who hasn't visited lately, and that's thanks to more than $500 million in funding from Iowa West Foundation over the years. 
"Our investments are matched at least one-to-one, so in reality, more than one billion dollars has been poured into our four primary funding areas: education, healthy families, economic development and placemaking," said Pete Tulipana, president and CEO of IWF. 
Recognizing that families desire top-notch educational opportunities, IWF funds the spectrum, from early childhood literacy programs to full scholarship opportunities for six high schools throughout the county with Pottawattamie Promise to the STARS program for adults with children who seek to further their careers through higher education. Additionally, IWF's major commitments to the International Baccalaureate programs within two of Council Bluffs School District's elementary schools as well as both middle schools has resulted in more demand for enrollment.
"Our approach looks at the whole picture of the community," Tulipana said. "We lead when we need to lead, but our partners are essential to our efforts. One of those partners includes community members as a whole."
Through ongoing listening sessions and an open-door policy, the foundation relies on feedback from residents throughout Southwest Iowa to determine what types of investments will result in the kinds of places they want to live. 
"I think when you look at how Council Bluffs looks and feels as a community today, our residents should be proud of all that we've accomplished together."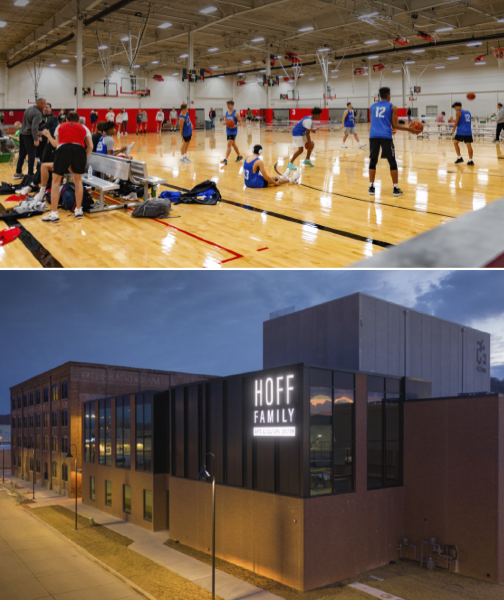 philanthropy •  in focus: "paying it back" 
Dr. Ted and Polly Hoff
Pottawattamie County Community Foundation (PCCF) refers to people like Dr. Ted and Polly Hoff as "difference makers" for their commitment to create impact in the community. 
The Hoffs were inspired to create endowment funds at PCCF in 2013 and 2015 as a way to financially help area nonprofits in a long-term capacity, and to provide scholarship support to area students pursuing a college degree. 
Ted Hoff recognized that PCCF could help manage and distribute his funds annually to local nonprofit organizations like Pottawattamie Arts Culture & Entertainment (PACE), an organization which the Hoffs feel passionate about considering their longstanding love for plays, symphonies, and the arts culture. 
The Hoffs also express their convictions about the importance of education by granting six college scholarships annually to area students. 
The Hoffs said they feel that PCCF is vital to Council Bluffs and Southwest Iowa because the foundation can address the needs and challenges that have been identified in our communities. Donors can come together and create a culture of philanthropy and service to help organizations and nonprofits thrive. 
"Council Bluffs has been so good to us, and supporting the community through Pottawattamie County Community Foundation is our way of saying thank you," Polly Hoff said. 
Mr. Kiewit attributed his success to the strong work ethic of his employees that helped him to build and grow his company. In appreciation, Mr. Kiewit wanted to return his wealth to their communities through his private foundation. His workforce largely resided in the greater Omaha region, and included the communities of Southwest Iowa.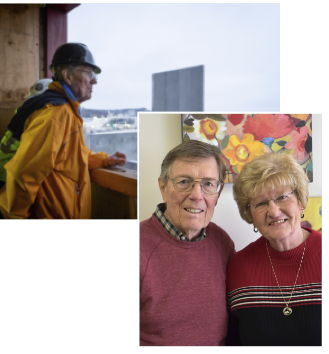 education is looking up​
Envisioning Education
The young citizens of Southwest Iowa have enjoyed high quality public education in its elementary, middle and high schools for decades, and there are plenty of exciting and innovative opportunities in high school and post-secondary education. 
"We have a vision that every student will graduate with a high school diploma and another credential," said Superintendent Dr. Vickie Murillo of the Council Bluffs Community School District. 
That vision is becoming a reality which positions the district as an education leader in the region. The district's Plus One Pathways presents multiple options: Early College Academy, TradeWorks Academy, TradeWorks at Iowa Western Community College (IWCC), Certificate Advancement Program at IWCC, and College Credit Acceleration Program. 
Early College Academy students earn an associate degree in arts and sciences or career and technical education simultaneously. With on-campus advising, they attend classes full time on the IWCC campus but are allowed to participate in their high school's activities. This year, 24 seniors and 25 juniors from both of the district's high schools are enrolled in the program, now in its second year. Eighty-five students applied for 25 spots opening up for the 2021-22 school year. 
This year, more than 360 Abraham Lincoln High School and Thomas Jefferson High School students were enrolled in the TradeWorks Academy, which introduced them to high-demand career fields in the trades. Freshman and sophomores took classes at the Behrouz and Christiane Rassekh Foundation TradeWorks Academy facilities, which opened in 2019 on both high school campuses, and will be able to move on as juniors and seniors to pursue college-level credentials at IWCC. 
"This has opened up doors for students who really had an interest in a trade, but it's taking them to that next level," Murillo said. "They don't have to wait until they graduate from high school to choose a career field." 
The Certificate Advancement Program (CAP) "focuses on health science and culinary arts," Murillo said. More than 80 enrolled juniors and seniors this school year spent half-days at IWCC taking courses from school-district teachers in state-of-the-art facilities, she explained. The "stackable credentials" they earn apply toward college-issued certification or associate degrees. 
High school students can also earn 24 college credits, essentially their freshman year of college, through school or IWCC-delivered Concurrent Enrollment courses and/or Advanced Placement courses through the College Credit Acceleration Program. 
Best of all, Murillo said, "All of these opportunities are no cost to the student." Plus, students are inspired to pursue further postsecondary education. 
"We're exposing them to what it's like to be on a college campus. Research says that once students get on campus and believe they can get a degree and see themselves finishing that program of study, they will," she said. "We provide good support to them during their junior and senior year, and we couldn't be more pleased with the outcomes we're seeing here in Council Bluffs." 
District administrators hoped to reach 50 percent Plus One Pathways participation among graduating seniors in 2021, but in 2020, "we believe we're already close to that," Murillo said. 

Meaningful programs
IWCC is also a proven leader in educational innovation, said Vice President of Marketing & Public Relations Don Kohler. 
"The board of trustees and administration have focused their efforts on offering meaningful programs of study that afford our graduates the opportunities to excel in their respective fields of study," he said. "The college is proud of its accomplishments in adding to the economic vitality of our region."
IWCC's Economic and Workforce Development Division also provides valuable training programs for large and small businesses in the region, Kohler said. "Iowa Western works closely with community partners to develop and implement workforce initiatives that help businesses prepare for the future by aligning the workforce system with education and economic development resources."
As one of the largest employers in the region, IWCC's impact on Southwest Iowa goes far beyond its exceptional academic programs, Kohler added. 
"Our staff and students are active in all of the communities we serve, and that translates into an important quality of life component for cities across the region," he said. "More than 80 percent of community college students remain in Iowa upon completion of their programs, and that is a significant economic benefit to the state."
Impact Hill is a perfect example of the combination of Southwest Iowa ingenuity and a genuine desire to help families. Kevin and Tara Schechinger and Dean and Rita Schechinger (two brothers and their wives) converted the former Riverside High School in Oakland into a nonprofit educational and recreational center for Pottawattamie County and the surrounding area. 
"Our mission at Impact Hill is to provide a safe, positive and welcoming environment for the recreational, educational, social and cultural advancement to all residents," Kevin Schechinger said. "From our spacious gymnasium to the beautiful and historic auditorium to former classroom spaces, Impact Hill has multiple possibilities to bring the community together." 
Since opening in December 2017, Impact Hill has served over 7,000 people, most of them children and families, from 15 communities in the region. 
The opening of the Iowa West Field House has had a huge impact on youth sports in Council Bluffs and Southwest Iowa. The Foundation's commitment to setting aside time in the Field House at no cost for youth sports has had a tremendous impact on the number of youths participating in youth sports programs.
education • in focus: "transformative"
Richard Wenninghoff 
Leaves $5 Million to the Pottawattamie County Community Foundation
Last December, the Pottawattamie County Community Foundation (PCCF) received a $5 million gift, dedicated for scholarships for students in Treynor Community Schools and Underwood Community Schools, to be awarded through the Southwest Iowa Educational Foundation starting with the graduating class of 2021. Wenninghoff was educated in Treynor schools and his daughter attended schools in Underwood. The bequest from Richard Wenninghoff was the largest in the foundation's history. 
"This gift will open doors that otherwise may have been closed for young people who wish to advance themselves educationally," Underwood Superintendent Edward H. Hawks said. 
Treynor Superintendent Dr. Mark Hopkins called the gift "transformative."
"These scholarships will change the lives of our students by dramatically increasing college education opportunities," he said.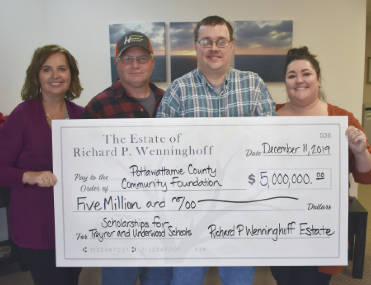 economic development is looking up
economy •  in focus: "community partners"
U.S. Bank
U.S. Bank has been a proud member of the Council Bluffs community for 160 years. We currently have four locations in the area and nearly 50 employees. Across the entire state of Iowa, we have 1,196 employees in 94 locations. 
Through our Community Possible giving and engagement platform focused on the areas of Work, Home and Play, we invested $54 million in USBCDC tax-advantaged investments and $5 million in U.S. Bank Foundation and corporate giving. In 2019, U.S. Bank donated $60 million in grants and contributions to nonprofit organizations across the country and our employees donated 334,000 hours to their communities. 
Our employees in Council Bluffs are especially active in the community. Several have participated in the Leadership Council Bluffs Program. They also serve on multiple boards and committees including Council Bluffs Airport Authority, Council Bluffs Chamber of Commerce, TeamMates Council Bluffs Public Schools Chapter, Leadership Council Bluffs Alumni Association, Pottawattamie County Community Foundation and Children's Square U.S.A. 
Here are some examples of how we demonstrate our commitment to the local Council Bluffs community:
We participate in the Bank in a School Program with locations inside Bloomer Elementary School and Hoover Elementary School. The branches are made possible through a partnership between the schools, the University of Nebraska Center for Economic Education and U.S. Bank. The branches introduce the concept of saving money at an early age and building a personal financial plan, and increase parent involvement in children's banking activities. 
Each December for the past 30 years, the bank has sponsored, through the Council Bluffs Chamber of Commerce, an annual Teddy Bear Party. Customers and chamber members attend and are asked to bring with them a new teddy bear, which are then donated to several nonprofit agencies such as The Salvation Army, Boys & Girls Clubs, Micah House, Children's Square U.S.A., New Visions and Catholic Charities. Over 200 bears are usually collected each year. 
Each year through the Development Network, employees volunteer for the Omaha/Council Bluffs Paint-A-Thon. The Paint-A-Thon is an organization that recruits volunteers to paint the home of a low-income elderly and/or disabled homeowner. Last August, over 30 employees volunteered more than 360 hours over four days to paint the home of 84-year-old Bob, who lives near downtown Council Bluffs. Employees power-washed, primed, painted and did many repairs on the home. 
U.S. Bank is the third-largest business provider of mentors for the TeamMates Mentoring Program, which was founded 27 years ago by Tom and Nancy Osborne to provide the support and encouragement youth need to graduate from high school and pursue post-secondary education. TeamMates is a school-based mentoring program. Employees who volunteer spend one hour a week during the school year with their mentee talking about school, life, goals and building a relationship that hopefully lasts through high school. 
U.S. Bank Bank participates in two events celebrating the Council Bluffs community. Each year, we participate in the Council Bluffs Pride Parade. Many employees volunteer their time to take part in the community parade. Employees also participate in Council Bluffs Clean Sweep which is a beautification event during this same time period. Companies are asked to take part in the event by picking up trash along the major thoroughfares in the city. U.S. Bank employees always pick up trash around the Council Bluffs Mall Branch. 
For the last several years, U.S. Bank has participated in the annual Polar Plunge at Lake Manawa. 
Additionally, U.S. Bank supports many organizations in the community through Foundation grants and corporate sponsorships. We sponsor Children's Square U.S.A., Jennie Edmundson Hospital Foundation, Micah House, Heartland Family Service, Muscular Dystrophy Association, CHI Health Mercy Hospital, Register's Annual Great Bicycle Ride Across Iowa, Council Bluffs Symphony Guild, Council Bluffs Habitat for Humanity, Council Bluffs Schools Foundation, and The 712 Initiative and their Rock the Block program.
At U.S. Bank, we will purposefully invest, engage and promote economic opportunities that increase financial well-being for individuals and families to build vibrant and equitable places to live, work and play. Our future focus will be on improving outcomes for women, people of color and low-income communities.
I've been fortunate to call Council Bluffs my home for over 40 years. I was born and raised here and am now raising my family here. I came to work for U.S. Bank after college and after witnessing how integrated the bank was in the community, I knew I had found the right employer. U.S. Bank is involved in so many local activities, including TEAMMATESsm, Bank in a School, Paint-a-thon, and Leadership Council Bluffs, just to name a few. 

Our employees volunteer on so many local boards and activities, the bond between the bank and the community continues to get stronger every year. Throughout the changes in the market and my career at the bank, the one constant has been U.S. Bank's continued support and involvement in Council Bluffs and the surrounding area.
~ Kevin Stull,
   Council Bluffs Market President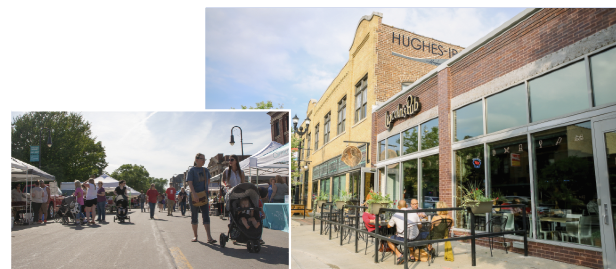 Setting the course
Large and small businesses all over Southwest Iowa are flourishing with the support of various partnerships and initiatives. 
Paula Hazlewood, the executive director for Advance Southwest Iowa, said her organization is part of a regional economic development initiative known as the Greater Omaha Economic Development Partnership and serves as the economic development arm for Pottawattamie County. 
"We are a progressive economic development organization with a focus on growing the economy. Our existing and future businesses are our number-one focus. We utilize an internal project management model that focuses on the business's priorities to set the course for the assistance that we provide," she said. "Partnerships are key to our success and we work with the City of Council Bluffs, Pottawattamie County, the Iowa West Foundation, local lending institutions and real estate brokers on a daily basis. We also enlist the assistance of the Small Business Development Center at Iowa Western Community College and the Iowa Economic Development Authority to provide assistance while working with our clients."
In 2019, Advance Southwest Iowa directly assisted over 90 companies with many of the projects extending into 2020; 15 of those companies expanded and/or located in Pottawattamie County in 2019. Some of those projects include establishing Council Bluffs' first microbrewery, Full Fledged Brewing Company; working with OmniTel to bring fiber optic internet into Carson, Iowa; connecting Good Flour Confections to the Kitchen Council, the region's only food start-up incubator; and supporting CyrusOne's efforts to building a new data center facility at South Point Business Park II in Council Bluffs. 
"Southwest Iowa is and has always done well based on the diversity of our business environment. We are fortunate to have a robust existing business base that spans every industry vertical and business size and we continue to attract new businesses based on our exceptional geographic location," Hazlewood said. "We are optimistic that Southwest Iowa will continue to grow with the majority of the growth coming from our existing businesses and primarily in the technology, manufacturing, agriculture and logistics sectors."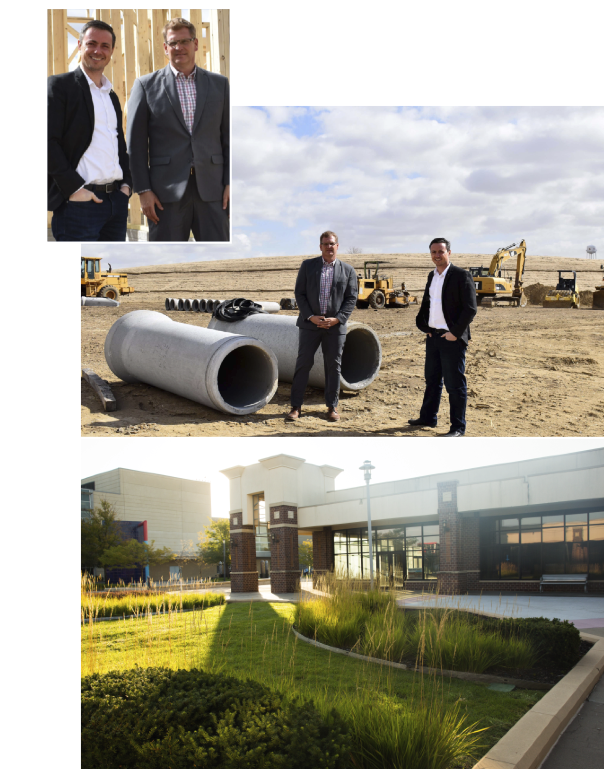 Regional appeal
Hazlewood said Southwest Iowa is a compelling region for business growth. 
"It is my opinion that cooperation and partnerships are what what sets Southwest Iowa apart. By nature we are honest, we want to see people and businesses prosper, and we're always willing to lend a helping hand to make that happen…we will roll up our sleeves, rally the troops and do everything we can to help you resolve a problem or achieve your dreams," she said. "Through data and demographics, we can easily show the reasons to invest in Southwest Iowa but it really comes down to our authentic intentions and our actions."
Joanie Poore, a board member for the Council Bluffs Area Chamber of Commerce, said the organization recognizes the importance of a strong workforce. 
"Employers throughout Council Bluffs and Southwest Iowa have expressed workforce concerns to include recruitment, retention, technical skills, soft skills, transportation and childcare. In 2019, the Council Bluffs Area Chamber of Commerce worked closely with a variety of employers to develop an ideal workforce ecosystem," she said, adding that the initiative was supported by the Iowa West Foundation. 
"The ecosystem will focus on recruitment, retention, developing a work-ready community, internships/apprenticeships, trades, employee engagement, etc. The ecosystem will also collaborate with existing social service providers to identify and deploy interventions addressing social determinants that prevent workforce readiness and retention. Specific activities will include a workforce manager dedicated to this effort, regular employer-hosted 'Lunch-n-Learns' with professional development and shared learning, and community-wide 'Best Places To Work' survey, Work Ready Community designation, and WorkLab Innovations."
Heartland Properties Inc.'s co-owners Jason James and Mark Hanwright said the Council Bluffs and Southwest Iowa market offers many assets and opportunities for investors, residents and visitors. 
"Right now, it seems like Council Bluffs is at a tipping point, and there are many good things in motion. Our leaders are making major investments throughout the community, and developers are starting to take notice of projects like our West Broadway redevelopment and the plans for the 1st Avenue corridor," they said. "The City and County are stepping up to incentivize developers with TIF (tax increment financing) options, and groups like the Council Bluffs Industrial Foundation are working to ensure that there are plenty of shovel-ready development sites for new businesses that want to break into the metro area. Big companies that are already here are reinvesting in their operations and expanding, and newer major investors such as Google have put Council Bluffs on the map for other large corporations to give us serious consideration." 
James and Hanwright tout shorter commutes, lower property taxes and a great quality of life as additional advantages of living in Southwest Iowa. 
"Because of this our existing housing stock is rapidly appreciating, we are seeing older areas of town become revitalized, and our small businesses are thriving," they said. "Buyers are finding that they can get an amazing older home with tons of character within walking distance of great community events like the farmers markets, bike nights, live music and so much more." 
The Riverfront is a unique asset with huge potential for economic development in Council Bluffs. The office building is a fantastic piece of architecture and with the addition of housing, walkable streets and all the outdoor amenities, River's Edge will soon be a place where both local families and out-of-town visitors can gather to enjoy all this lively urban space has to offer.
1st Avenue will be a unique 'front door' experience that unites the community and enhances quality of life with the mission to improve the quality of life in downtown Council Bluffs. The health and wellness for individuals and families in Council Bluffs is the primary focus for the revitalization of 1st Avenue. 
~ Angie Phillips, 
   Marketing Director, Knudson Properties
Currently, the City is working on construction plans to build a two-mile-long trail through the corridor that will help to connect downtown Omaha with downtown Council Bluffs....The City is (also) working with developers now on two sites in the corridor that would include over 260 dwelling units and over $68 million in investment with the future 1st Avenue as the centerpiece of transportation and recreation.
~ Brandon Garrett, 
   Director of Community Development, City of Council BluffS
quality of life is looking up
Unique and beautiful
Southwest Iowa's natural features make the region perfect for a variety of recreational activities like biking and camping, but the beauty of the region enhances the appeal of its communities as great places to live and raise a family. 
Michelle Wodtke Franks, the executive director for Golden Hills Resource Conservation & Development (RC&D), said her organization works to protect natural resources and support rural placemaking. 
"Most everything we do is regional in scope and collaborative in nature. We believe that the best ideas come from a local place, so we are really interested in helping local communities in rural Southwest Iowa move forward things they believe are best for their communities," she said. 
Visitors don't typically discover rural communities organically since most are off the main thoroughfares, so it's important to create attractions. For instance, a fall art tour started up in 2015 with 15 artists in four towns now involves more than 90 artists in 12 communities including Council Bluffs, Red Oak, Shenandoah, Macedonia and Harlan; its annual economic impact is approaching $200,000. 
"The trends that I've seen, especially for the rural communities that kind of horseshoe around around the (Omaha-Council Bluffs) metro area, is a recognition that even though agriculture is still driving our economy in this area, towns are also looking at other economic drivers and other ways they can preserve their history and entice new families to move to their communities," Franks said. "They're taking a second look at what they have."
Another project is building out an outdoor recreation infrastructure driven by trail development, camping, hiking, bicycling and other activities, she said. "All of these things can be developed across county lines and jurisdictional areas and really build out an area that's waiting to meet the tremendous growth that's coming from the metro area," Franks said. "Our biggest natural feature is the Loess Hills. It's this expansive landform that stretches along the west coast of Iowa and the only other place you would find this in the world is in the Yellow River region of China. A lot of people don't realize how beautiful it is. Most of the remnant prairies in Iowa are in the Loess Hills. We believe if people can interact with the amazing natural asset they'll be more likely to value and protect it." 
Other areas of interest for the organization besides rural placemaking and conservation are flood resiliency and water quality, promoting tourism and travel including ecotourism and agri-tourism opportunities, assisting communities through grants and administrative support, and fostering community engagement. 
The 712 Initiative is aimed at improving the economic vitality in redevelopment areas through investments in the built environment, activating public spaces and delivering programs that increase social engagement and healthy lifestyles, Chief Executive Officer Sheryl Garst said. The organization serves as Council Bluffs' lead placemaking agency, developing innovative solutions to strengthen the city's downtown and West Broadway areas to improve housing conditions, encourage healthy lifestyles and make the city a destination for both residents and visitors.
"The national trend we're seeing is geared toward placemaking and intertwining redevelopment in our urban core with events and programs to activate those public spaces. It creates a synergy and strong heartbeat for any community," Garst said. "We follow carefully Project for Public Spaces' 'The Power of 10+' for a vibrant district or block at the 712." A farmers market and a 114-unit mixed use development near historic Bayliss Park are among the Power of 10+ elements that are helping revitalize the area, she said. "Those 10 items are layered on to create synergy. Our farmers market is unique in that it's not just a market with vendors, but it has a wellness activity like yoga in the park, music, and children's activities to create that layered synergy, and it's absolutely charming with the backdrop of the historic town square." 
That area, she said, "is the front entrance to our downtown, so it's going to give a sense of activity for that missing piece to our downtown corridor."
Housing revitalization efforts are helping ensure Council Bluffs and smaller communities in the areas are lovely places to raise young families, she added. 
"What's old is new again and multi-generations are choosing to come back home to neighborhoods in the urban core. They want the experience, not the square footage, and Council Bluffs and the Southwest Iowa market is the perfect Pleasantville of the 1950s and 60s," Garst said. "It has high architectural design from the turn of the century, walkable neighborhoods, and access to trails, events, programs and entertainment." 
She also speaks from personal experience. A mother of three children under age 11, Garst said everything she needs is within a few miles of her Council Bluffs neighborhood. "I find this area very accessible," she said. "You have the perfect combination of a small community with big amenities and very affordable lifestyle to achieve our American dreams."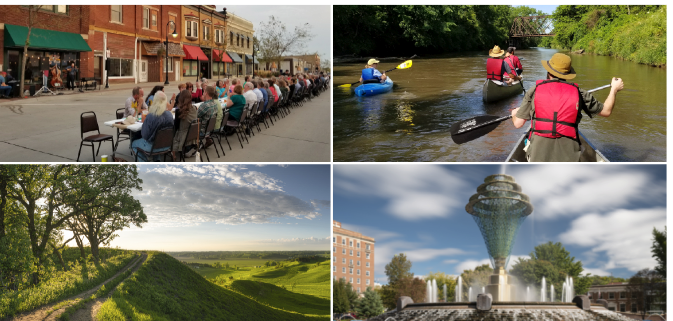 quality of life •  in focus: "learning more"
Council Bluffs Convention & Visitors Bureau
Southwest Iowa is a unique portion of the state that has a rich history, breathtaking natural landscapes, and lively entertainment districts that provide one-of-a-kind experiences for visitors and residents alike.
The railroad has had major impacts on Southwest Iowa. In 1864, President Lincoln designated Council Bluffs as "Mile Zero" for the eastern terminus of the Transcontinental Railroad. This decision has created countless stories that are the root of the city's rich heritage. The Union Pacific Railroad Museum is a great display of the area's unmatched railroad history. The Council Bluffs museum draws railroad fans and history lovers from across the nation to celebrate and commemorate the role railroads have had on American history. The annual Railroad Days event held the second full weekend in July celebrates all things railorad and incorporates attractions in both Omaha and Council Bluffs.
The Loess Hills, which were formed after the last ice age, are steep, rolling bluffs that stand in great contrast to the flat farmlands of the Midwest. These hills provide unparalleled outdoor recreation with great opportunities for hiking, snowshoeing, bird watching, bicycle riding and much more. Hitchcock Nature Center is one of the best places to appreciate the uniqueness of the hills, especially during the monarch butterfly migration each year, and visitors to the annual HawkWatch can see raptors from a 45-foot tower that sits atop a 250-feet high hill.
The 100 Block in Council Bluffs is a vibrant entertainment district that is home to many unique local restaurants and bars and provides an excellent destination for nightlife activities. Special events like Bike Nights, Blocktober Fest, and the Shamrock Shuffle keep the block lively year-round.
To learn more about these events and amenities, visit UNleashCB.com. It serves as a hub for what's happening in Council Bluffs and Pottawattamie County with more than 1,200 events annually.
Read more in our DIGITAL EDITION. Or SUBSCRIBE TODAY and have metroMAGAZINE delivered direct to your home or business!​