Inspired Vision
VNA's Increasing Legacy
---
Anna Millard Rogers, the daughter of Omaha mayor Ezra Millard, had a vision: to help the individuals and families in Nebraska who were sick or injured and had no access to health care. Seeing the extreme need of people in the city streets of Omaha, she wanted to set out to make her mark in the world by bringing kindness and attentive care to people who might be struggling.
So, she founded Visiting Nurse Association (VNA), and the rest is history. Today, the Visiting Nurse Association continues to walk out the vision that Rogers put in place. For the last 18 years, James (Jamie) Summerfelt has led the organization as president and CEO, and he, his executive team and over 200 employees help provide compassionate care to the communities of Omaha and Council Bluffs.
Programs
Visiting Nurse Association offers a variety of care for Nebraska residents, including homeless shelter nursing services, parenting support, immunization services, school health programs, home health aides, access to home health care and hospice for those in need, in addition to physician-directed mother/childcare. The organization also has an infusion pharmacy that works with health care professionals to provide in-home medication and infusion services. This produces revenue for the organization, as it partners with physician groups, hospitals, and local home health care and hospice organizations that serve individuals in their homes.
Summerfelt shared, "The mission premise remains today as VNA cares for people who are marginalized, uninsured and underresourced—wherever they call home. For some, that is a homeless shelter; for others an apartment, assisted living, or a house in which they want to remain independent as long as possible."
Annually, VNA serves over 45,000 people through its program offerings. Currently, the organization is partnering with the Douglas County Health Department and over 70 VNA nurses are providing COVID vaccines at the county's health clinics.
Adapting as needed
Summerfelt explained that health care delivery has formed an interesting curve since the organization began operations. In the beginning, most health care was based at home. In other words, if you needed a doctor, the doctor came to you. But, over the years, health care services have transitioned to facility-based care, where patients visited doctor's offices, clinics and hospitals to get the treatment they needed. But today, things are starting to swing back to where they started.
"Today, largely due to complex issues surrounding health insurance, there is a resurgence toward home-based health care," explained Summerfelt. "VNA is passionate about home health because we are the eyes and ears in homes where other medical professionals don't go. In those homes, we see the social determinants of health firsthand, including signs of abuse, lack of resources, hunger, and dangerous conditions that contribute to dysfunction and death. In those homes, we develop individualized plans of care based on the holistic view of patient lives that we are privileged to witness."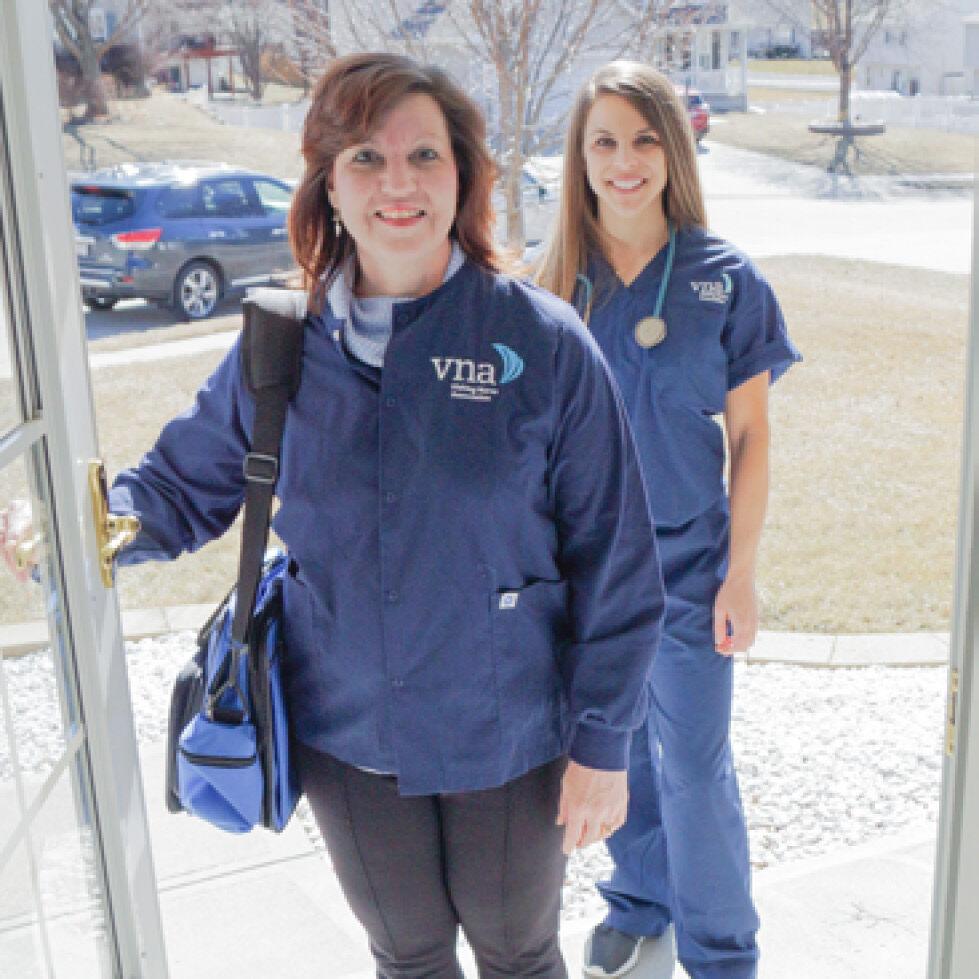 Our focus remains in home-based care, where we individualize services for people who have nowhere to go and no way to pay for their health care."

~ James (Jamie) Summerfelt, President and CEO
Pandemic impacts
One of the most beautiful aspects of the Visiting Nursing Association's history is that it has maintained strength as it successfully navigated through other serious worldwide crises such as the polio epidemic, Spanish influenza, H1N1, and more.
So when the coronavirus pandemic began, impacting individuals and homes around the country, VNA was poised to do its part to help. The organization's positive reputation and connections within the community made it very natural for its team members to step in and provide COVID-19 care.
"As a trusted source of information, VNA has educated community members, collaborative partners, and patients in infection control, while also providing COVID testing, COVID immunizations, and serving as a postacute care provider for those with COVID who are discharged from hospitals and medical centers," explained Summerfelt. "During the pandemic, VNA has also maintained our commitment to providing services to the marginalized, as they have been the first to be impacted by COVID-19."
Recent changes and future outlook
In 2021, VNA changed its business model. It sold its Medicare-certified home health and hospice, which were government and insurance-funded programs, to a national health care provider called Amedisys. Doing this allowed the organization to separate itself from a competitive business that included high costs and the strict rules of the insurance and managed-care industries. Making this shift in how VNA does business has allowed the organization to better focus its resources on its mission of helping those in need. It has also helped VNA better reflect the vision that Anna Millard Rogers had more than a century ago.
Looking ahead, VNA is meant to continue serving the communities around Omaha and Council Bluffs for at least another 125 years. To accomplish this, leaders are working on establishing increased partnerships with local foundations and funders who believe in and support their mission, in addition to collaborating with other government, medical and nonprofit partners. VNA's aim is to continue building a team of reputable leaders that understand the public they serve, with the goal of always providing the best of the best in care.
Summerfelt said, "Our focus remains in home-based care, where we individualize services for people who have nowhere to go and no way to pay for their health care."