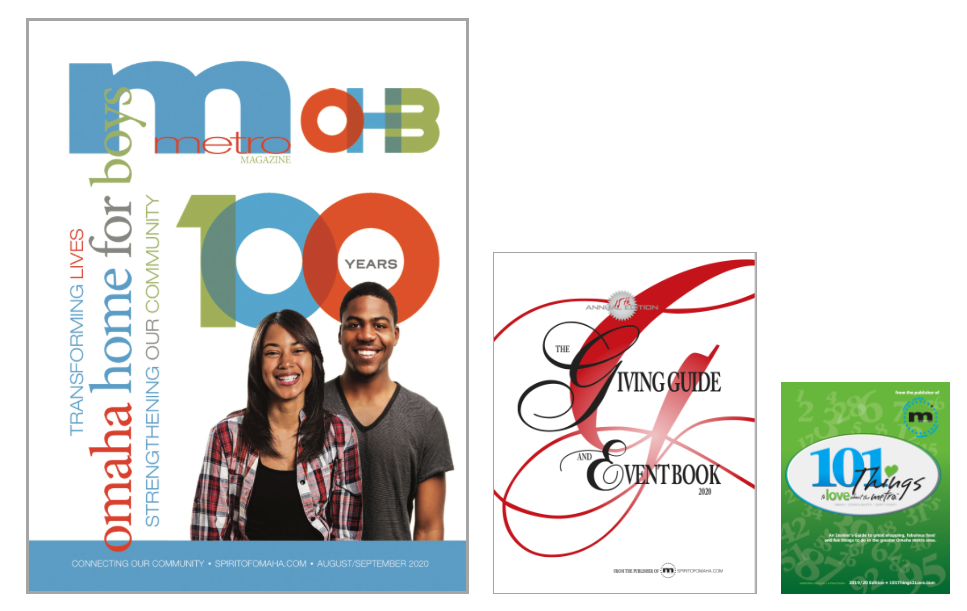 ALH Publications and metroMAGAZINE
Nearly 30 years ago, Publisher Andrea L. Hoig had a vision for serving Omaha's philanthropic community and the individuals, organizations and businesses that make Omaha the unique and special place it is.
metroMAGAZINE's SpiritofOmaha.com is a component of her overall vision, having added a powerful resource to the area's original, trendsetting lifestyle, cultural and philanthropic magazine, metroMAGAZINE. Our website adds an expansive set of resources for our partners, expanding on our highly regarded print and web media products. Our award-winning area bi-monthly, metroMAGAZINE, shares well earned honors with the award-winning annual publication, The Giving Guide & Event Book, and 101 Things to Love about the metro™.
The mission of ALH Publications is to recognize the ongoing efforts of Omaha-area businesses, organizations and individuals to better the community through their support of charitable and civic causes. alh Publications also encourages people's desire to give something back to the community through volunteerism and philanthropy.
For nearly 30 years, metroMAGAZINE has been a highly respected publication readers rely on for dynamic, award-winning coverage of charity events, the local fashion scene, inspiring human interest features and profiles, informative columns, educational awareness sections and coverage of regional culture and fine arts.

In the past three decades, metroMAGAZINE and ALH Publications have been recognized for leadership and community service by the Greater Omaha Chamber of Commerce, and have received numerous commendations and awards for both content and presentation. metroMAGAZINE is also recognized as one of the metro area's leading authorities on restaurants, arts and entertainment and trends in fashion and décor, as featured annually in 101 Things to Love about the metro™.
Since metroMAGAZINE first published in 1990, it has paved the way for coverage and promotion of Omaha's philanthropic community. As the magazine begins celebrating its 30th anniversary in late 2020, it also celebrates its ongoing role in "CONNECTING OUR COMMUNITY."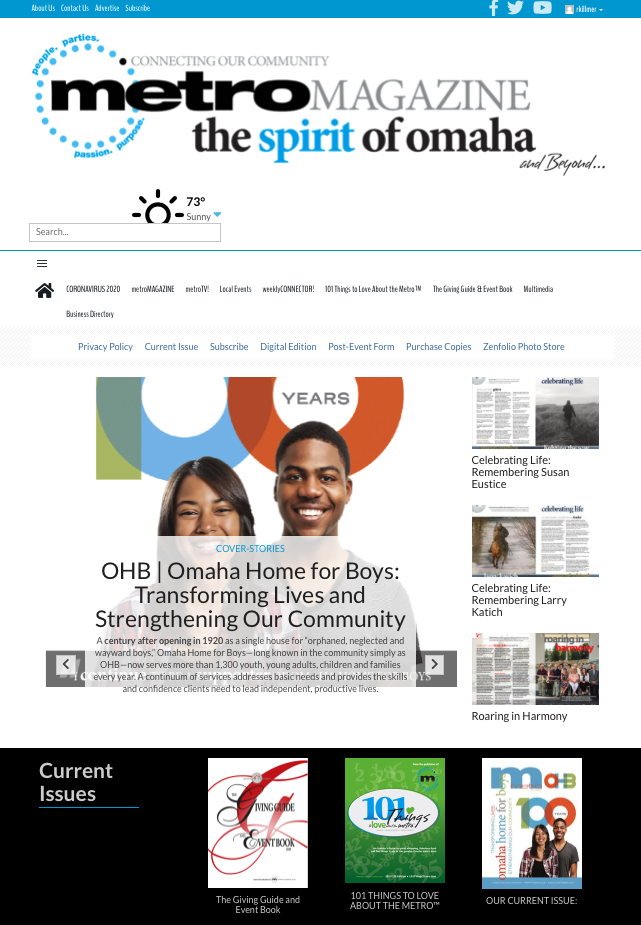 With the additional NEW & EXPANDING resources of SpiritofOmaha.com, ALH Publications is pleased to provide leaders and supporters in Omaha's charitable and cultural community a package of very powerful and flexible tools for connecting and communicating on a level never before possible, and we are genuinely excited about the opportunity to help "Make a Difference" in powerful new ways. We look forward with great anticipation, to introducing our partners and followers to the dynamic array of NEW, UPGRADED & VERY ROBUST features this UPDATED website offers our community. Omaha is a city unlike any in the country, and her many local charitable organizations and agencies, and progressive local business owners deserve a site like non other in the country… and we are committed to doing our part in providing our community with many NEW & IMPROVED resources!
Combined with our respected print media products SpiritofOmaha.com, metroMAGAZINE offers advertisers a multi-dimensional tool for impacting our proven niche market of community leaders, decision makers and discriminating consumers, and expanding that market to effectively and dynamically serve local businesses in achieving their marketing goals.
Thank you to all who support this LOCALLY OWNED & OPERATED publishing house and our vision to make a difference and support those who believe as we do, that a new generation is looking to us to aid others in "CONNECTING OUR COMMUNITY!"
OFFICE/SALES
402.932.3522
sales@SpiritofOmaha.com
metroMAGAZINE's vision is to inform, educate and inspire readers by providing relevant, informative, useful and entertaining coverage of the region and its people. metro Magazine is wholly owned and operated by the publisher and is not affiliated with any other publication, operating solely on subscription and advertising revenues and the good will of the agencies and charities we support; all of which are very important to the continuing growth and quality of this publication.



Contact Us
Have you ever been frustrated searching to find contact information on a website? We have, so we're determined to make it easy for you to track down a HUMAN to assist you... If you can't find the help you need among our contact listings call us at 402.932.3522 and we'll make it happen for you promptly!
---

Information
Need to notify us about an upcoming event? Want information about an agency or organization of interest to you? Do you require assistance in promoting your group or a charity that you feel deserves particular attention or are you having problems with your mailing or subscription? If you need assistance with these types of issues or if you simply need a few questions answered about articles or individuals in recent issues, or maybe you're just not sure WHICH department to contact... You found it!

Send all inquiries or notices to information@mmomaha.com.
---

Service
For any service related questions contact us by calling our Main Number at 402.932.3522 or e-mail us at service@mmomaha.com
*Note: Advertisers, for direct, prompt service on your account please contact your metroMAGAZINE Account Representative directly or e-mail sales@mmomaha.com
---

Editor
Want to make sure we know about your upcoming event or an important story? Need to point out an error or request clarification from a recent article? Maybe you're just interested in sharing your point of view or offering comments about the publication... Our Editor wants to hear from you.

Contact us by calling our Main Number at 402.932.3522 and ask for "the Editor" or e-mail us at editor@mmomaha.com
---

Sales & Advertising
Interested in becoming one of the hundreds of local area organizations and merchants who advertise with us?

Contact us by calling our Main Number at 402.932.3522 and ask for "Sales" and one of our Account Representatives will be following up with you quickly, or e-mail us at sales@mmomaha.com

OUR PRIVACY POLICY
ALH Publications, Inc., (ALHP), is committed to keeping any and all personal information collected of those individuals that visit our website and make use of our online facilities and services accurate, confidential, secure and private. Our privacy policy has been designed and created to ensure those affiliated with ALH Publications, Inc. of our commitment and realization of our obligation not only to meet but to exceed most existing privacy standards.
THEREFORE, this Privacy Policy Agreement shall apply to ALH Publications, Inc., and thus it shall govern any and all data collection and usage thereof. Through the use of SpiritofOmaha.com you are herein consenting to the following data procedures expressed within this agreement.
Collection of Information
This website collects various types of information, such as:
• Voluntarily provided information which may include your name, address, email address, billing and/or credit card information etc., which may be used when you purchase products and/or services and to deliver the services you have requested.
• Information automatically collected when visiting our website, which may include cookies, third party tracking technologies and server logs. Please rest assured that this site shall only collect personal information that you knowingly and willingly provide by way of surveys, completed membership forms, and emails. It is the intent of this site to use personal information only for the purpose for which it was requested and any additional uses specifically provided on this site. ALH Publications, Inc. may have the occasion to collect anonymous demographic information, such as age, gender, household income, political affiliation, race and religion at a later time.We may also gather information about the type of browser you are using, IP address or type of operating system to assist us in providing and maintaining superior quality service. It is highly recommended and suggested that you review the privacy policies and statements of any website you choose to use or frequent as a means to better understand the way in which other websites garner, make use of and share information collected.
Use of Information Collected
ALH Publications, Inc. may collect and may make use of personal information to assist in the operation of our website and to ensure delivery of the services you need and request. At times, we may find it necessary to use personally identifiable information as a means to keep you informed of other possible products and/or services that may be available to you from SpiritofOmaha.com . ALH Publications, Inc. may also be in contact with you with regards to completing surveys and/or research questionnaires related to your opinion of current or potential future services that may be offered. ALH Publications, Inc. does not now, nor will it in the future, sell, rent or lease any of our customer lists and/or names to any third parties. ALH Publications, Inc. may deem it necessary to follow websites and/or pages that our users may frequent in an effort to gleam what types of services and/or products may be the most popular to customers or the general public. ALH Publications, Inc. may disclose your personal information, without prior notice to you, only it required to do so in accordance with applicable laws and/or in a good faith belief that such action is deemed necessary or is required in an effort to:
• Remain in conformance with any decrees, laws and/or statutes or in an effort to comply with any process which may be served upon ALH Publications, Inc. and/or our website;
• Maintain, safeguard and/or preserve all the rights and/or property of ALH Publications, Inc.; and
• Perform under demanding conditions in an effort to safeguard the personal safety of users of www.spiritotomaha.com and/or the general public.
Children Under Age of 13
ALH Publications, Inc. does not knowingly collect personal identifiable information from children under the age of thirteen (13) without verifiable parental consent. It it is determined that such information has been inadvertently collected on anyone under the age of thirteen (13), we shall immediately take the necessary steps to ensure that such information is deleted from our system's database. Anyone under the age of thirteen (13) must seek and obtain parent or guardian permission to use this website.
Unsubscribe or Opt-Out
All users and/or visitors to our website have the option to discontinue receiving communication from us and/or reserve the right to discontinue receiving communications by way of email or newsletters (unsubscribe links appear at the bottom of all of our emailed newsletters as well).  To discontinue or unsubscribe to our website please send an email that you wish to unsubscribe to Editor@SpiritotOmaha.com. It you wish to unsubscribe or opt-out from any third party websites, you must go to that specific website to unsubscribe and/or opt-out.
Links to Other Web Sites
Our website does contain links to affiliate and other websites. ALH Publications, Inc. does not claim nor accept responsibility tor any privacy pol ices, practices and/or procedures of other such websites. Therefore, we encourage all users and visitors to be aware when they leave our website and to read the privacy statements of each and every website that collects personally identifiable information. The aforementioned Privacy Policy Agreement applies only and solely to the information collected by our website.
Security
ALH Publications, Inc. shall endeavor and shall take every precaution to maintain adequate physical, procedural and technical security with respect to our offices and information storage facilities so as to prevent any loss, misuse, unauthorized access, disclosure or modification of the user's personal information under our control. The company also uses Secure Socket Layer (SSL) for authentication and private communications in an effort to build users' trust and confidence in the internet and website use by providing simple and secure access and communication of credit card and personal information.
Changes to Privacy Policy Agreement
ALH Publications, Inc. reserves the right to update and/or change the terms of our privacy policy, and as such we will post those change to our website homepage at SpiritofOmaha.com, so that our users and/or visitors are always aware of the type of information we collect, how it will be used, and under what circumstances, if any, we may disclose such information. If at any point in time ALH Publications, Inc. decides to make use of any personally identifiable information on file, in a manner vastly different from that which was stated when this information was initially collected, the user or users shall be promptly notified by email. Users at that time shall have the option as to whether or not to permit the use of their information in this separate manner.
Acceptance of Terms
Through the use of this website, you are hereby accepting the terms and conditions stipulated within the aforementioned Privacy Policy Agreement. If you are not in agreement with our terms and conditions, then you should refrain from further use of our sites. In addition, your continued use of our website following the posting of any updates or changes to our terms and conditions shall mean that you are in agreement and acceptance of such changes.
How to Contact Us
If you have any questions or concerns regarding the Privacy Policy Agreement related to our website, please feel free to contact us at the following email, telephone number or mailing address.
Email: Editor@SpiritofOmaha.com
Telephone Number: 402-932-3522
Mailing Address: ALH Publications, Inc. P.O. Box 241611, Omaha, Nebraska 68124