Why Advertise with metroMAGAZINE/SpiritofOmaha.com?
To contact our Sales Department email sales@SpiritofOmaha.com.
Once you know more about us,
the reasons for taking advantage of our advertising options are clear:
Proven Track Record - Staying Power - Prominence - Innovation - Impact - Service and Results!
---
Media Kits:
Please CLICK HERE to request a Media Kit.
Just fill out the quick, simple form and we'll rush you a copy of the appropriate kit to you!
---
Products & Services
To learn more about our dynamic suite of Media Products contact us at sales@mmomaha.com!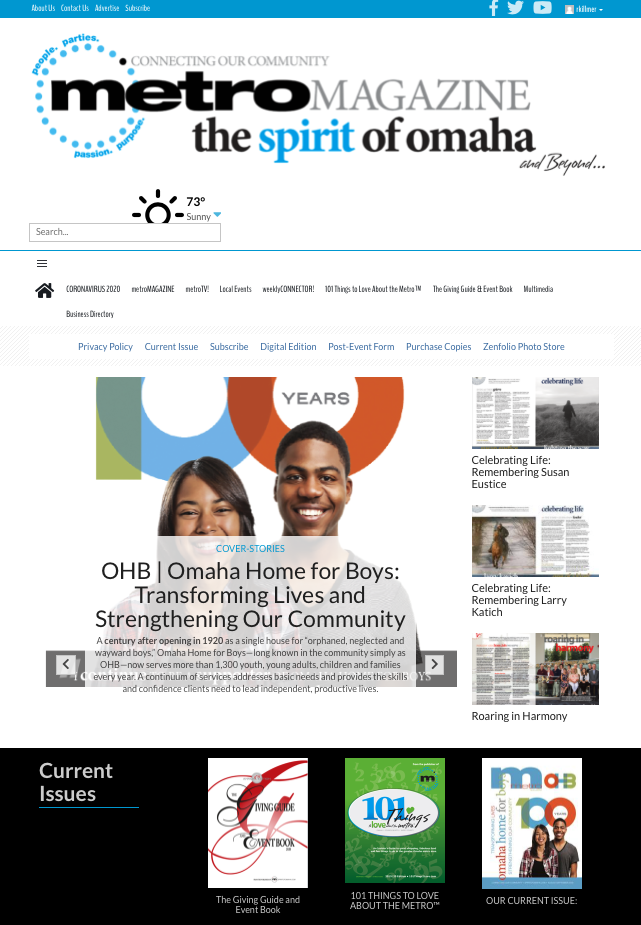 CONNECTING
Our Community!
SpiritofOmaha.com has undergone a MAJOR RECONSTRUCTION reflecting our ongoing commitment to provide new, vital, dynamic and powerful resources connecting our community as well as businesses and consumers, creating even greater exposure and impact in service to both.
Much more than just another website… much more than articles and features alone… a Powerful COMMUNITY CONNECTION & RESOURCE site!
Welcome to an entirely NEW & UPGRADED way of promoting your business and social agenda… metroMAGAZINE welcomes you to SpiritofOmaha.com!
---
Catch the Spirit 
of the Omaha community!

metroMAGAZINE
The area's original, trendsetting lifestyle, cultural and philanthropic magazine, metroMAGAZINE's mission is to inform, educate and inspire readers by providing relevant, informative, useful and entertaining coverage of the region and its people.
For 30 years, metroMAGAZINE (formally known as Metro Monthly) has been the monthly magazine readers rely on for dynamic, award-winning coverage of charity events, the local fashion scene, inspiring human interest features and profiles, informative columns, educational awareness sections and coverage of regional culture and fine arts.
Renowned for an upscale format and placing a premium on outstanding journalism and photography, metroMAGAZINE is also recognized as one of the metro area's leading authorities on restaurants, arts and entertainment and trends in fashion and décor.
Since metroMAGAZINE first published in 1990, it has paved the way for coverage and promotion of Omaha's philanthropic community.
As the magazine marks its 30th anniversary in 2020, it also celebrates being widely regarded as the definitive local market leader and the standard against which all others are measured.
Combined with our new and existing print media products: SpiritofOmaha.com and metroMAGAZINE offer advertisers a multi-dimensional tool for impacting our proven niche market of community leaders, decision makers and discriminating consumers, and expanding that market to effectively and dynamically serve your marketing needs!

---
The Little Black Book of Charity and Culture!
The Giving Guide & Event Book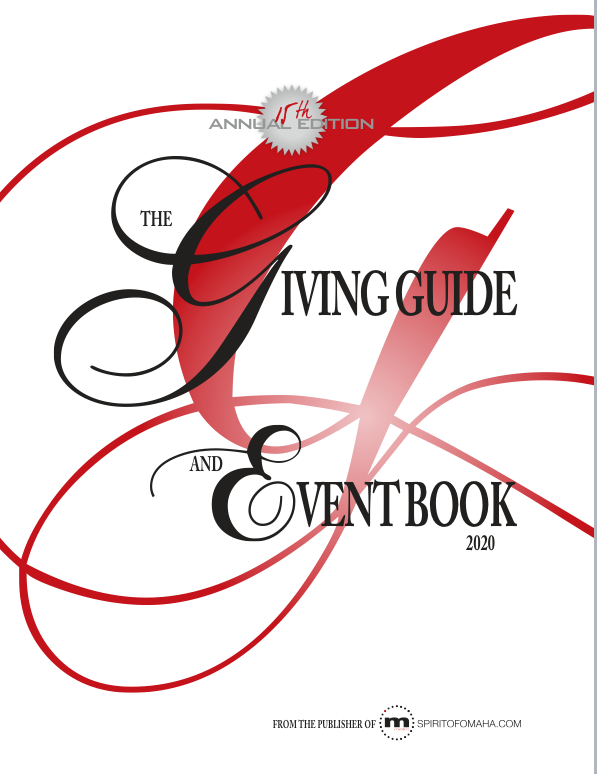 The premier guide to Charity and Culture in Omaha and Council Bluffs including the region's original and most comprehensive Annual Event Planner. This Award Winning annual provides relevant, informative, useful and entertaining content, serving as a year-round marketing tool for organizations and individuals desiring to reach financially affluent consumers who are active in cultural and philanthropic activities.
The publication features a calendar of fundraising,non-profit and cultural events, a non-profit giving guide and directory, an extensive event directory and planning resource guide plus information on what organizations need and tips on giving to the non-profit organizations, all connected to the powerful duplicate resources found on this website!
metroMAGAZINE/ALH Publications has developed a dynamic and robust menu of Advertising Plans and Packages carefully designed to assist area businesses in making the most of your advertising dollars in reaching our devoted subscriber base and our well established market of informed and affluent community leaders, consumers and business decision makers.
We are passionate, dedicated and motivated about applying the talents of our staff to meet the advertising needs of our clients, many of whom have utilized our services for nearly two decades. Our staying power and recognized value as an advertising and promotional resource is proven by our continued growth and impact in promoting local businesses for nearly 20 years!
To learn more about our dynamic suite of Media Products contact us at sales@mmomaha.com!