Six Up-Close & Personal Stories of Personal Devotion to Others from Inside Our Healthcare Community
Prevention and Education
Epidemiologist Guides Children's Team Through Pandemic
ALICE SATO • Children's Hospital & Medical Center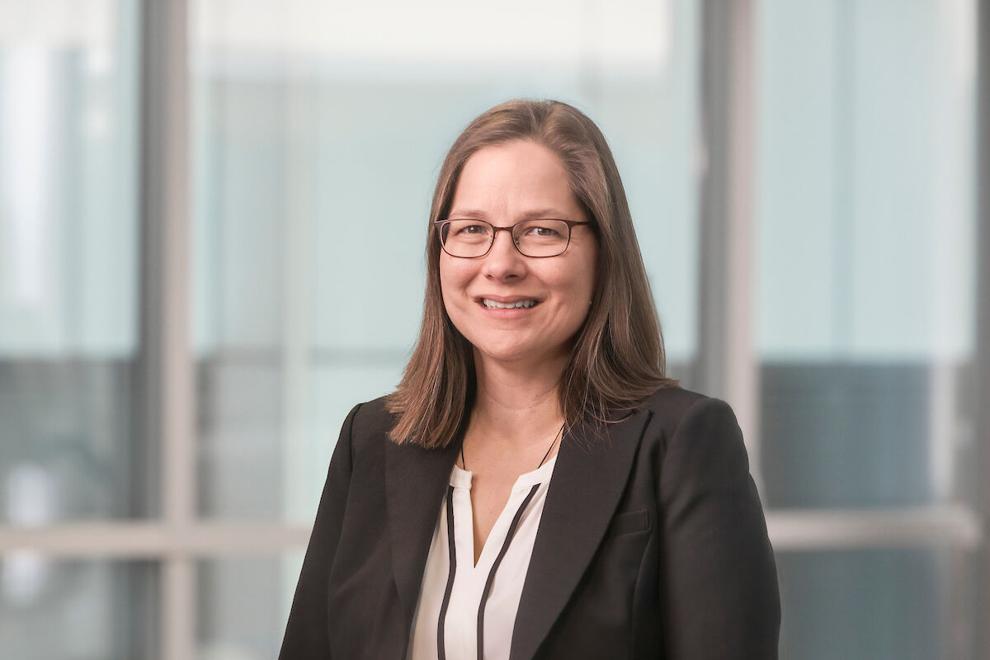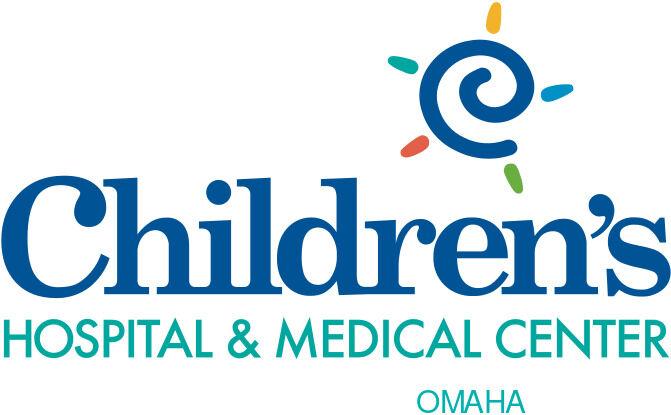 "You have to give recommendations that are doable based on the best evidence we have today.'"

~Dr. Alice Sato, Children's Hospital & Medical Center
Infectious disease expert Dr. Alice Sato, MD, PhD, marked her first anniversary at Children's Hospital & Medical Center on January 1, 2021—and what a first year that was.
Just three weeks into her new role as hospital epidemiologist, the physician in charge of infection prevention and education, Children's set up its comprehensive coronavirus incident command.
"I walked into the board room—I don't really know anybody yet—and about 50 people are in there. Leadership says, 'We need to be on top of this because we don't know what's going to happen,' and everybody was involved: the facilities people, the logistics people, nursing supervisors, security. We talked about how do we plan, how do we keep track, how do we communicate. The amazing thing was, leadership had the foresight to do it then," Sato said.
By early February, she was educating fellow doctors, residents and medical students, presenting a lecture she'd titled Coronavirus: An Introduction, "because it was a new virus and also 'an introduction' because, 'Hi, I just started here. Let me tell you a little bit about me.'"
That synopsis encompasses a layering of varied experiences that ultimately prepared Sato to help guide Children's through a global health crisis. She trained in pediatrics as an MD and earned her PhD in immunology. In 2011, she went into pediatric infectious disease, working mostly in upstate New York and Denver (her home before coming to Omaha), but also practicing in areas as varied as Navajo Nation and New Zealand.
"I have laboratory experience from my research PhD, and I have vaccine experience. But I also have experience as a general and hospital-based pediatrician," Sato said. "Having this weird background has been very helpful because I speak a lot of different languages as far as science and medicine goes."
Learning as we go
In her charge to prevent infection at Children's, Sato considers everything from the number of air exchanges per hour in a patient's room to the best way to ensure equipment is cleaned properly.
"I've spent part of this year looking up at air vents in clinic and studying the layout in waiting rooms, trying to determine what makes for the safest door-to-door experience," Sato said. "You have to give recommendations that are doable based on the best evidence we have today. The evidence I had in the spring is different from my options in October is different from where we are now."
For those children in the community beyond prevention, Sato doubles as a pediatric infectious disease physician. She treats, among others, young patients with COVID-19 and multisystem inflammatory syndrome in children (MIS-C).
"This is a new infection so we're learning, as we go, the best way to manage it."
That has been a steady theme during her very fluid first year at Children's: continual learning.
"I'm learning new things all the time, and what I told you yesterday, I might see something new today," Sato said. "It's a little overwhelming sometimes, but on the other hand, it's been amazing to see information growing and being shared."
---
Filling Many Roles
Therapist Covers for Ill or Quarantining Colleagues
Amy Hernbloom • Boys Town Residential Treatment Center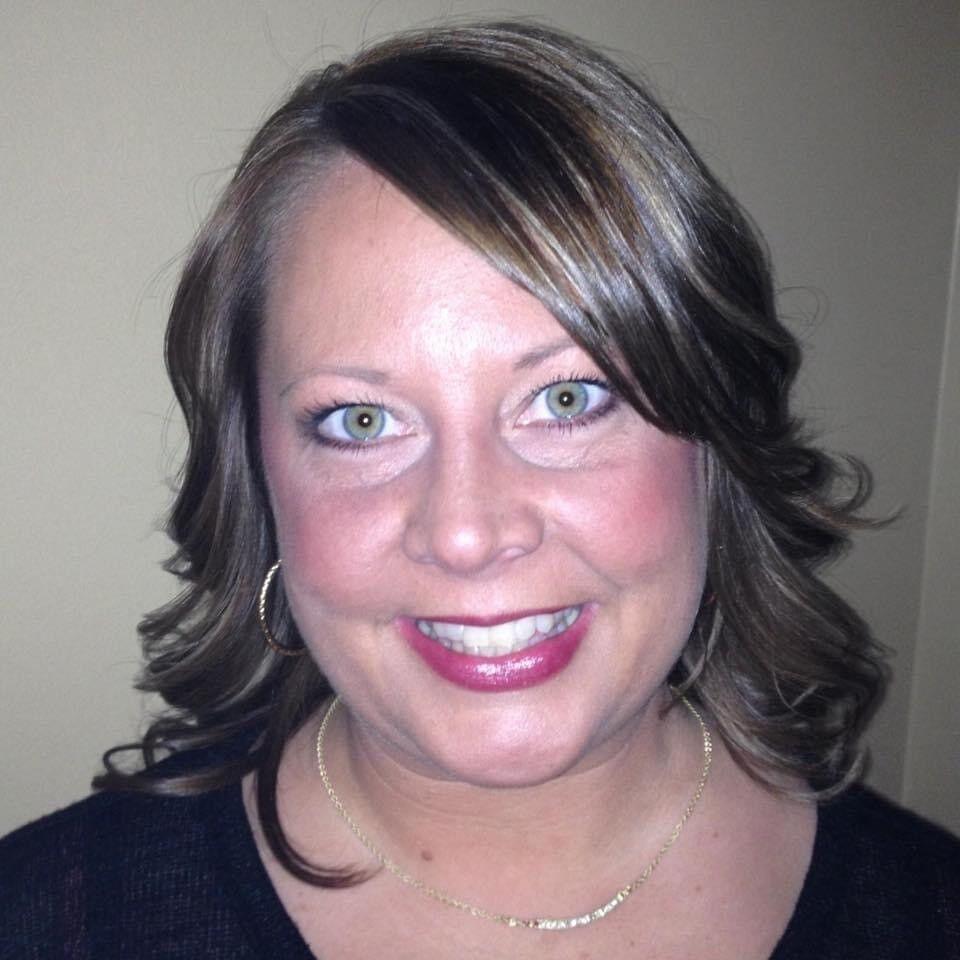 "We have a tighter bond to one another as we try to get through this together and to help the kids."

~ Amy Hernbloom, Coverage Mental Health Therapist,
Boys Town Residential Treatment Center
Keeping up the spirits and ensuring continuity of treatment for the youth in the Boys Town Residential Treatment Center (RTC) took on a new urgency for the staff as the lockdowns of 2020 took hold. True to the Boys Town mission, Coverage Mental Health Therapist Amy Hernbloom stepped up and took on hero status.
Like all medical centers in 2020, the RTC had staff out on quarantine due to possible exposure or a COVID-19 diagnosis. But Hernbloom didn't let that disrupt the care the resident youth received. With a can-do attitude, she accepted the challenge of working with youth and families that she'd never met as she covered for therapists who were out.
"When I cover individual therapy sessions, I also cover family therapy sessions. So, I must build a quick rapport with that family and be empathetic to their needs. It can be frustrating for the youth and the families because they're used to working with the same therapist for the long haul, and now I'm helping them for the next two weeks. It's a challenge for them. And I strive to be as empathetic as I can," Hernbloom said.
That was only the first of many roles that Hernbloom would fill during the pandemic. Ryan Moss, Assistant Director at Boys Town Residential Treatment Center, said, "During the pandemic, our waitlist increased to numbers we have never experienced. Amy worked tirelessly with youth doing outpatient therapy while they waited to be admitted to the program."
Finding solutions
Typically, the RTC offers weekly visits from family members and strives to get children and youth motivated to earn transition passes, which move them into a different setting for a time. With those two highlights on hold during COVID-19, finding new ways of buoying spirits became an important task.
"We have come up with ways to help," Hernbloom said. "We are thankful for (videoconferencing provider) WebEx. We can do our family therapy through this platform, so the kids can at least see their family. And we try to set up an extra time during the week just to let the kids share a visit with their family."
With a positive attitude and a ready smile for the physicians, nurses and direct care staff, Hernbloom has worked diligently to keep communication open and therapy sessions covered and has even worked across disciplines to ensure quality care for the youth at the RTC.
When asked what she would view as the silver lining to the current situation, Hernbloom was quick to note, "A positive thing I've found here in the RTC healthcare setting is we've all built a closer bond and been more willing to do things for others; because we're all struggling to deal with the pandemic at work and in our outside lives. We have a tighter bond to one another as we try to get through this together and to help the kids."
Heroes don't always wear capes, sometimes they wear a smile. Heroes don't always have superpowers, sometimes they have enough power make sure everyone is taken care of.
Boys Town RTC sends out a heartfelt thank you to our healthcare hero, Amy Hernbloom, and to all healthcare workers who have worked tirelessly during the pandemic.
---
Access to Help
Methodist Health System Team Provides Mental Health Support
Char Hills • Methodist Health System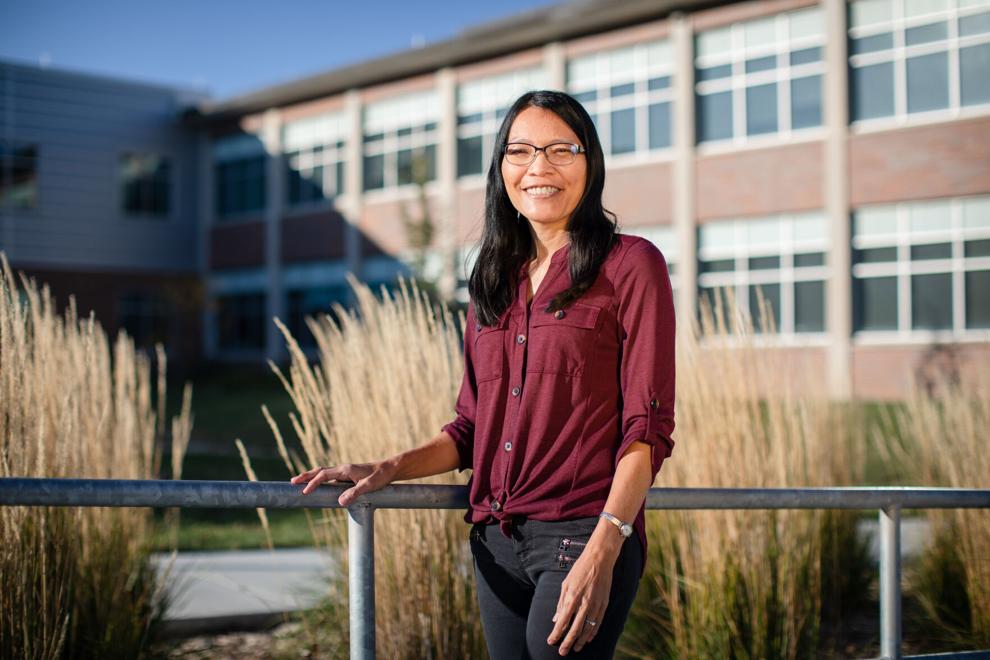 "We got into action and made ourselves available, letting clients know that we're here to continue providing services for them."

~ Char Hills, LCSW, LIMHP, Methodist Health System
After the COVID-19 pandemic hit the region, another crisis loomed. As Methodist Health System mobilized to fight the virus, the Methodist Hospital Community Counseling Program knew it was imperative to continue treating the mental health of its clients and the community.
With schools and community sites closed by mid-March, the program had to quickly overcome the hurdle of providing safe and secure access to behavioral health care. The result was an embrace of telehealth and the launch of the Methodist Emotional Support Line.
Continuing Care
"We had to change how we provided services pretty much on a dime," said Jean Faber, corporate director of the Community Counseling Program.
Counselors with the program transitioned to telehealth in the weeks following Nebraska's first confirmed COVID-19 case. The program, which places mental health practitioners in each middle school, high school and alternative program in Omaha Public Schools as well as in churches and community centers, also faced a loss of office space and immediate access to its clients.
Counselors like Char Hills, LCSW, LIMHP, began contacting parents and clients and gathering community resources for anyone needing food or financial assistance.
"I'm really proud of the program," she said. "We got into action and made ourselves available, letting clients know that we're here to continue providing services for them."
Addressing a Need
With the transition to telehealth progressing, some felt there was a further mental health need in the community. Inspired by the success of the Methodist Coronavirus (COVID-19) Hotline for those experiencing COVID-19 symptoms, Faber and Methodist Hospital Foundation President and Chief Executive Officer Tracy Madden-McMahon had an idea for a mental health hotline staffed by counselors like Hills from the Community Counseling Program. The Methodist Emotional Support Line launched on March 30, 2020.
The need for the support line continues as national trends suggest a growing mental health crisis. Those trends are consistent with what Hills is seeing through her work with the Methodist Emotional Support Line.
"We're definitely seeing increased anxiety and depression," she said. "The uncertainty is the big thing. Then the isolation of not being able to get out and see your friends and family."
The list of issues people call about includes: anxiety, depression, uncertainty, fear, anger, illness, social unrest, political unrest, financial insecurity, food insecurity, struggles with remote learning, domestic abuse, substance abuse, loneliness, social isolation, suicide and grief.
A Sign of Strength
As the COVID-19 pandemic has continued, the national conversation around mental health has gotten louder.
"More and more people are realizing how important it is to pay attention to mental health – how it truly is the foundation to our overall health and well-being," Faber said.
But the stigma surrounding mental health lingers.
"Asking for help is not a weakness," Faber added. "Being able to recognize when you need support and reaching out for it is a sign of strength."
You are not alone.
These resources can help:
• Methodist Emotional Support Line: (402) 815-8255 (TALK)
• National Suicide Prevention Lifeline: (800) 273-8255
---
Virtual Encouragement
Madonna Virtual Services Team Keeps Families Connected
Emily Rumery • Madonna Rehabilitation Hospitals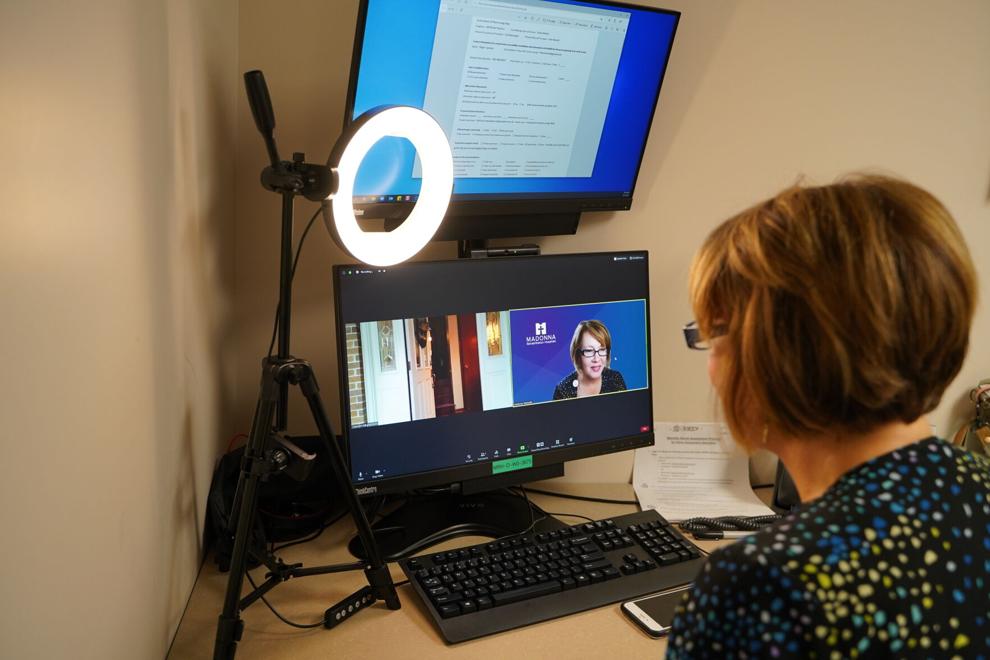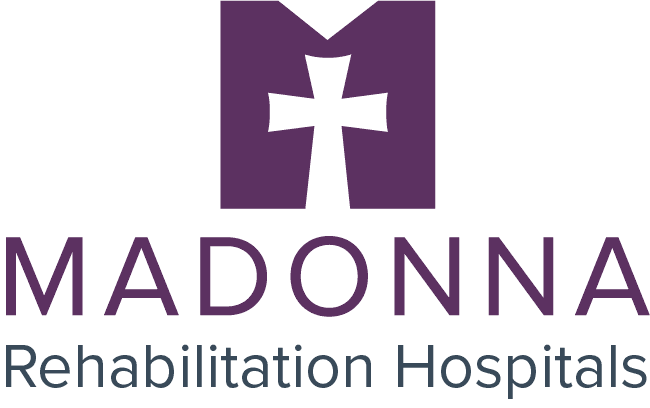 "Virtual communication ensures that patients are able to stay in touch with their family members during a stressful and challenging time."

~ Emily Rumery, OTD, OTR/L, Virtual Services Leader,
Madonna Rehabilitation Hospitals
As 21-year-old Mitchell Wagner challenges his body during a physical therapy session on the Lokomat (a therapy device), his parents and family cheer him on through a laptop screen. With every step, the brain injury survivor from southwest Minnesota receives encouragement from his parents and sister as therapists HELP WAGNER BUILD STRENGTH in his lower body.
In normal circumstances, Wagner's family would be physically by his side in the therapy gym at Madonna's Lincoln Campus rather than dialed in over Zoom. But with COVID-19, 2020 was anything but normal. With extra precautions to keep patients and their care teams safe, access to the hospital is limited to a patient's caregivers. The virus forced Madonna to reevaluate how to provide the patient-centered care the hospital system is known for.
That's when Madonna's Virtual Services came up with the idea of using technology to keep patients connected to their loved ones, even if they are hundreds of miles away.
"Offering patient-family virtual communication ensures that patients are able to stay in touch with their family members during a stressful and challenging time," said Emily Rumery, OTD, OTR/L, Virtual Services Leader.
For the Wagner family, access to this technology has made a world of difference in being able to support Wagner during his recovery. It's also kept Wagner connected to his life back home, where he farms with his dad, who has been known to provide crop updates to Wagner and his therapy team during therapy sessions.
"Family plays an important role in the rehabilitation process," Wagner's mother Melanie Wagner said. "Our family is able to Zoom Mitchell throughout the day. My husband can Zoom many times from the combine while harvesting or just outside when he's working on the farm."
Staying connected to home also allows Wagner to hear from his three siblings and his girlfriend. Wagner's older sister is able to take breaks while working from home to jump in on a session, his two younger siblings can participate on days they attend school remotely and his girlfriend Zooms in during her breaks in college classes. Melanie Wagner spends a majority of the weekdays at Madonna and Zooms in from her son's room.
"We all see how much harder Mitchell works when he has a cheering section behind him," she said. "The way he looks at the computer screen to see all of us encouraging him is priceless."
It's through that computer screen that not only is Wagner encouraged by his family, but his family is encouraged by his progress. It's allowed his caregivers and loved ones to witness the gains he makes as he continues to work hard in his recovery.
"We truly appreciate all the hard work and dedication of the staff here at the Madonna Rehabilitation Hospital," Melanie said. "Mitchell is so lucky to be here!"
---
Pulmonary Critical Care
CHI Health Specialists Give COVID-19 Patients Fighting Chance
Douglas Moore • CHI Health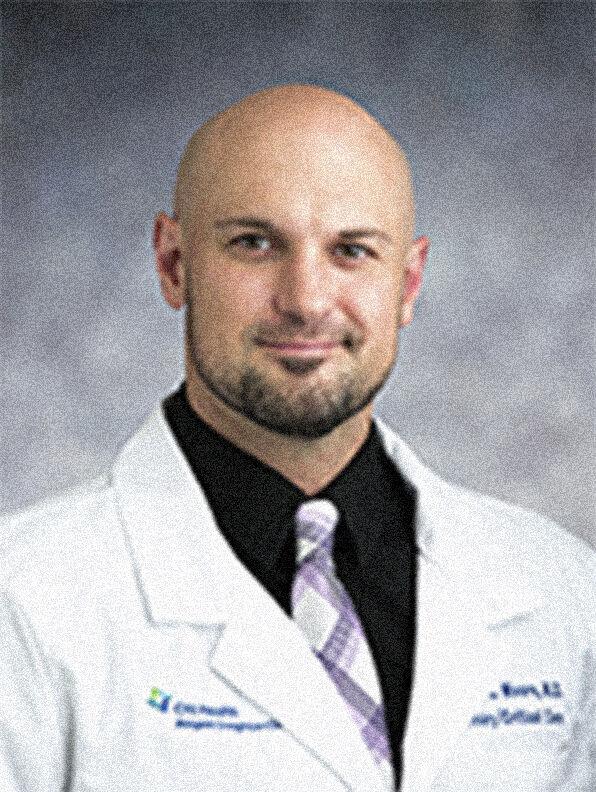 "It's very rewarding to help seriously ill patients and see them pull through."

~ Douglas Moore,
MD Pulmonary Critical Care Specialist
and ICU Medical Director,
CHI Health
Working a full week of overnights managing ICU care for CHI Health patients in Omaha is a standard shift for Bryan Krajicek, MD.
The arrival of COVID-19 made that shift anything but standard.
"I had a week where I'd never seen more patients and I'd never done as many procedures," said Krajicek, a pulmonary critical care specialist and eICU medical director.
The experience left him weary, but also proud.
"The whole CHI Health system is really stepping up and I could feel it that week, the most challenging week of my career," he said. "Anesthesiologists and ER physicians were leaning in, and I had partners who were staying late to help."
One of those partners is Douglas Moore, MD, a CHI Health pulmonary critical care specialist and ICU medical director.
"Hard days or not, I love what I do," Moore said. "Once you experience something like this, you appreciate how important it is to optimize your resources, and you're just really thankful for your team."
Team of stellar people
Since March 2020, a tight-knit group of 17 pulmonary critical care specialists have taken up the challenge of caring for COVID-19 patients at hospital ICUs throughout Nebraska and western Iowa. It's a team years in the making, according to Zachary DePew, MD, Division Chief of Pulmonary, Critical Care and Sleep Medicine.
He credits CHI Health's clinical and academic partnership with Creighton University for making it possible to grow the department—just in time for a pandemic that would require every expert hand.
"We're training stellar people who have ties to the region and want to stay in the region," he said. "As a result, we have a nearly 100 percent retention rate. That's allowed us to build our ranks and double the size of our department over the last five or six years. That's helped us weather the storm. I couldn't be prouder of our team."
The flow of seriously ill patients has continued since the storm began last March. Caring for the sickest has been a nonstop effort for specialists, advanced practice providers, nurses, and respiratory therapists in the frenetic ICU environment.
"As a medical student, the first time I walked in I thought, 'I don't know if I belong here.' But I fell in love with this specialty because you practice all facets of medicine at a very intense pace," said Moore. "It's very rewarding to help seriously ill patients and see them pull through. We've also had people on extreme life support who survived and that's a good win."
Intensive care at CHI Health is also unique because of its eICU, which is staffed by nurses and advance practice providers who monitor ICU patients 24/7 and help manage aspects of care.
"This is one of the really valuable things that our system offers that no other hospital in the metro has," Krajicek said. "It really helps me to be more efficient at the bedside."
As Creighton University grads, Drs. Moore, DePew and Krajicek "bleed blue" and credit their Jesuit education for helping with the toughest part of the job—when they reach the end of what they can do for patients.
"Those are hard conversations. When that happens, you can be there with empathy and comfort for the patient and the family," said Moore.
The arrival of COVID-19 vaccines has the team hopeful the cases will recede and that they, too, will soon get together to socialize like they did before March 2020, before COVID-19.
In the meantime, Krajicek said, "I wouldn't want to go through a pandemic with anyone else."
---
On The Front Lines
Nebraska Medicine Nursing Staff Steps Up
Sue Nuss • Nebraska Medicine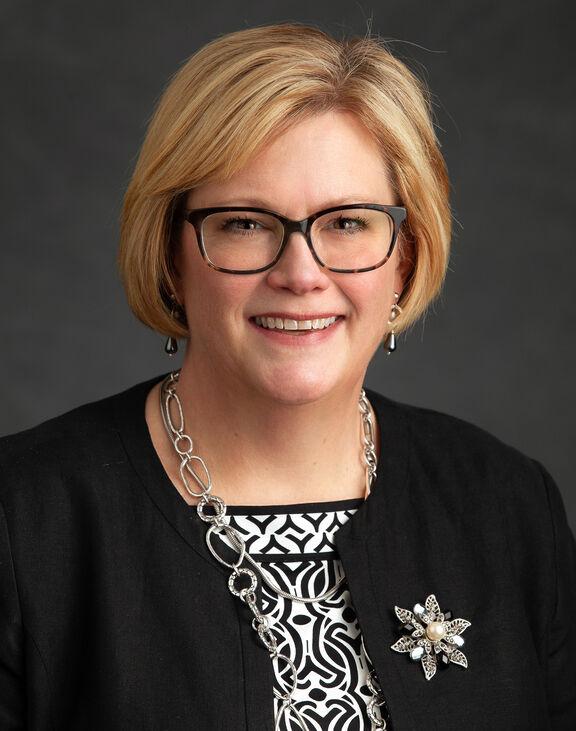 "Everybody stepped up and said, 'What do we need to do?'"

~ Sue Nuss, Chief Nursing Officer, Nebraska Medicine
It's been a very long year for front-line nursing staff since Nebraska confirmed its first COVID-19 case, Nebraska Medicine Chief Nursing Officer Sue Nuss said.
"The word I've used to describe how we are feeling is 'weary,'" she said. "We're stretched."
At the same time, Nuss has seen incredible compassion, unwavering advocacy and exceptional support from her staff for their patients and each other.
"Our team continues to thrive and support each other despite being weary," she said. "I'd like to say how proud I am of our team, how proud I am to be a part of this organization and how proud I am of our leaders…None of us have ever had to lead through a pandemic before and I hope we never have to again."
The early weeks of the pandemic were characterized by uncertainty, especially when New York City's healthcare system was overwhelmed by COVID-19 patients while hospitals here were still in wait-and-see mode, Nuss said.
"I tried to explain to my chief nursing officer colleagues on the East Coast that it was like watching a tsunami," she recalled. "Because you watch it and think, 'When's it going to come?'"
Stepping up
COVID-19 arrived in Omaha at the cusp of spring. Nuss lauded both the nursing personnel who volunteered to care for affected patients and the team members who took on an increased workload caring for patients with other ailments.
"Everybody stepped up and said, 'What do we need to do?'" she said. "Our ratio is lower on the COVID unit, so each nurse has fewer patients to care for because you have to take into account putting on and taking off the PPE. What that means though, is that in non-COVID units we had to stretch the ratios because there are only so many nurses to go around. We are in a shortage. So the nurses, instead of having four or five patients, might have five or six patients."
Restrictions on visitors meant added work to keep families connected via phone or videoconferencing, but the nursing staff has taken it in stride, Nuss said.
"I would say everybody—everybody—is advocating for our patients." Many have even held the hand of terminally ill patients "to make sure they were not alone when they died."
It's been stressful, Nuss said, but the team has supported one another throughout the crisis.
"We have a program called PINS: Peers in Need of Support. It's front-line staff who get some extra training and they're available should somebody have something catastrophic happen or if somebody had a bad day and they just need to talk it over with a peer—not talk it over with a counselor or talk it over with a boss—just commiserate or share their concerns with a peer," she said. "The PINS program has been around for several years now, but we had quite a few people volunteer to be a part of PINS training as the pandemic started and we realized we were going to need some help for our team."
On December 15, the first vaccine doses arrived, bringing with them a ray of hope that the end of the pandemic is ahead.
"I'm really proud of the entire team, not just nurses, because it really has been a team effort," Nuss said. "We've learned to work together differently and support each other. Our teamwork is ever apparent."